Is Their Favorite Toy on the List?


For well over 10 years, the Sight and Hearing Association (SHA) has published annually a list of the year's noisiest toys to warn holiday shoppers of the potentially harmful purchases. The SHA tests the toys for loudness both near the ear (as children tend to hold their toys closely as they play) and at an approximate arm's length (10 inches from the ear).

Learn More about "Noisy Toys"
Want to learn more about the effects of "Noisy Toys"? Then read my article about this subject on my website at www.nsaudiology.com. Click on the "Ask Dr. Chalmers" button and this will bring you to an archive of my articles. #7 is titled "Watch Out For Noisy Toys."


---
Our new sound meter enhanced mannequin, "Pepper," can help anyone ascertain the sound level of common, everyday electronic devices... even "noisy toys." If you are thinking of giving a gift to a child this holiday season—something not listed on the SHA list—bring it by the office and we will test it on "Pepper." Just be sure to save the sales receipt in case you discover that it might be too loud!

Kids love "Pepper" so bring them by the office—along with their toys—during normal business hours and we will demonstrate the loudness level in a manner that is both fun and educational.


Sincerely,
Crystal Chalmers, Au.D.
Doctor of Audiology

"Because Hearing is a Wonderful Gift"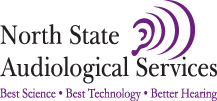 Want to learn more about hearing care? Attend our monthly Lunch & Learn Seminars!
Visit our News & Events page for dates and times.
Bring a friend!
Select a link below to leave a review.


Quick Links:
Website
Products
Location
About Us
Follow us on:


Twitter


Facebook

Reach Us At:
530.899.3277
Chico