Greetings Fish Folk!
Just in time for the Labor Day weekend we have wild caught, Lake Erie yellow perch (yes, it's the real thing)! Yesterday afternoon we lightly breaded and fried a handful for lunch and they were excellent. In fact, I'm pretty sure that is what dinner will be tonight, but I need to dig through my copy of 100 Freshwater Fish Recipes to find another way to prepare besides frying. Anyone out there have a great perch recipe they'd like to share?
Don't forget the Winter Whitefish Sale is in full swing right now. You can place your order to fill your freezer by calling the store 231-755-7402 or emailing us at order@thefishmongerswife.net. This year we are trying to fill orders as they come in. If you need your order filled later in the fall just let us know when you place your order.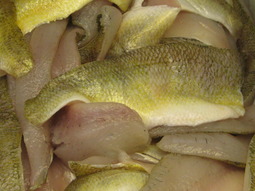 Wild caught, yellow lake perch is one of our most requested fish. However, sourcing yellow perch is a challenge. There are only three places within USA Great Lakes waters that allow for a commercial perch fishery: Saginaw Bay, Green Bay and Ohio. While shopping for yellow perch, I came across
Taylor Fish Company
from Wheatly, Ontario. A 4th generation, family owned fishery, Taylor is admittedly the "biggest of the little guys", but has an excellent reputation for quality. Now you know me, I'm a stickler for quality and spent a lot of time on the phone with Taylor asking them about their processing operation and how they handle their fish. While I'm sure I'll cringe when the phone bill comes in, it was time well spent. Our first order arrived Wednesday night and I'm very confident that we'll be keeping yellow perch from our Canadian friends in stock for the remainder of the season.
Please remember when placing your winter order, do not count on the store being open all winter long to supply your whitefish needs. The Fish Market's winter hours are going to be based on how much fish we can fit into the Market's freezer and how The Wife and newest Little Fish are doing (Little Fish #2 is due in November).

Winter Order Form 2012
The market price of our Winter Whitefish Sale is $8.69/lb and is good till Sept. 25 on minimum orders of 7 pounds. A non-refundable, non-transferable half payment of your order is due at time of order. We will try to fill your order as soon as we receive it and will contact you when your order is ready.
Name: ______________________________________
Phone:_______________________________________
Email:_______________________________________
Packaging Request: Please pack ________ fillets per package.
Fish All Winter Long
Because 25 weeks is a long time to go without fish….
___Little Fish Package- The Little Fish package will give you twelve fillets that's enough fish to eat one fillet every other week for 24 weeks……… ≈ $80*
__Wife Package- The Wife Package will give you 25 fillets--- that's one fillet a week or two fillets every other week for the winter…………...… ≈ $165*
__Monger Package- This package is for Whitefish enthusiasts only— 50 fillets that will give you two fillets every week through the winter..…… ≈$325*
____Fish Fan Package- Don't see a package that meets your needs? That's okay, you can customize your own package. We'll happily fill any size order, but only orders over 7 lbs. qualify for the bulk sale rate.
Total # Fillets or pounds ___......………$8 .69/lb
*The price listed is an estimate cost. The actual price of each order will be based on total weight.