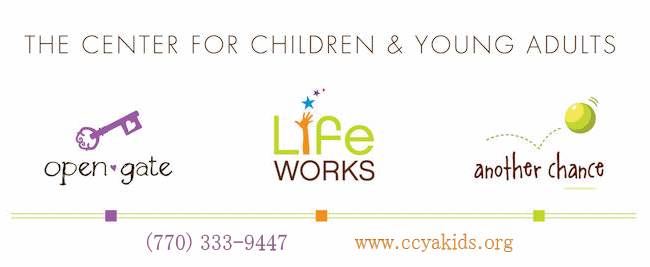 Friends,
SEPTEMBER 2013
Come on Down to Bear Country!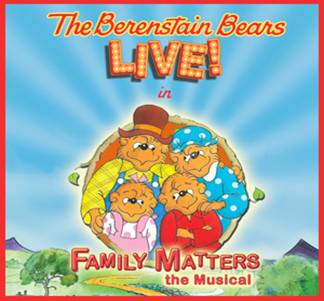 The Center for Children & Young Adults (CCYA) proudly presents The Berenstain Bears Live in Family Matters the Musical! This show is in town for ONE DAY ONLY, Saturday October 5, 2013. There will be 3 performances: 11:00am, 2:00pm, and 4:00pm at the Earl Smith Strand Theater on the Marietta Square. All proceeds benefit CCYA.

Adapted from the classic children's book series by Stan and Jan Berenstain, this special family-friendly exclusive show event brings everyone's favorite bear family to life in an exciting theatrical experience that kids as well as their parents will treasure for many years to come. As always, Bear Country is not without its complications: Brother Bear's grades are slipping, Sister Bear still has a few things to learn about making new friends, and Papa Bear just can't stop eating junk food. Thankfully, we can always depend on Mama Bear and her loving patience to help set things right. The newest Off-Broadway musical for Mamas, Papas, and Young Cubs, The Berenstain Bears LIVE! will give boys and girls of all ages the chance to fall in love with these characters, just as their parents did when they were growing up.

Tickets are on sale NOW and can be purchased at www.earlsmithstrand.org.

TICKETS: Special VIB (Very Important Bear) tickets include best house seats, Bear Cub favor bag and free pass to Sister Bear's Birthday Party in the 2nd floor Events Room with Bear Country games and fun activities. All Honey Bears less than 1 year old can sit on Mama and Papa's lap. VIB Seats $35.00* Front Center and $32.00* Front Sides; Main Floor Seats $20.00*; and Balcony Seats $10.00*.
An additional $2.50 per *ticket processing/handling fee will be assessed.

For more information, call (770) 333-9447 ext. 135.
---
CCYA Named as Beneficiary for this Year's Family Block Party!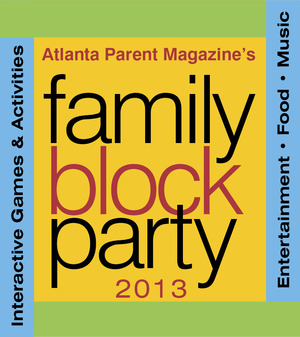 Atlanta Parent Magazine is hosting their 10th Annual Family Block Party on Saturday, October 12th, 2013 at the beautiful Mercer University Atlanta Campus.

Families from all over metro Atlanta come to experience the exciting festivities of this annual event, which attracts an estimated 5,000 guests throughout the day! Participants enjoy more than 50 hands-on activities including storytelling, moonwalks, train rides, mobile petting farm, inflatable playground, pony rides, Trick or Treat Street, live music and much more. No matter if the kids are big or small, it's a fun, affordable way for the whole family to spend the day!

The festival's $5 admission helps to benefit local non-profit organizations. This year, they have selected The Center for Children & Young Adults, Autism Speaks, Georgia Center for Child Advocacy, and Safe Kids Georgia as the 4 beneficiaries.

One of our responsibilities as a beneficiary is to provide volunteers. If you are interested in supporting CCYA by donating 4 hours of your time to the event, please contact Merrill at mbaker@ccyakids.org. For safety reasons, volunteers must be at least 12 years old.

For more information on Family Block Party and the beneficiaries, please contact Jordan Lisvosky at 678-222-1911 or email Jlisvosky@atlantaparent.com.
---
What's Blooming at CCYA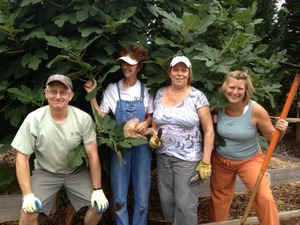 The Master Gardeners of Cobb County have been hard at work on the CCYA Community Garden. Pictured here are some of our regular volunteers: (from left to right) Hubert Wieland, Toni Moore, CCYA Board President Maureen Lok, and Michele Gambon. They have put in countless hours working alongside our residents to maintain and expand the garden.

Currently growing and blooming are tomatoes, beans, carrots, acorn squash, and figs, as well as herbs like rosemary, basil and thyme. We have had a lot of blackberries, blueberries, strawberries and raspberries which were made into cobblers by our Chefs Bob and Tracey for the kids to enjoy. Also, we just discovered that the raspberries are actually blooming and harvesting again!

This year, we even have an olive tree, an elderberry bush, fig tree, and big sunflowers! The recent addition of "Melon Hill" has brought us watermelons and a variety of squash and pumpkins! Our kids really like helping out in the garden, and they especially love eating all the fresh, yummy food that our chefs prepare with the produce!

To learn more about the Master Gardeners of Cobb County, visit their website at http://www.cobbmastergardeners.org/.
---
---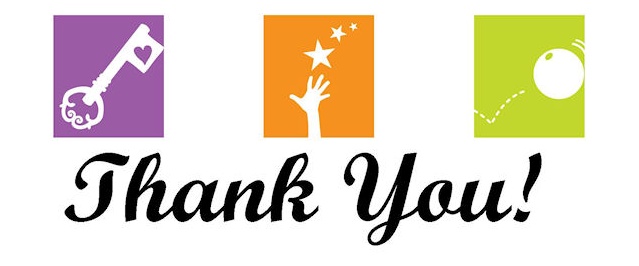 The kindness and generosity of individuals and organizations continue to make a difference in the lives of the kids we serve. Thanks to those who gave in July 2013.
Northbrook United Methodist Church
East Cobb Quilter's Guild
Holy Trinity Lutheran Church
Cathy & Richard Kampa
Michael Brennan
Gerald & Barbara Dyck
Karen & Martin Slack
Jim Newman
Sonali & Annant Patel
Toni Moore
Atlanta Professional Women
Kelly Johnson
Anna Holt
Lisa Spessard
Lynda Anthony
Eileen Johnson
Kendall Andrews
Rollins & Associates, PC
Otis & Phyllis Spears
We Care Outreach Network
Kimberly Pope
Donna & Ralph Widmaier
SHARP Electronics Corp.
Heather & Scott Reedy
Mrs. Howard Lawrence
Toscha Matthews Stokes
Joe L. Wright
Ingrid Hunter
Terry & Tonya Fambro
Lille Evans
Denise & Herbert Washington
Johnnie & Helen Wright
Donnie & Pat Lewis
Bishop & Mrs. Hunter
Clifton & Pamela Spears
Lewis & Edna Wright
Suzy Olszeski
Wayman Parker
Community Care Food Bank
Assistance League of Atlanta
Lori Anne Collins
Dough in the Box
The Grateful Bread Co.
Papa John's Austell Rd.

The Center for Children & Young Adults is dedicated to providing a safe, nurturing environment with comprehensive services for children and young adults who are abused, neglected or at risk.
Powered by Sure Contact Copyright 2013 SureContact, Inc. and its licensors. All rights reserved.
---