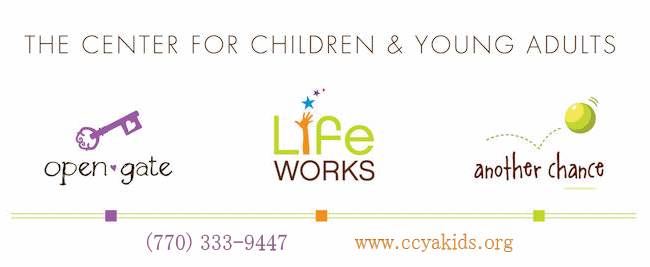 Friends,
OCTOBER 2013
CCYA Hosts First Lady Sandra Deal at Luncheon on the Lawn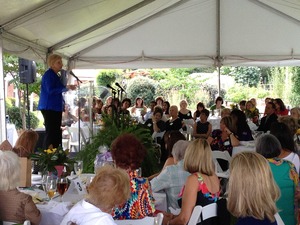 A beautiful luncheon on the lawn at CCYA was hosted on
September 12th by the wonderful women of The
Circle for Children. First Lady of Georgia Mrs. Sandra Deal (shown here) served as our special guest of honor.

The purpose of this event was to raise awareness of the work being done at CCYA and to highlight the challenges facing Georgia's fostered and sheltered youth. Guests enjoyed speeches by Circle President Linda Pace, CCYA CEO Kim Borna, and a personal account by Mrs. Deal of her work in the community. Our own CCYA Choir also performed two songs: "He Still Loves Me" and the Bob Marley classic "Three Little Birds". Following the luncheon, guests were invited to
take personal tours of The Center's 3 homes.

Thank you to Chef Evelyn Paul who prepared the gourmet Southern meal, and to Dr. Chris French and Northside Psychological Services for sponsoring this special event.
---
Are You an Empty Nester?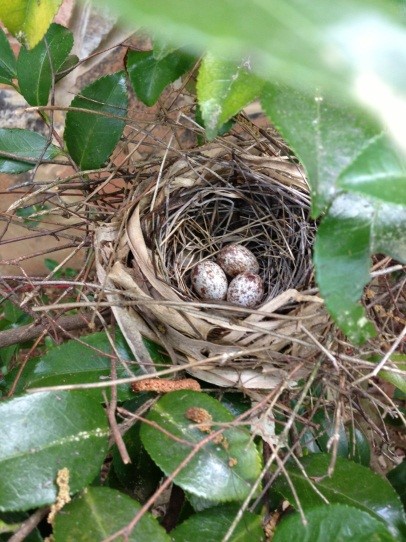 You might be an empty nester if…
You make 6 quarts of chili for 2 people

You can no longer use high school activities as an excuse for not exercising

You start leaving the bathroom door open

You only do laundry once a week

You can't escape blame for the open box of cookies

You turn on the TV because the house is too quiet

You can't find anyone to clean up the family pet's mess in the living room

You run the dishwasher every 3 days instead of daily

You no longer have to stay up to the kids' curfew to check on them
This list was compiled by friends of The Center Tim and Christine Schneller. Proud parents of Carolyn and Rachel, the Schnellers recently moved their younger daughter into her first-year college dorm in downtown Atlanta. As they sat back to reflect on the last couple decades, Tim and Christine said:
"There were so many precious memories – special occasions, exciting milestones, happy triumphs, even difficult and challenging times that made us stronger as a family. Now that our two daughters are in college and forging their own, more independent lives, we realized we needed to re-define ourselves and re-evaluate our priorities. After all, parenting had been our #1 priority for so long. And even though we will always be "Mom" and "Daddy", now we have the time and energy to do other things also. That is why we were so happy to find the wonderful and valuable work at CCYA. We feel we can use our 'parenting expertise' (is there such a thing? maybe it is more appropriate to call it 'parenting experience') to benefit CCYA and the children. "

Inspired by their story, we began discussing the idea of a CCYA Empty Nesters Group. This would be an opportunity for couples and individuals who find themselves in a similar situation to put their extra free time and years of parenting experience towards a common goal of helping the youth living at CCYA. There would be no set time commitment, and everyone can find their own ways to help that fit their personal schedule. Empty Nester volunteers may choose the parts of parenting that they enjoyed most, whether it's cooking a meal, teaching the kids how to sew, shop, clean their rooms, eat at a restaurant, maintain a car, etc.

If this sounds interesting to you, please join us for CCYA's Empty Nesters "Meet and Greet" Wednesday, November 13th at 6:30 pm on the CCYA campus. To learn more, contact Kimberly Tinsley at ktinsley@ccyakids.org or 770-485-1627.
---
Tickets Selling Fast- Buy Yours Today!
You and your little ones won't want to miss this Family Show! All the way from NY City!
Great for ages 1-8 but siblings of all ages will love this family favorite!
(Honey Bears ages 1 and under can sit on Mama or Papa Bears laps)
Three Shows on Saturday, October 5th at 11am, 2pm and 4pm
at the Earl Smith Strand Theater: 117 N Park Square Marietta, GA 30060
To buy tickets, visit www.earlsmithstrand.org
or Call the box office at (770) 293-0080
Balcony Tickets: $10.00*
Mezzanine Tickets: $20.00*
VIB (Very Important Bear) Tickets $30.00* to $32.00*
* A $2.50 per ticket handling fee will apply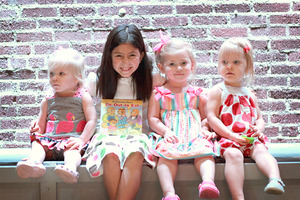 All proceeds to benefit The Center for Children & Young Adults, a youth shelter and group home for abused, neglected, abandoned and at-risk youth!

For more information, please contact Andrea Brantley at 770-333-9447 x116.




---
---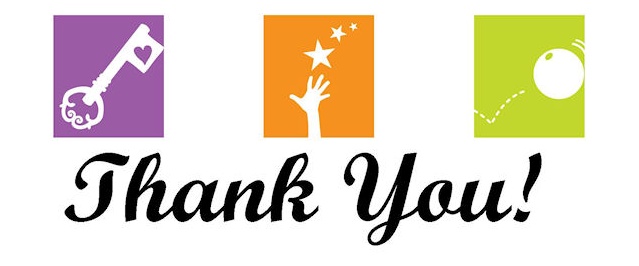 The kindness and generosity of individuals and organizations continue to make a difference in the lives of the kids we serve. Thanks to those who gave in August 2013.
The Robert and Polly Dunn Foundation
The Rich Foundation
The Leonard Phillips Foundation
Northbrook UMC: Vacation Bible School
Publix District 81
Publix District 46
Pat Doughten
RJ Briscione
Gerald & Barbara Dyck
Karen & Martin Slack
Michael Brennan
Larry & Kay Anderson
Alice & Terrence McQuade
Cathy & Larry Shuler
Kelli & Donald Price
Master Gardeners of Cobb Co.
Martha & Charles Sides
Joyce Massalo
Community Care Food Bank
Albert Ting
Leslie Tibbals
Jane & Daniel O'Sullivan
Richard Walker
Marietta Fields
Anne & Rick Cumberledge
Dorothy Woodruff
Sandi McGill
Tina Arango
Stan & Sheryl Brothers
Jennifer & Bruce Decker
Bill & Meg Duckworth
Judith & John Finchum
John Albertson
David Losin
Faye & Robert Merritt
Debbie Bennett
IBM Employees
GE
AT&T Employee Giving
JP Morgan Chase Foundation
Club of Hearts
Allstate Giving Campaign
Elizabeth Smith-Williams
Bob Fremin
Lori Collins
Janette Dini
Solid Rock A.M.E. Zion Church
Assistance League of Atlanta
Rebecca & Kevin Brewster
Melissa Paulik
Heroes in Recovery
The Grateful Bread Co.
Dough in the Box
Papa John's Austell Rd.

The Center for Children & Young Adults is dedicated to providing a safe, nurturing environment with comprehensive services for children and young adults who are abused, neglected or at risk.
Powered by Sure Contact Copyright 2013 SureContact, Inc. and its licensors. All rights reserved.
---