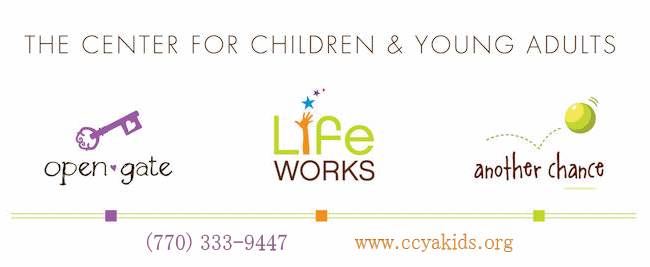 Friends,
AUGUST 2013
Back to School Time!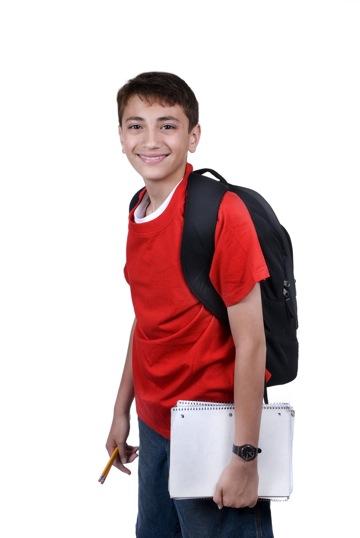 Most of our kids are headed back to school at the beginning of this month. We need your help so they can start off on the right foot!

Here are our current Wish List items:

Gift Cards for School Clothes & Shoes: Target, Walmart, Kohl's, TJ Maxx, Old Navy, H&M, Foot Locker, DSW

Backpacks & School Supplies: For Middle School and High School-aged Youth

Toiletries: Soap, Shampoo & Conditioner, Toothpaste, Deodorant, Lotion, Feminine Products

Snacks: Individually wrapped crackers, cookies, chips, granola bars, pretzels, nuts
Bedroom Needs: Brightly-colored Twin Comforters & Sheet Sets
Personal DVD Players (welcome gift for new residents)

Weekend Activity Passes: Regal Cinemas, Brunswick Bowling, Sparkles Skating, Whirly Ball, Dave & Buster's, Six Flags

For more information on how you can help, or to schedule a donation delivery, please contact Merrill at mbaker@ccyakids.org or (770) 333-9447 ext. 135.
---
4th Annual Best is Yet to Come Awards Dinner Banquet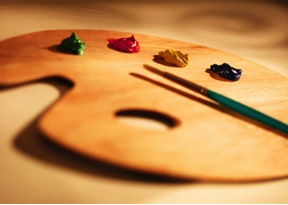 On behalf of the youth at CCYA, we would like to invite you to our 4th annual "Best is Yet to Come" awards dinner banquet. This year's theme is "Paint Your Canvas!" The evening will be a gathering of social workers, therapists, tutors, mentors, community volunteers, funders, Board members, and community partners to celebrate the lives and achievements of our kids. As a supporter of CCYA, you are welcome to attend!

All the boys and girls will be recognized for their accomplishments over the last year with awards ranging from "Best Attitude" and "Cleanest Room", to recognizing those who made honor roll or participated in one of our Clubs. Everyone walks away with a trophy or medal of some sort! We'll have former residents return as guest speakers, and current residents will share their talents through musical performances. It is a truly memorable evening that the kids look forward to every year.

Please help us celebrate the lives and achievements of our kids, and let us thank you for all you do to ensure that they succeed.
Friday, August 2, 2013
6:00-9:00pm at the Smyrna Community Center
There is no cost to attend, however a $5.00 donation for dinner is appreciated.

Please RSVP to abrantley@ccyakids.org, or for more information, call (770) 333-9447 ext. 116 or 135.
---
Join Us for a Charity Poker Run Saturday, September 28!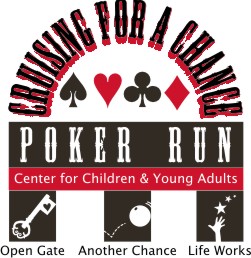 We are excited to announce the "Cruising for a Chance" Poker Run motorcycle ride on September 28th which will benefit CCYA. Registration takes place from 9-10am at Earl Small's Harley Davidson in Marietta. The route will then take riders to popular biker destinations Freedom Powersports, Hooters Cartersville, and Kotic Kustoms, before ending at 120 Tavern & Music Hall in Marietta. Last bikes in at 2:00pm.

Registration is $25.00 per bike, which includes a t-shirt for first 100 bikes. Additional passenger may purchase a t-shirt for $10.00
Poker hands will be turned in at the end of the ride, and prizes will be awarded for First, Second, and Third Place Winners!

Don't have a bike?
You can still join the party at 120 Tavern and enjoy live music by band FLH! Poker hands for non-riders can be purchased for $20.

For more information, call Andrea at (770) 333-9447 ext. 116 or email abrantley@ccyakids.org.
---
---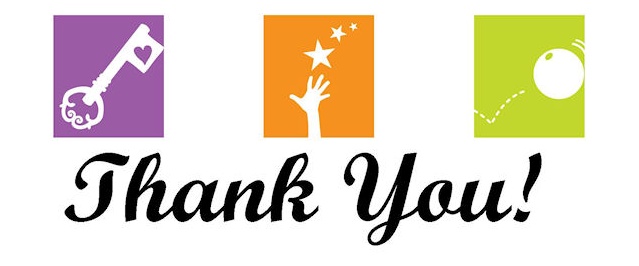 The kindness and generosity of individuals and organizations continue to make a difference in the lives of the kids we serve. Thanks to those who gave in June 2013.


Recyclers R Resources
Cobb Co. Employee Friendship Club
Atlanta Professional Women
Assistance League of Atlanta
John and Mary Franklin Foundation
Michael Brennan
Gerald & Barbara Dyck
Karen & Martin Slack
Community Care Food Bank
Cobb & Douglas Public Health
McEachern Memorial UMC: Rebekah Circle
Anna Holt
Judy Singer
Kelly Johnson
Trisha & Hallie Campbell
Lynda Anthony
Mike Kaufman
Whitney Mallon
Kay Anderson
William Mazza
Kimberly Pullen
Brian Newsome
Maureen Lok
120 Tavern & Music Hall
Lisa Webb
C.W. Austin
Girl Scout Troop 2385
Gail & Gerry Smith
Ammone Padtha
The Grateful Bread Co.
Dough in the Box
Papa John's Austell Rd.

The Center for Children & Young Adults is dedicated to providing a safe, nurturing environment with comprehensive services for children and young adults who are abused, neglected or at risk.
Powered by Sure Contact Copyright 2013 SureContact, Inc. and its licensors. All rights reserved.
---