I am thrilled to announce a collaboration between Andrea's Voice and Avalon Hills to provide a powerful brain-based training for practitioners. The featured presenter is the well-known guru of Neurofeedback, Dr. Ed Hamlin (details above).
So...who is Avalon Hills? They are a phenomenal residential treatment center in Utah. They treat both adolescent and adult women suffering with eating disorders.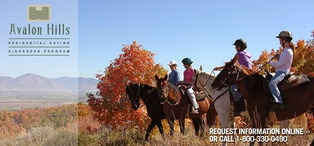 For nearly ten years, we've travelled to lovely Logan to speak to clients and families during Avalon's bi-annual Family Weeks. During this time, we have watched them expand their treatment protocol into an innovative mix of neuro-based protocols in order to achieve their ultimate goal of "Treat-to-Outcome"—an approach that illustrates their deep commitment to sustained healing.
Over the years we have been awed by Avalon's devotion to their clients—from the healed adult who'd experienced 25 treatment centers prior to her positive outcome with Avalon to the adolescent who at nine months of treatment swore she would never give up her behaviors...she was wrong.