In This Issue

Rebels with a Cause
Spotlight on Well Staff
Nourishment for Body & Soul
A Blessing Path- Catherine McAuley's Quest
Advice to Superiors
Well of Mercy News
Reflective Benediction

Nourishment for
​Body & Soul

You were made for joy, child.
The feet of you were carved for that
The ankles of you run for that.
The rise of the rain, the sift of wind,
the drop of a red star on a far water rim—
An endless catalogue of shouts, laughters,
silent contemplations—
they made you from day to day — for joy, child.

- Carl Sandburg



Favorite Guest Recipes cooked with heart from Well Staff: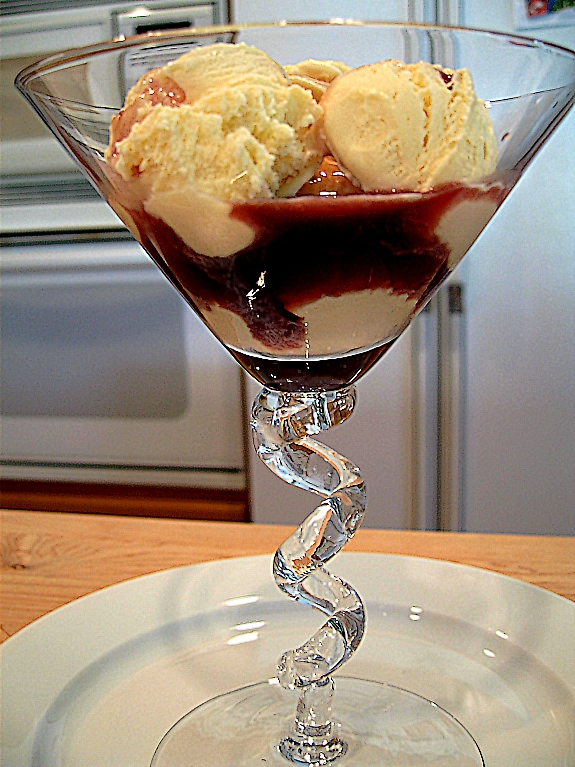 Sunset Yogurt Sundae
- Tamara McCombs

2 (8oz) containers vanilla yogurt
1 small jar sugar-free blackberry jam
Organic granola cereal
Semi sweet chocolate chips
Wine glass for each person
Tangerine or orange slices

Combine 1 tub of yogurt with 2/3 of jam and mix well.
Layer in wine glass as follows:
Plain yogurt
Yogurt mixed with jam
A spoonful of jam in the center
3 chocolate chips on one side
A small line of granola around the other side
1 slice of tangerine for the sun in center of glass

Store in refrigerator until ready to serve. Note: add granola just before serving so that it doesn't get soggy. Try assorted flavors of yogurt, jams and marmalades. (Orange marmalade makes a pretty peach color for a sunrise.)

Soupy Chicken & Artichoke Casserole
- Karin Sawhill

3 C. cooked chicken or turkey (1 rotisserie chicken, boned, is just about perfect)
3 cans artichoke hearts, drained well and halved
1-32 oz. box of Imagine brand Creamy Potato and Leek soup (substitute 2 cans cream of celery soup-it will be less soupy with that)

10 oz. Sour Supreme (soy sour cream)
2 tsp. lemon juice
1 T. curry powder
2 medium zucchini, cubed
1 large onion, in big chunks
½ lb. Sliced mushrooms

Arrange artichoke hearts in 15 x 10 (large) Pyrex baking dish. Place chicken pieces on top. Layer zucchini, onion and mushrooms. Combine soup, sour cream, lemon juice and curry powder. Pour over chicken.

Bake at 350 for approx. 40 minutes (until bubbly). This makes a soupy casserole. Great over brown rice. Serves 8-10.





ADVISE TO SUPERIORS

Don't let crosses vex or tease
Try to meet all with peace and ease
Notice the faults of every day
But often in a playful way

And when you seriously complain
Let it be known to give you pain
Attend to one thing —at a time
You've 15 hours from six to nine

Be mild and sweet in all your ways
Now and again—bestow some praise
Avoid all solemn declaration
All serious, close investigation.

Turn what you can into a jest
And with few words dismiss the rest
Keep patience ever at your side
You'll want it for a constant guide.

Show fond affection every day
And above all — devoutly pray
That God may bless the charge He's given
And make of you — their guide to heaven

- Catherine McAuley



Well of Mercy News: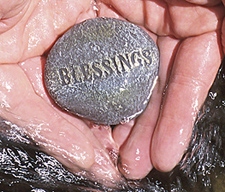 Prayers for Staff
Sister Brigid underwent knee replacement surgery of her left knee on March 18, 2014. She required replacement of the right knee and underwent surgery on May 20, 2014.

She hopes to return to her ministry by July 1, 2014. Her presence and leadership have been missed.
2014 Volunteer Day A SUCCESS!
Thirty-three volunteer and staff members gathered on May 1, 2014 and spent hours working on the grounds, repainting the bridge and preparing the mailing for the Spring Appeal.

Eight of the volunteers were from the Leadership Team of Sisters of Mercy Urgent Care Ministry in Asheville, North Carolina. Spirits were high and a great deal was accomplished.
Help Wanted
Well of Mercy relies on the time, t
alents and treasures of many people.
If you are interested in volunteering at or on behalf of Well of Mercy please contact marketing development.
Excerpts in Catherine's Quest are reprinted with permission.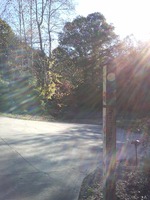 REFLECTIVE BENEDICTION
The long, dark days have faded-
That time of burrowing and denning
When the barrenness of limbs
Resembles the season of my soul.
The long, dark days have faded-
That time of patient waiting
When the greenness of grass
Springs like the days of my hope.
The long, dark days have faded.
- Donna M Vaillancourt, RSM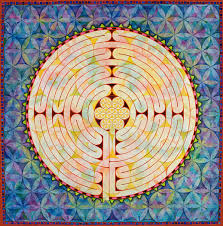 Well of Mercy
Mission Statement
Along the path of life we all have moments when we need temporary respite to heal, grieve, restore our body, mind and spirit.

Well of Mercy, a ministry of hospitality and healing sponsored by the Sisters of Mercy, provides a quiet sanctuary for adults seeking right relationship with self, others, God and creation.

By offering spiritual companionship, emotional support, respectful acceptance and sacred space, Well of Mercy contributes to the rest and renewal of its guests.
Welcome to
REFLECTIONS,
SPRING 2014 Edition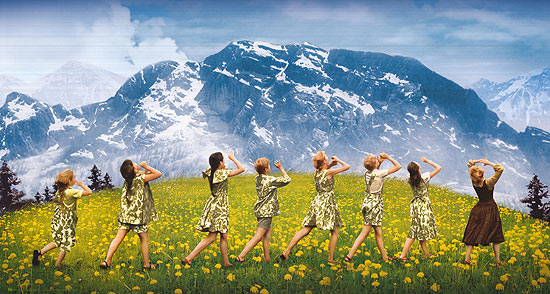 REBELS WITH A CAUSE-

How do you hold a moonbeam in your hand?

Holding a light, a creative spark, a life passion is no small task. However history teaches us that when our passions are shared they can become wildly contagious. Take for instance, the 1965 musical film classic, The Sound of Music. Movies are a modern form of storytelling and it is through story that we learn about life.

Millions have fallen in love with The Sound of Music and its lead character Maria von Trapp. Portrayed by Julie Andrews, this sparkling, passionate, spiritually driven woman exasperates her fellow nuns for being too frivolous and frolicsome for the decorous and austere life at the Abbey. Through the experience of this fictional character we learn about our human condition and perhaps glimpse into our own nature.

Maria is a rebel with a cause. Short on submission yet loaded with talent and charisma, as a Governess, Maria is determined to liberate the spirits of the seven children of the stern Austrian widower, Captain von Trapp. Despite the hardships of her time, Maria opens the hearts of the children and Captain to the joys of song and wonders of life.

A real life rebel himself, the Navy Captain chooses to give up everything, wealth, stature and homeland to avoid being forced into Nazi Germany's service.

How do you solve an insoluble problem?

How do you maintain the heart song in your life when its chaotic pulse and hard edges make you want to shut out everything? For some, like Maria, it's a choice to listen to spirit, make space to experience untamed magic, and keep the dance alive.

Part mystery, part history, read on…learn more about the fascinating story of a woman not unlike Maria von Trapp, another real life rebel with a cause, Catherine McAuley, Foundress of the Sisters of Mercy.

Nothing like a little song to ignite the creative spark…if you haven't seen this yet, check out the historic "Do Re Mi" flash mob at Belgium's Antwerp Station.

SPOTLIGHT ON STAFF-
Brenda Wallace, Massage Therapist

In 1996, Brenda Wallace experienced acute back pain that confined her to bed for weeks. Wallace, 48, found relief on a massage table and wanted to share her experience with others. When she was able to walk again, she followed a different path that led her away from her career as an interior designer. She enrolled in the Body Therapy Institute in Siler City and became a licensed massage therapist with a new calling.

"I want people to have a better sense of well-being and wholeness when they finish a massage," said Wallace.

Wallace was trained to use a holistic approach while restoring a client's well-being. She asks questions that may help clients unite their mind and spirit with their body's symptoms. She explains that most people hold stress in their arms, hands, neck, shoulders and lower back. Being aware of what causes discomfort and understanding body mechanics can help relieve stress and heal and prevent injuries.

According to a 2013 survey by the American Psychological Association, 77% of people in the U.S. experience physical symptoms due to stress. While massage is considered an alternative therapy, it is often used alongside conventional medicine to treat anything from anxiety and headaches to joint pain and muscle injuries. The Mayo Clinic recognizes massage as a powerful tool to take charge of health and well-being. The clinic reports that massage can relax and energize, help with muscle damage and prevent injury.

In 1997, Sister Bridgette saw Wallace's business card in a dentist office and scheduled a session. Wallace began providing massages to Well of Mercy guests and, in 2000, she was given space in the newly renovated Peace room. Thursday through Saturday Wallace offers Swedish, Hot Stone and Deep Tissue massage as well as exfoliating and detoxifying spa treatments. She encourages clients to communicate with her to increase their comfort and knowledge about their bodies.

"It is an honor and privilege to be a part of making someone's retreat at the Well of Mercy an extra special experience," said Wallace.

Call, text or email Brenda Wallace at 704-871-6687 or dragonfly.lily@hotmail.com to schedule your massage appointment.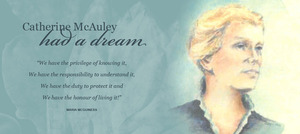 A BLESSING PATH- Catherine's Quest



Catherine McAuley knows som

ething about holding a moonbeam in her hand, about catching a cloud and pinning it down.



So, if we start at the very beginning of the Mercy story, we meet a woman of the late eighteenth and early nineteenth century Dublin, whose life experiences and reflections had given her a deep personal understanding of the loving kindness of her God.

In her formative years, Catherine felt the pain of dislocation, poverty and religious struggle in her own life, and it was in these very experiences that she came to know the tenderness of the God of Mercy, expressed through the many kindnesses and providential goodness of relatives and friends.

"Where would we be if we had not first received mercy ourselves?" was one of her oft-repeated challenges.

With a fortuitous inheritance, a considerable fortune in those days, she opened the first House of Mercy on Lower Baggot Street in Dublin, Ireland, in September 1827. Catherine and other compassionate women, determined to relieve the suffering of others would take in homeless women and children to provide shelter, food and an education for them.

This decision made her something of a rebel in those dark days of great famine and poverty. Catherine McAuley, was a woman of determination, vision, humor and immense practicality. Her streak of rebelliousness and charisma attracted other like minded women.

While her original intention was to assemble a lay corps of Catholic social workers, the Archbishop of Dublin, impressed by her good works and wanting the work to continue after her death suggested that she establish a religious congregation. At 53 years old, in December of 1831, Catherine and two companions took their religious vows and returned to Baggot Street as the first Sisters of Mercy.

At a time when most nuns lived and worked behind convent walls, the sisters continued to serve in the most impoverished neighborhoods. Catherine's characteristic perspective was lighthearted, cheerful and positive. She had an immense freedom of spirit and she was delighted when she found this in her sisters and helpers believing that this would help them to respect others in their uniqueness and difference.

Easter 1841, just a few months before her death, Catherine McAuley was engaged as busily as ever in preparations at Baggot Street for the profession and reception of young women who were joining the Sisters of Mercy.

In the midst of such activity she made time to pen "a few hurried lines" to Elizabeth Moore, a young Superior at Limerick, rejoicing in the reality that

All are good and happy. The blessing of unity still dwells amongst us and oh what a blessing – it should make all things pass into nothing. All laugh and play together, not one cold stiff soul appears.…This is the Spirit of the order indeed – the true Spirit of Mercy.

If Catherine were to be standing in the community kitchen at Well of Mercy today, as she witnessed the greetings, the welcoming hospitality and the spirit of mercy that animates the body of this ministry she would no doubt be a smiling proud Mother.

Catherine's story and spirituality provide context for a contemporary living expression of "unity" as demonstrated at Well of Mercy. This source of unity and hospitality is known as the charism of Sisters of Mercy.

This charism holds a story, an energy, a dynamic which becomes real only when it is believed, acted upon and shared. It invites different levels of participation as one is 'caught' into it, it is a gift to be recognized and set free.

We continue to celebrate the life of Catherine McAuley, for whom charism is, above all, a living passion. Look to future editions of Reflections for the unfolding story this rebel woman.

Retreat @ Well of Mercy
Contact Well of Mercy and be sure to include your phone number to place a request for your individual retreat today~

For quicker response please phone the office during regular hours: (704) 539-5449

Wed.-Sat., 10:00a.m.–5:00p.m.
THOUGHTS ON GIVING-
By collaborating with others in works of Mercy we continually learn from them how to be more merciful. —Constitutions of the Sisters of Mercy, Article #6

Many thanks to those who have responded to the Spring Appeal. To date $30,000.00 toward the $40,000.00 target needed to meet the budget for this fiscal year has been received.

We still have 2 more weeks to go to meet our goal and we are grateful for any financial assistance you can afford. Contributions can be made by online via the Green Donate NOW buttons.
There are different ways our friends and benefactors can help ensure our mission will continue far into the future.

Donations of cash are an immediate and gratifying way to give immediate support and can be made online. Non-cash gifts such as stocks, bonds and tangible assets can also be given directly to the Sisters of Mercy with certain tax advantages.

An honorary gift is a way to recognize a living person for any special occasion of accomplishment. Memorials are donations made in memory of a deceased relative or friend.

A bequest is one of the easiest and most beneficial means for you to provide for your family and loved ones, while at the same time, supporting your favorite charities, such as Well of Mercy. In your will you may elect to specify that Well of Mercy receive a predetermined gift.

All gifts to the Well of Mercy are tax deductible as allowed by law.

Please contact Charlene Watkins, Director of Operations, for more information.

LAURA'S PLACE
Well of Mercy received a memorial gift which will soon grace the grounds....Work began in early May on an outdoor pavilion being built and paid for by Laura Moore's parents, John V. Moore and Julia Gillespie. Laura, a long time guest and supporter of Well of Mercy died at the age of 50 on May 30, 2013. Construction will be completed by July 15, 2014.