Hello Russ,

The summer monsoon season is here. Recent regular afternoon storms are bringing much-needed rains, but also hail, jarring lightning, and severe flash-flooding in some areas. With the rains comes a second green-up season in the central Arizona high desert. The new growth and flowering brings a noticeable boost in insect activity, with mosquitoes and swarming flying beetles at times moving people indoors at dusk.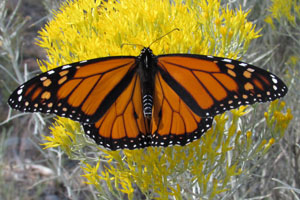 Photo Credit: Denise & Rob Gibbs

Late July and August also bring the first wave of monarch butterflies to the area. The scientific community has only recently understood the complex migration patterns of monarchs in the Southwest. Thanks to the tagging and monitoring efforts of volunteer citizen scientists with Southwest Monarch Study, we are learning that the monarchs emerging during the summer will be joined by the main migrations in the fall and fly to their wintering grounds in Mexico, California, and lower elevations in Arizona.

Please visit our website for more on monarch migrations, regional tagging programs, upcoming volunteer opportunities in milkweed planting, and how you can turn your yard and garden into critical monarch habitat.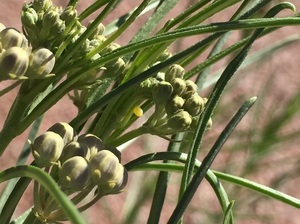 Click on image for a better view of the freshly-laid monarch egg in this horsetail milkweed...and video of monarch laying the egg in a Prescott area monarch-friendly garden. Photo Credit: Suzanne Yoder
---
Watson Woods Construction Update
Part of the City of Prescott's long-term infrastructure plans is a needed upgrade of the wastewater treatment system, which includes moving treatment from the Sundog Wastewater Treatment Plant to a facility near the airport. The current phase of the project involves installing a new wastewater line crossing Watson Woods Riparian Preserve.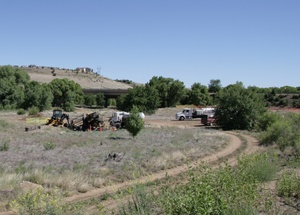 The original plan to cross Watson Woods was to excavate a trench for the new pipeline, which would have required removing mature native trees and digging straight through the creek bed in the restored riparian preserve. Prescott Creeks worked with receptive City staff and their partner contractor to arrive on a revised plan that included horizontal drilling under Granite Creek, allowing us to minimize surface disturbance. Prescott Creeks will continue to work with the City after project completion to revegetate disturbed areas with native grasses, wildflowers, shrubs, and trees.