---
Inspiring a Just and Sustainable Future Through Our Programs, Land, and Legacy
---
From the Executive Director
---
Dear Friends,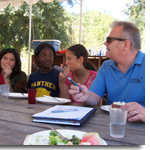 Summertime brings many seasonal specialties to Hidden Villa, most notably Summer Camp and delicious fresh vegetables! All of our Summer Camp programs are now in full swing in this, our 68th year of weaving together the themes of environmental education and social justice within our unique outdoor setting. This year we have almost 1,200 campers joining us for our slate of Day, Tipi, Residential and Farm and Wilderness Camps, as well as our Bay to Sea backpacking trips, Youth Leadership programs and Farm Academy for older youth.
And at the same time, our Agriculture team is hard at work growing some of the most delicious, organic, locally grown produce around! Not only do they provide all of the weekly baskets for our Community Supported Agriculture shareholders, but we also have a booth at the Los Altos Farmers' Market on Thursday evenings. If you're at the market, please stop by and say hello to our farmers who work so hard to grow your food.
And speaking of delicious food, I hope that you will be able to join us for the 16th Annual Josephine and Frank Duveneck Humanitarian Awards Dinner. We'll be enjoying a wonderful meal with food from our own farm and honoring four outstanding individuals who live the Duveneck family legacy of social and environmental advocacy on a daily basis. The event will take place on Saturday, September 22nd this year, so please see the additional information below and contact us to reserve your space.
I hope that you all enjoy the rest of your summer and we look forward to seeing you out here on one of our open weekends (July 14th/15th*, July 21st/22nd and August 4th/5th) or once we open again for our Fall Season on August 21st.

Warm regards,

Chris Overington
Executive Director

*July 15th there will be a special free event open to the public so please checkout this link for details and how to register. Parking is limited! Country Barn Dance

---
Save the Date! 16th Annual Josephine & Frank Duveneck Humanitarian Awards Dinner
---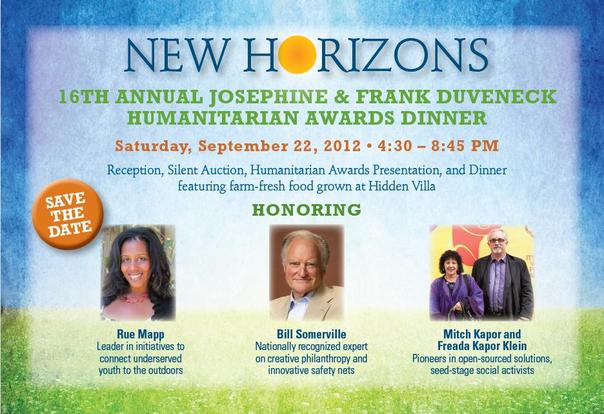 Join us for Hidden Villa's 16th Annual Duveneck Humanitarian Awards Dinner!
In honor of the remarkable legacy of Frank, Josephine and the Duveneck family, Hidden Villa recognizes inspirational leaders who exemplify Hidden Villa's mission and values through their environmental, social and educational activism.
This will be an inspiring evening to remember!

Purchase your tickets by August 1, and receive our special "Early Bird" ticket price!

Early Bird ticket: $150
Hidden Villa Volunteer ticket: $150
Duveneck Dinner ticket after August 1: $250

Please check our website for more information on
table sponsorships
or
individual tickets
or call the Development Office at (650) 949-9702.
---
Summertime Country Dance, Sunday, July 15

---
Join us for this Free Community Event!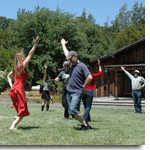 Andy Wilson and the County Line Pickers will get you up on your feet and swinging your partner at Hidden Villa's Country Dance. No dancing experience is necessary as Andy will be teaching each new dance as we go. All ages and two-left-feet folk are welcome.
Come out early to explore the farm and wilderness area or bring your own picnic for the Dana Center lawn. The dancing will run from 3:00 – 5:00 pm.
Thanks to support from the Town of Los Altos Hills, participation in this fun event is FREE. Space is limited, though, so please
register
in advance to ensure you can join us.
---
Summer Camp

---
Summer Camp Arrives!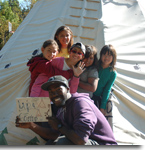 Ever wonder what goes on at Hidden Villa's Summer Camp? For nine weeks of summer, over 1,100 campers arrive on the farm to learn, grow and play at
Hidden Villa's Summer Camp programs
. Hidden Villa offers campers daily opportunities to learn about the organic farm, animals, and wilderness and to cultivate empathy and curiosity. Campers actively participate in Hidden Villa's multicultural community, building friendships with peers from radically different backgrounds. Many campers return year after year, some even graduating and joining the Hidden Villa staff.
Fun camp activities build confidence and self-esteem, develop leadership abilities, and teach problem-solving skills. Just walk past the goat pen where teenagers, about to depart on a three day wilderness trek, are teaching young day campers how to care for and milk a goat. Keep walking down the farm and you might see Tipi Campers—many at sleep away camp for the first time—exploring the creek a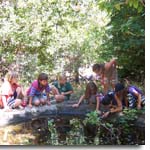 nd making connections between the natural world and their place within it. Walk a little further and you will see Farm Academy students harvesting bright green heads of lettuce and gaining hands-on knowledge of organic agriculture and local food systems. Everywhere you turn, campers are being empowered through hands-on learning, guided reflection, and organic play to make positive change in our families, communities and the world.
---
So Many Ways to Support Hidden Villa!


---

Get a Season Pass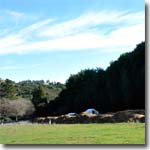 Did you know that by investing in a
Season Pass
you can help Hidden Villa steward our land and reinforce the value of this space for you and your community?
Perhaps you are looking for a way to make your lifestyle more active and would like a beautiful natural place to walk and hike. Or perhaps your family would like to explore our gardens, picnic next to a creek and come nose-to-nose with a farm animal!
A Season Pass permits one car to skip the usual $5 parking fee and park in our lot during our public operating season (September through May and select open weekends during the summer). Purchasing a Pass is also a wonderful way to enjoy our 1600 acres of wilderness, trails and organic farmland whilst ensuring they remain accessible to our community.
Online Application for Season Pass
Or email bjohnston@hiddenvilla.org, or call 650-949-9702.
---
Double Your Donations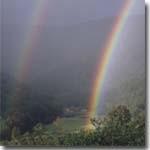 Many employers will "match" tax-deductible charitable contributions made by their employees, retirees and employees' spouses. Some even provide matching funds to support employee volunteer hours. Make your gifts to Hidden Villa have an even greater impact on building a just and sustainable future by taking advantage of your employer's matching gift program.
If you are not sure if your company has a matching program, or if you are a company representative and would like to start an Employee Matching Gifts program for your employees, contact Marc Sidel at (650) 949-8652 or msidel@hiddenvilla.org.
---
Sign up for eScrip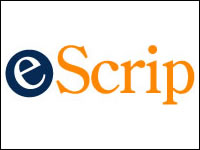 eScrip offers an easy way to support community education programs.
By simply registering your credit cards with eScrip, Hidden Villa earns money on purchases made from supporting merchants.
It is FREE to register your credit cards and by doing so, you make a big difference to Hidden Villa. To register, click on the link below and
type "Hidden Villa"
in the search box. It is that easy! We appreciate your support!
---
Hidden Villa was originally the home of Frank and Josephine Duveneck and their family, who over the years made the ranch into a place for environmental discovery, social awareness, and community involvement. Today, Hidden Villa is a nonprofit educational organization that uses its organic farm, wilderness, and community to teach and provide opportunities to learn about the environment and social justice.

Approximately 50% of our budget is earned income and the remaining 50% comes through gifts from individuals, foundations and corporations. We appreciate your support. Thank you!
---
Come Join our Friends in Downtown Los Altos for First Friday!
---