---
CSA Shares Open Today!

Registration for the 2014
Community Supported Agriculture (CSA) season
opens today! If you've been eagerly waiting for the chance to receive Hidden Villa's weekly baskets of fresh fruits, veggies, flowers, and eggs here is your chance. Community Supported Agriculture has proven itself an invaluable model for both farmers and the communities they feed. The community has access to seasonal food from a local farm, and farmers receive investment in their farm and keep local, sustainable agriculture alive in the community. It is a simple idea, but its impact is profound.
As many of you are aware we are experiencing a very serious drought throughout California. Hidden Villa has received only half of our average seasonal rainfall. Today, stand with our farm crew and Hidden Villa as we weather the drought. Community Supported Agriculture is all about sharing in both the bounty and scarcity of any given season - the members and the farmers are in it together!
And speaking of scarcity, we're responding to the drought by reducing our CSA season's capacity to 100 shares. To secure your share in the 2014 CSA, please register today!

---
Duveneck Forum 2014
Join us for a panel discussion on real solutions for re-localizing agriculture and making healthier food available to all through garden based education, nutrition education,
and organic farmer training.

April 12, 2014
2:00pm-4:00pm
RSVP Required - Free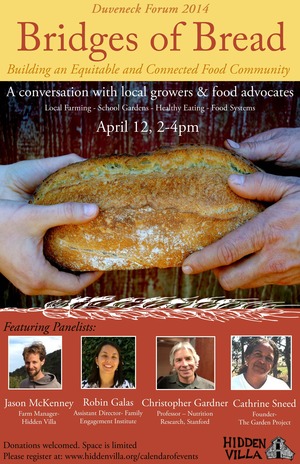 Featuring Panelists:
Christopher Gardner, Professor of Nutrition Research at Stanford; Cathrine Sneed, Founder of The Garden Project;
Robin Galas, Assistant Director of the Family Engagement Institute; Jason McKenney, Hidden Villa's Agricultural Manager​
---
Feed Our Animals!
Hidden Villa is proud to provide over 55,000 people each year with hands-on opportunities to interact with our
farm animals
. Our accessible farm includes humanely-raised sheep, cows, chickens, pigs and goats who effectively help youth learn about empathy, caretaking, respect, and their connection food and other animal products. This year, due to the severe drought, our farm animals will have less grass to graze and we will need to supplement their food more than ever before. In order to be the water stewards we want to be and maintain healthy and happy animals, please consider making a
donation online
.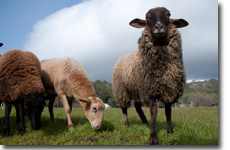 Each dollar we raise
up to $10,000 will be
matched
by a
generous foundation
to support
Hidden Villa's feed for our animals!
For those of you interested in being an
Animal Champion
,
sign up here
to create your own personal fundraising page and connect with friends and family to raise money for our farm animals at Hidden Villa.
---
Dash through Hidden Villa
Trails and History for
Summer Camp Scholarships
For the first time in Hidden Villa history, we invite you to partake in the
Duveneck Dash
! This event is our first educational run/walk fundraiser that provides interactive experiences for all ages! The Duveneck Dash will raise money for Hidden Villa Summer Camp scholarships.
Questions? Email
Jay Davis
, Camp Program Manager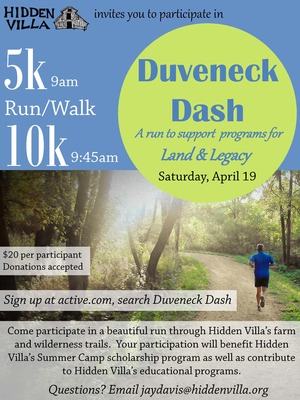 ---
Questions, comments or ideas for what
you'd like to see in the e.Moos?!

We'd love to hear from you!
Share your feedback with development@hiddenvilla.org.

---

Hidden Villa was originally the home of Frank and Josephine Duveneck and their family, who over the years made the ranch into a place for environmental discovery, social awareness, and community involvement. Today, Hidden Villa is a nonprofit educational organization that uses its organic farm, wilderness, and community to teach and provide opportunities to learn about the environment and social justice.