---
Summer Camp Is Filling Fast!
On January 22nd, Hidden Villa Summer Camp opened for registration and within one week reached 80% enrollment!
While some camp sessions are already full, there are still spaces available for Day Camp, Boys Tipi Camp and Farm Academy.

One of the most exciting developments with this year's registration is the addition of two new camp programs, Kinder Camp and the Sierra Backpacking Trip. Both of these programs received a warm welcome from camp families and has allowed us to offer our biggest Summer Camp Program yet. Don't miss out on these unique experiences and register today!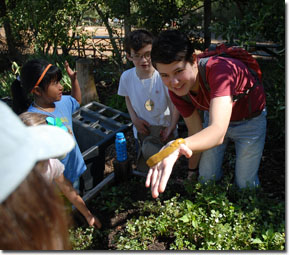 Know of someone who would make a great summer camp counselor?
Hidden Villa is hiring for the 2014 Summer Camp Team!
Learn More
---
Gear up for the Duveneck Dash!


Saturday, April 19th, Hidden Villa will host the first ever Duveneck Dash; a noncompetitive, educational run/walk and interactive experience for all ages!

Event offerings include a 5k and 10k run/walk on Hidden Villa's wilderness trails, a walking loop around Steinman's pasture, educational booths, and "Toddler Town" at our natural playground.

The cost for this event is $20 per person for the 5K and 10K; $10 per person for the Steinman's Walk. All proceeds will support Hidden Villa's Summer Camp scholarships and weekend educational events.
To learn more or to register, visit the event page on Active.com!
---
February Farm Photos
Showcase your photography skills by helping us kick off our social media month! We'll be posting images of what we experience here on the farm and hope you'll join us by snapping your own photos of friends, family, favorite animal, trail or view at Hidden Villa. Post photos to your Facebook or Twitter Pages with #HiddenVilla to share, like and tweet with others!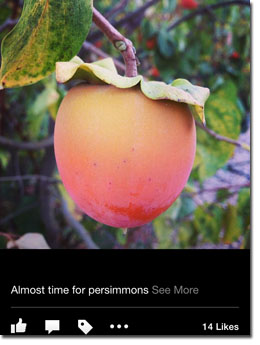 Every
Friday at 3pm
we'll check to see which photos have the most
Likes
,
Shares
, or
Favorites
and winners will be mailed a free Hidden Villa
Season Pass
to visit our farm and wilderness!
---
Break Out Your Best Dance Moves; We Need Rain!
California's Mediterranean climate usually brings hot, dry summers followed by cool, rainy winters but this year, we have not seen the rain that is needed to revive our landscapes.
As we are writing this, Hidden Villa has only received an average of two inches of rain and California is experiencing it's driest year since 1850. While we can only show the skies our best dance moves, there are some simple things we can do at home to conserve water and keep our landscapes healthy and happy.
1. Fix any leaky toilets or dripping faucets; sneaky leaks can be huge water wasters.
2. Be mindful of how long and often you use running water in your bathroom, kitchen or outdoor spaces.
3. Replace old toilets; older toilets use 3 times the amount of water per flush than newer toilet systems!
4. Use drip irrigation for your gardens and water conserving sprinkler heads for watering your lawn.
5. Plant drought tolerant, California native plants in your lawn or garden to minimize water use and increase productivity.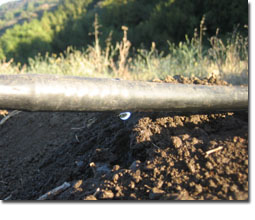 Tips for conservation contributed by Jason McKenney, Agriculture Manager and Lanette Anderson, Horticulture and Flower Farmer
---
Wishlist:
Hidden Villa is seeking a digital camera!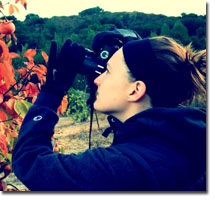 Compact and impact resistant
8 megapixels or higher
Optical zoom lens
Audio/video capabilities preferred
If you or anyone you know is interested in donating to Hidden Villa's Wishlist, please let us know by contacting Development at 650-949-9702 or email us at development@hiddenvilla.org
Thank You!
---
---
Questions, comments or ideas for what
you'd like to see in the e.Moos?!

We'd love to hear from you!
Share your feedback with tenaya@hiddenvilla.org.

---

Hidden Villa was originally the home of Frank and Josephine Duveneck and their family, who over the years made the ranch into a place for environmental discovery, social awareness, and community involvement. Today, Hidden Villa is a nonprofit educational organization that uses its organic farm, wilderness, and community to teach and provide opportunities to learn about the environment and social justice.