---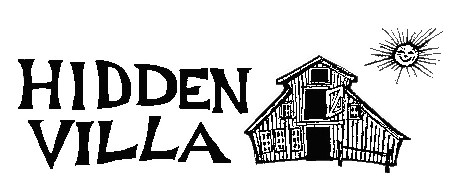 Inspiring a Just and Sustainable Future Through Our Programs, Land, and Legacy
---
From the Executive Director
---
Dear Friends,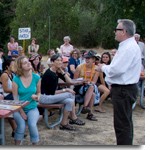 We're entering August and beginning to wind down another wonderful season at Summer Camp! My daughter finished Tipi Camp this past Friday and my son is currently at Farm and Wilderness Camp (up on Black Mountain as I write!) It's been really gratifying, both as a parent and a member of staff, to see how these programs continue to positively impact the lives of children and teens and share Hidden Villa's legacy and mission of inspiring a just and sustainable future.
As we near the end of summer, our thoughts turn to the cooler days of fall and of harvesting bountiful crops from the farm. Please read below about a delicious Tomato Tasting event that we have planned for September 10th. Those of you participating will literally "get a taste" of Hidden Villa and be able to find out more about other crops that we are currently growing. If you've never tried one of our tomatoes before, believe me, you won't want to miss this opportunity!
And with September comes our biggest event of the year: The Duveneck Humanitarian Awards Dinner. This year the Dinner will be held on Saturday, September 22nd and we are honoring four amazing people whose work and lives truly exemplify the Duveneck family legacy of social and environmental justice. Please scroll down for more information about how you can participate in this special, one of a kind event.
Over the past year or so, our Board, staff and a group of dedicated community members have been hard at working on our Strategic Planning process. I am delighted to share that now we have successfully completed the bulk of the work from our previous plan, we will soon be ready to unveil our plans for the next three years! We anticipate being able to share this new plan with you next month (September) so you can see what we have planned for our immediate future.
And finally, if you would like to come out and visit the farm in person, we will be open the weekend of August 4th-5th and then on August 21st we open for the Fall Season (open every day except Mondays.) Many thanks as always for your interest in and support of Hidden Villa!
Warm regards,

Chris Overington
Executive Director
---
Save the Date! 16th Annual Josephine & Frank Duveneck Humanitarian Awards Dinner
---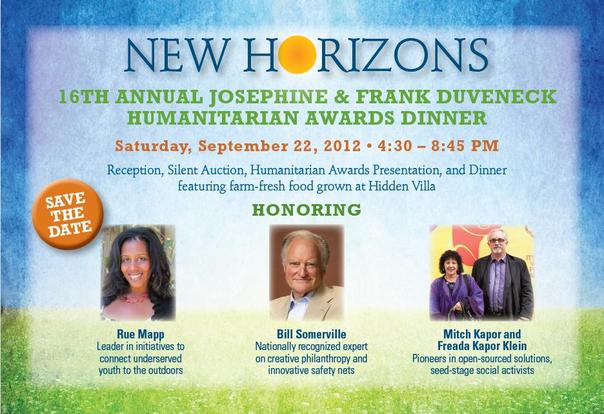 Join us for Hidden Villa's 16th Annual Duveneck Humanitarian Awards Dinner!
In honor of the remarkable legacy of Frank, Josephine and the Duveneck family, Hidden Villa recognizes inspirational leaders who exemplify Hidden Villa's mission and values through their environmental, social and educational activism.
This will be an inspiring evening to remember!

Duveneck Dinner ticket: $250
Proceeds from this event support Hidden Villa's programs, scholarships
and partnerships.

Please check our website for more information on
table sponsorships
or
individual tickets
or call the Development Office at (650) 949-9702.
---
---
Summer Camp

---
Camp Perspective by Jeff, Seasonal Program Manager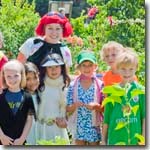 Hidden Villa brings people with different backgrounds from all across the world together. Every summer a unique staff builds a camp community which teaches compassion, tolerance, and respect for each other and our world. Hidden Villa is a safe space, a retreat from the day-to-day chaos, where campers can be exactly who they want to be, in beautiful natural surroundings, while being supported and loved. Not only do the campers learn from us, but we learn from the campers and each other. The Duveneck legacy is still very much the heart of Hidden Villa as we all evolve together in to the leaders of tomorrow. I cannot imagine what my life would be like today without Hidden Villa
---
---
Public Programs
---
Tomato Tasting! Free Event (RSVP Required)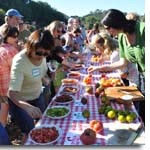 Monday, September 10, 4:00-6:00 p.m.
What delicious variety will win this year's tomato tasting contest? Striped German? Japanese Black Trifele? You be the judge! Join us for Hidden Villa's Third Annual Tomato Tasting held right in our farm fields. You'll try our best and most unique varieties of heirloom tomatoes in a blind taste test. By casting your vote, you help the Farm Crew select for the most delicious and successful tomato varieties for our microclimate. Winning tomatoes will have their seeds collected and planted again next season.
An RSVP is required so we can provide enough tomato samples for guests.
Please Sign Up now for this FREE event... thanks!
---
---
Beginning Sausage Making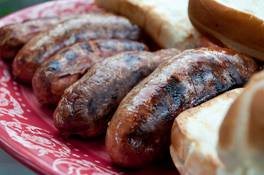 Saturday August 4, 3:00-5:00 p.m.
Learn how you can pick the healthiest, most sustainably produced and delicious ingredients to use in your own sausage making, then share delectable sausage specialties from around the world paired with wine, at the beautiful Duveneck House.
Sign up for Sausage Making
---
---
So Many Ways to Support Hidden Villa!

---

---
Get a Season Pass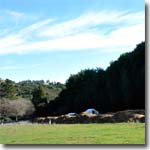 Did you know that by investing in a
Season Pass
you can help Hidden Villa steward our land and reinforce the value of this space for you and your community?
Perhaps you are looking for a way to make your lifestyle more active and would like a beautiful natural place to walk and hike. Or perhaps your family would like to explore our gardens, picnic next to a creek and come nose-to-nose with a farm animal!
A Season Pass permits one car to skip the usual $5 parking fee and park in our lot during our public operating season (September through May and select open weekends during the summer). Purchasing a Pass is also a wonderful way to enjoy our 1600 acres of wilderness, trails and organic farmland whilst ensuring they remain accessible to our community.
Online Application for Season Pass
Or email bjohnston@hiddenvilla.org, or call 650-949-9702.
---
---
Double Your Donations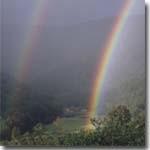 Many employers will "match" tax-deductible charitable contributions made by their employees, retirees and employees' spouses. Some even provide matching funds to support employee volunteer hours. Make your gifts to Hidden Villa have an even greater impact on building a just and sustainable future by taking advantage of your employer's matching gift program.
If you are not sure if your company has a matching program, or if you are a company representative and would like to start an Employee Matching Gifts program for your employees, contact Marc Sidel at (650) 949-8652 or msidel@hiddenvilla.org.
---
Sign up for eScrip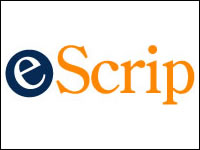 eScrip offers an easy way to support community education programs.
By simply registering your credit cards with eScrip, Hidden Villa earns money on purchases made from supporting merchants.
It is FREE to register your credit cards and by doing so, you make a big difference to Hidden Villa. To register, click on the link below and
type "Hidden Villa"
in the search box. It is that easy! We appreciate your support!
---
---
Hidden Villa honored by Community Services Agency in Mountain View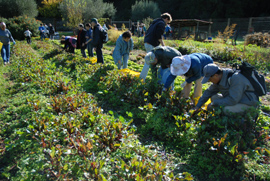 We would like to thank our friends and partners at Community Services Agency (CSA) of Mountain View for honoring Hidden Villa with a Hometown Hero Award on Friday, September 14th! They are recognizing us for providing CSA with almost 10,000 pounds annually of fresh-from-the-farm organic produce for distribution to their clients.
For more information about their event, please see the following link:
Community Services Agency Mountain View

---
---
Hidden Villa was originally the home of Frank and Josephine Duveneck and their family, who over the years made the ranch into a place for environmental discovery, social awareness, and community involvement. Today, Hidden Villa is a nonprofit educational organization that uses its organic farm, wilderness, and community to teach and provide opportunities to learn about the environment and social justice.

Approximately 50% of our budget is earned income and the remaining 50% comes through gifts from individuals, foundations and corporations. We appreciate your support. Thank you!
---