May 2015
---

---
We Want to Hear Your Voice
We're excited to embark on a journey of improving your experience at Hidden Villa. Will you take 5-7 minutes to share your thoughts and opinions?
Please support us and participate in our survey
here.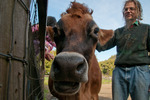 ---
Summer Hours at Hidden Villa
Every summer Hidden Villa hosts over 1,300 children and youth for Summer Camp. In order to make this experience as safe as possible we will close our gates to the public from
June 12th until
August 17th.
These weekends we will be OPEN:
June 13, 14, 27, 28
July 11, 12, 18, 19
August 1, 2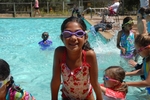 Speaking of Summer Camp, there are still spaces in specific programs. Families that need financial assistance are encouraged to apply.
More Details here
---
Upcoming Programs
---
Guided Night Hike
Friday, May 22
8:00pm - 9:30pm

Bring a flashlight and enjoy Hidden Villa after hours. Explore the back country trails with an experienced naturalist guide. Recommended for ages 6 and up.

Register here
Hands-on Honey Harvest
Saturday, May 30th
1:00 pm - 4:00 pm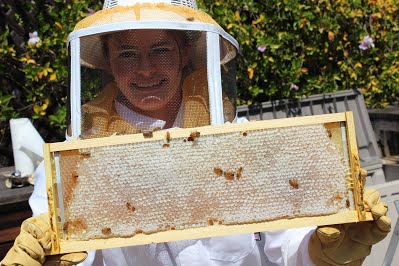 Learn how to tell when honey is ripe and ready to harvest. Uncap frames and spin them in a centrifugal extractor to remove honey from the comb. Jar and take home a bottle of local raw honey that you harvested! Learn what contributes to the flavors of all-natural honey
Register here
We're grateful to our community that supports us with in-kind gifts. If you have questions about these items or are interested in donating, call us at (650) 949-9702. Thank you!
Gas Lawnmower

2 High-Quality Digital Cameras

16GB memory card

Electric Stove with glass top
---
See our
calendar of events

for more fun, hands-on programs!
---
Click here to share this message with a friend!

Meet us at the Farmers' Market
Every Thursday from May 7th to September 24th Hidden Villa will set up our farm stand at the Los Altos Farmers' Market, ready to bring you healthy, organic, meat, eggs, produce and flowers. Come and join us.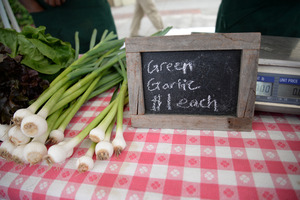 If you're excited about trying new recipes with fresh ingredients and adorning your kitchen table with sustainably raised flowers you can register for our CSA program. A single share can typically feed a family of four. There are only a few spots left, so please register today!
---
Celebrating Mothers on our Farm
On Sunday, April 19, 2015 our beloved Jersey cow, Vida, surprised us by giving birth to twins, Winnie and Fred, just in time for Mother's Day. Grandma Cleo stayed near to support and watch over her family. Only 1 out of every 400 cow births are boy-girl twins. We feel pretty special and hope you'll come visit them soon.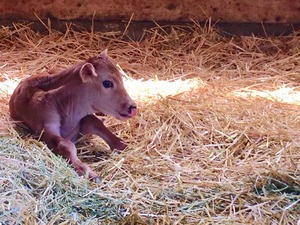 19th Annual Duveneck Dinner
Save-the-Date
September 19, 2015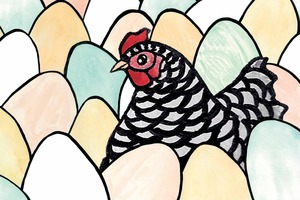 We Love Our Volunteers

This year, volunteers contributed almost 12,000 hours to Hidden Villa. We will highlight their dedication and passion at our Volunteer Appreciation Dinner on Thursday, May 7.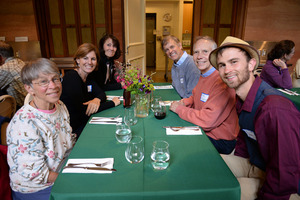 Hidden Villa volunteers are our back bone. They teach children and adults, work in the education garden, build, harvest food, milk cows and goats at sunrise, welcome visitors to Hidden Villa, participate in committees, take beautiful photographs, and so much more. We appreciate the folks that help us inspire a just and sustainable future!

Special thanks to Justin's Restaurant for catering the event.
---
Writing Contest Winners!

We want to thank all the folks that submitted entries for our Writing Contest last month and we encourage participants to continue writing, visiting the farm, and sharing your voices with friends, family, and the community. We read all types of stories and narratives about a moment at Hidden Villa that inspired these authors to make a different life choice.

Read our winning entries here and look out for their published pieces in the Los Altos Town Crier.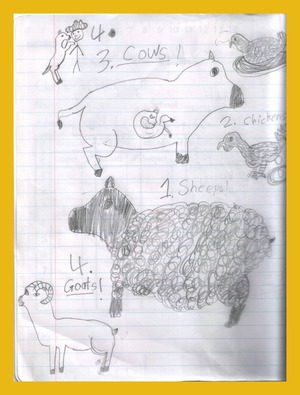 An illustration that accompanied one of our winning stories!
---
---
Questions, comments or ideas for what
you'd like to see in the e.Moos?

We'd love to hear from you!
Share your feedback with sofia@hiddenvilla.org.
---
Hidden Villa was originally the home of Frank and Josephine Duveneck and their family, who over the years made the ranch into a place for environmental discovery, social awareness, and community involvement. Today, Hidden Villa is a nonprofit educational organization that uses its organic farm, wilderness, and community to teach and provide opportunities to learn about
the environment and social justice.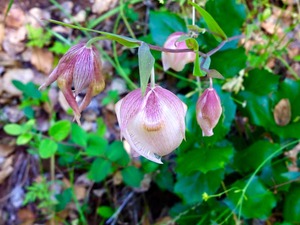 Contributors:
Suzanne Allcroft, Daniel Chimielewski, Jenn Estes, Sofia Pablo-Hoshino, Maggie Shields, Stephanie Sieveke.
Photo credits:
Laurie Aubuchon, Joel Bartlett, Dan Quinn, and Lucy Zhang.

Thank you to each and every one of you who help pave the way towards a more just and sustainable future!