August '15
---



---
Hidden Villa will be open to the public on August 18.
Come visit us!
---
Upcoming Programs
---
Save the Planet and Compost!
Saturday, August 29
1:00pm - 3:00pm

Come learn about the importance of managing your organic waste at home. As the drought worsens and climate warms, home-based waste management has never been more relevant. At this workshop you will learn to build, manage and utilize a complete home compost.

---
Big Buzz about Bees
Sunday, August 30
1:00pm - 2:00pm

For Preschoolers through Grade 1, with guardian.
Bees are wonderful, helpful creatures and this class, designed especially for little ones, is a terrific chance to introduce them in a fun and age-appropriate way to this friend of humans.



---
Women's Full Moon Circle
Sunday, August 30
6:00pm - 9:00pm

Join us as we come together monthly as women to heal, rest, share, learn, replenish, be nourished and nurtured. We will create a safe and warm space where we can share, learn, and renew.



Wishlist

Our hostel staff is on the lookout for the following:

1. Glass top electric stove
2. Board Games

Contact the Development Office if you'd like to donate at (650) 949-9702. Thanks!
---

Teachers and Parents
Registration for School Year
Environmental Education Programs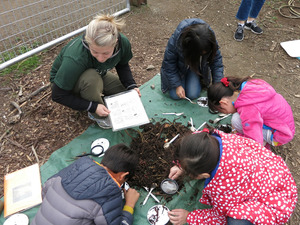 Hidden Villa's Environmental Education Program for the 2015-2016 school year is kicking off soon. We offer guided, hands-on explorations of our organic farm and wilderness area for school groups. If you're a teacher, plan your field trip with us and if you're a parent encourage your child's teacher to register today!
Registration Dates:
August 19, 3pm - August 20, 6pm
Programs with Overnight Stay

August 25, 3pm
Day Programs September - February
Here's what a 2nd grade teacher from San Jose had to say.
"I use the information learned from our trip to start off our science curriculum. I use the videos during lessons and have students activate prior knowledge from the trip."
Join us for our Special Event
19th Annual Duveneck Dinner
September 19th, 2015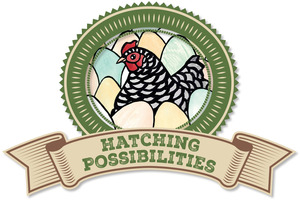 Please join us for Hidden Villa's premiere farm-to-table fundraiser, silent auction, and Humanitarian award dinner on September 19, 2015.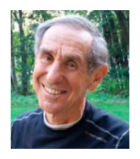 We're excited to honor Dave Roos at the dinner this year.
Dave has been connected to Hidden Villa since the late 1940's when he was a summer camper. Later, Dave became Hidden Villa's veterinarian, a role he has played for over 50 years! Since his retirement, Dave has increased his volunteering with the property staff to help complete some of the projects we have on-site.

---
Summer Camp
More Veggies, Less Video Games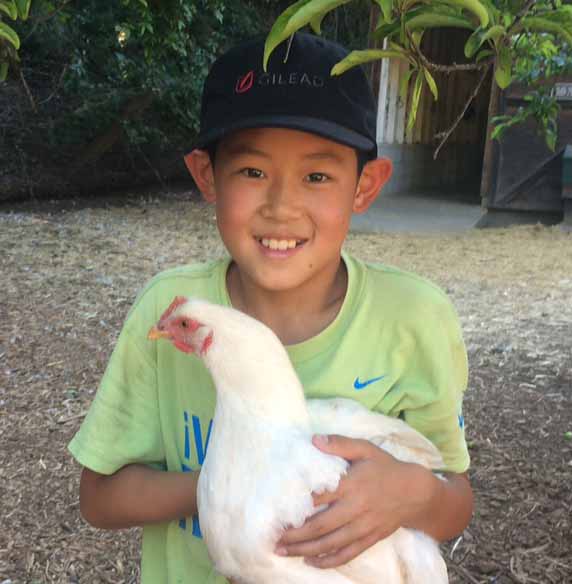 Wilson, a first-time Res Camper from Foster City, loved caring for the farm animals, scooping cow poop for the compost pile, and making new friends.
"Since coming back from Summer Camp, I want to eat more vegetables and play less video games."
His mom, Helen, can attest to the fact that Wilson hasn't touched a video game since returning from Summer Camp over 2 weeks ago!
---
Planned Giving Opportunity
Leaving Your Legacy
Josephine and Frank Duvenecks' hearts were extended to countless people. Their legacy demonstrated the impact that one family or one person can have on their community to contribute to real and lasting change in the world. Making a planned gift to Hidden Villa ensures that future generations will be able to enjoy this special place.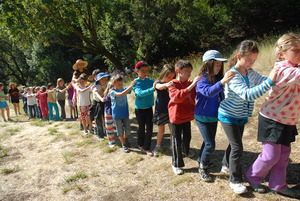 "I chose to give a portion of my estate to Hidden Villa Summer Camp because I want to pass something on. I feel I have the responsibility and opportunity to do something for others, to make this a better world."
- Dan Quinn, Hidden Villa friend and volunteer
Read the blog
to learn more about why Dan felt compelled to give this gift. If you are interested in learning more about our
planned giving program
, please contact our development office at 650-949-9702 or development@hiddenvilla.org.
Questions, comments or ideas for what
you'd like to see in the e.Moos?

We'd love to hear from you!
Share your feedback with sofia@hiddenvilla.org.
---
Hidden Villa was originally the home of Frank and Josephine Duveneck and their family, who over the years made the ranch into a place for environmental discovery, social awareness, and community involvement. Today, Hidden Villa is a nonprofit educational organization that uses its organic farm, wilderness, and community to teach and provide opportunities to learn about the environment and social justice,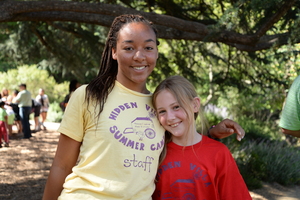 Suzanne Allcroft, Sofia Pablo-Hoshino, Dan Quinn, Maggie Shields, and
Stephanie Sieveke
.
Photo credits:
Laurie Aubuchon, Joel Bartlett, Dan Quinn, and Lucy Zhang.
Thank you to each and every one of you who help pave the way towards a more just and sustainable future!