"Going Once, Going Twice!"
The holidays are fast approaching and it's almost time to tackle your gift list for friends and loved ones. We've made it easy and fun for you to shop for the holidays and support Hidden Villa.
Holiday Online Auction
Open for bidding
December 1st-10th
If you're eager to get a head start on your holiday shopping, check out our auction
homepage
; we will be updating the page weekly with new and exciting items so stay tuned!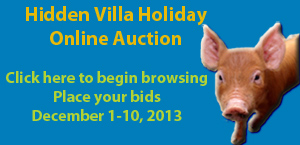 Interested in donating an item to our auction? In addition to supporting Hidden Villa, participating in the auction allows you to post a logo, a website link, and reach our online community of over 15,000 members. To find out more, email
sofia@hiddenvilla.org
.
---

A big thank you to the
Morgan Family Foundation
and our community of thoughtful friends who contributed to our fall match. With your help, we have reached our goal of $60,000!
Hidden Villa's programs, scholarship opportunities and partnerships are made possible by the generosity of our community and now is still a meaningful time to leverage your impact.
---
Today's Learner, Tomorrow's Leader
Summit High School student, Laurel Naylor, participated in her school's Intersession program that brought her and eleven classmates to Hidden Villa for two months. She and her classmates worked with Youth Development, Animal Husbandry and the CSA Crew to gain exposure to organic farming, sustainability, food and social justice issues.
Her experiences at Hidden Villa inspired her to improve her family's health by thinking critically about the source of their food and making more sustainable choices. "I want my family to know where their food comes from and how it was taken care of."
Laurel credits Hidden Villa for enriching her knowledge of food and farming and her experience allowed her to become more aware of the complex issues that surround our country's food system. Her hands on experiences at Hidden Villa has inspired her to study political science and agriculture in order to improve farming practices within the U.S.
---
A CSA Crew Original:
Swiss Chard Stuffed Acorn Squash
(with a garlic cream sauce!)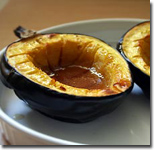 Ingredients:
1 Acorn Squash
1 Bunch Swiss Chard
4 cloves Garlic
¾ Cup Milk
2 Oz Feta Cheese

1. Preheat oven to 400ºF.
2. Cut acorn squash in half, removing any seeds and pulp. Place cut side down on oiled baking sheet and bake for 30 minutes, until fork tender.
3. Peel garlic and add to oven for 10 minutes while squash continues to roast.
4. Remove garlic and in a small mixing bowl, puree with milk and feta cheese, adding salt to taste.
5. Coarsely chop chard and sauté with olive oil over high heat until wilty (stems are okay to use, add 2 or 3 minutes before leaves).
6. When squash is done, stuff with sautéed chard and drizzle with garlic cream sauce. Return to oven and bake for another 10 minutes, remove and enjoy!

(photo courtesy of allrecipes.com)
---
---
Questions, comments or ideas for what
you'd like to see in the e.Moos?!

We'd love to hear from you!
Share your feedback with tenaya@hiddenvilla.org.

---
Hidden Villa was originally the home of Frank and Josephine Duveneck and their family, who over the years made the ranch into a place for environmental discovery, social awareness, and community involvement. Today, Hidden Villa is a nonprofit educational organization that uses its organic farm, wilderness, and community to teach and provide opportunities to learn about the environment and social justice.