---
In Just One Day
Synopsys
celebrated Global Volunteer Week at Hidden Villa in partnership with
City Year
on September 27th, 2014. Over 400 Synopsys of Mountain View employees and their family members came ready to mulch, dig, build, hammer, and create, all in the name of community service.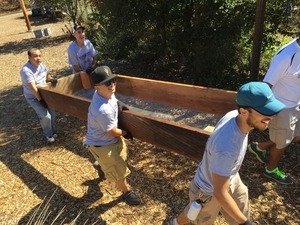 Here is what they accomplished:

- 10,000 square feet of land mulched
- 500 feet of storm water trench restored
- 400 gallons of compost sifted
- 150 planter boxes built for off-site partnership schools
- 88 root protection cages molded
- 30 bird houses and 30 bat houses built
- 10 garden beds constructed for the Education Garden
- 8 picnic tables built
- Refurbished blacksmithing forge
- Restored large bioswale for rainwater infiltration
- Supplies crafted for Youth Development department
- and more!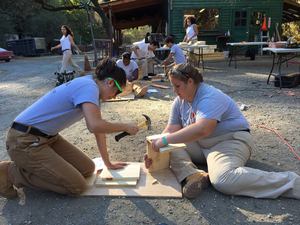 Thank you Synopsys and City Year for your hard work!
You made a big impact.
---
Become a Farm Guide
We're always looking for nature enthusiasts that enjoy sharing their love of farm and wilderness with elementary aged school children. If that's you, join us as a weekly
Environmental Education
volunteer guide.
All training is provided. Contact us at (650) 949-8643 to schedule a tag-along to see how fulfilling it is for guides and kids alike.
---
Taft School Community Fair
This month
Taft Community School
in Redwood City will host it's 9th Annual Community Fair. This free, fun-filled day of family, food, exploration, and school pride is open to the public. Hidden Villa will be there to celebrate, make hand-cranked ice cream, and enjoy the day with our friends and neighbors.
October 18th, 11am - 3pm
Taft Community School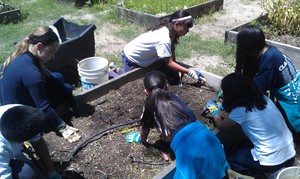 For the past 10 years Hidden Villa has partnered with Taft Community School, providing a science teacher and garden-based after school programming. Throughout this fruitful relationship 5th grade science test scores have improved significantly. We've collaborated to build a community garden that students and community care for and watched excitement rise about family, health, and the environment.
---
333 Reasons We Had a Blast
September 20, 2014 marked the 18th Annual Duveneck Dinner, our premier farm-to-table fundraiser. 333 of you joined us as we shared in the legacy of Josephine and Frank Duveneck...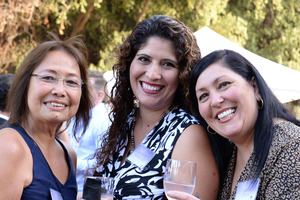 ...and celebrated 3 local humanitarians turning their passions into actions that change the world.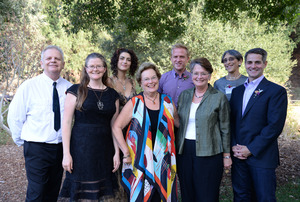 You, our community, sustain us and help illuminate connections and inspire our world. Thank you.
We also had a blast. Check out more pics from the photo booth and the event
here
.
---
Think Outside the Flock
The new Bloomingdale's of Stanford is opening October 10th. To celebrate their grand opening they've selected 10 non-profit organizations and made a donation of $5,000 to each. Hidden Villa is proud to be one of them. They've given us private preview tickets, which include a $20 "Bmoney" certificate for use October 9th -13th. Please call development at (650) 949-9702 if you'd like a ticket.