November '16
---
---
An "Egg"celent Opportunity

You now have the opportunity to purchase farm-fresh eggs from our pasture-raised, organically-fed hens! Order forms are available online the first week of every month, and you can choose how many eggs you would like, sold by the dozen.
---
FARM & WILDERNESS EXPLORERS

Saturday, November 12th
1:00 pm - 3:00 pm
Hidden Villa's unique organic farm is surrounded by over 1,000 acres of wilderness. Come experience the best of both worlds during Farm and Wilderness Exploration just for kids! Meet our farm animals, learn how we grow food for the community, and embark on a hike through a wilderness trail.
---
YOGA FOR HEALTHY BACKS

Sunday, November 13th
10:30 am - 12:00 pm

Do you have sporadic back pain or soreness? If so, you're not alone. Most of us experience back pain at some point and simple yoga techniques can help alleviate the pain.

This workshop explores gentle movement and gentle breath to build back strength, increase flexibility, improve posture, or reduce chronic pain. This program is for participants ages 13 and up.
---
ARTISTS AT HIDDEN VILLA

Saturday, November 19th
10:00 am - 1:00 pm
Hidden Villa is proud to host the Santa Clara Valley Watercolor Society, who will be painting at various locations in "plein aire" in the tradition of Frank Duveneck's father, a master of the style from the 1880's.

Come enjoy a day on the farm and quietly observe these artists as they carry on a fine Hidden Villa tradition.
---
HOMEMADE HOLIDAY:
BEE BEAUTIFUL WORKSHOP

Saturday, December 10th
10:00 am - 11:30 am
Learn to make luxurious honey-based beauty products from all-natural ingredients in this hands-on class. Every recipe we will make in class contains raw, local honey, and each student will make and go home with 3 different beauty products.
---
WINTER HOLIDAYS
ON THE FARM -
JUST FOR KIDS!

Saturday, December 10th
1:00 pm - 3:00 pm
Come visit the farm and celebrate the winter season with us in an old-fashioned way! Collect lovely smelling pine and cedar from our forest to decorate handmade beeswax candles, make pretty ornaments with sheep's wool, and decorate beautiful cookies with organic, naturally colored icing. Have winter fun while your grownup goes for a hike on our trails or gets some holiday elf work done!
---
See our

calendar of events

for more fun, hands-on programs!
---
Click here to share this message with a friend!
---
Connect With Us!
Tel: (650) 949-8650
info@hiddenvilla.org
26870 Moody Road
Los Altos Hills, CA 94022




Fun on the farm this weekend
Apply for our Residential Internship Program!
Micki Miller - creating a sustainable future
Cutie pies - not cow pies - at Halloween Haunts
---
Day with a Naturalist - Adult Program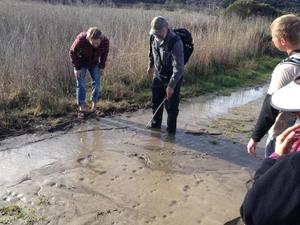 Saturday, November 5th

Join Hidden Villa's Director of Education, Garth Harwood for an unforgettable day in nature tracking wildlife at Gazos Beach in Pescadero. Find out what animals have been walking around and leaving evidence in the sand! While children will have a great time, this program is geared for adults interested in learning to track.
Register now!

Future Farmers - Just for Kids!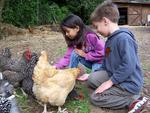 Saturday, November 5th

Does your child love animals? During this program, they will see first hand how we care for our wonderful Cows, Sheep, Goats, Chickens and Pigs by helping with afternoon chores. It's sure to be an experience to remember! Participants should wear farm-appropriate clothing including long pants and sturdy, closed-toed shoes. This one's just for the kids, so adults can take a break for the afternoon.
Register now!

Build a Birdfeeder!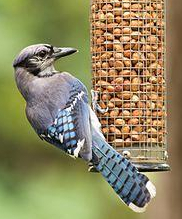 Saturday, November 5th

Bird feeders are a great way to get to see some of our feathered friends up close. Using just a few household supplies, we will be making some delicious treats for some of our favorite birds. Come build a bird feeder that you can take home and attract your neighborhood flying friends!

Please note that this is a free program but the parking fee is still required. No registration is required.

Want to learn more about caring for our feathered friends? Watch this video about helping birds build nests!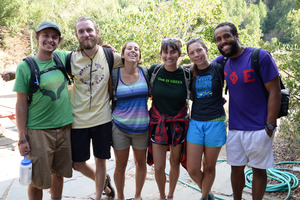 Hidden Villa's Residential Internship Program contributes to the next generation of thoughtful educators, innovative organic farmers, and creative non-profit leaders through hands-on departmental work experience, educational workshops, and the completion of a special project. We have an opening for a Journeyman Farmer and an Environmental Education intern.

Learn more about the program and apply now!
---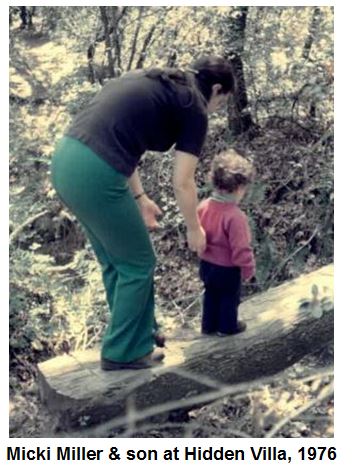 Micki Miller is a long-time friend of Hidden Villa. She and her husband first visited in the 1970's, bringing their two young sons to explore the farm and hike the trails. Hidden Villa was the backdrop to many meaningful moments in Micki's life, and she continues to come out and hike on a regular basis.
This year, Micki discovered that she could make a significant investment in Hidden Villa through her Individual Retirement Account (IRA). Her niece attended camp as a child and then joined the Hidden Villa family as a camp staff member, and as a result, Micki chooses to focus her support on our campership program. Micki's contribution will have a profound effect on many children right here in our local community, which is very important to her.
We are so thankful for Micki's commitment to Hidden Villa and her decision to provide the opportunity for young people to come experience the magic of our farm and wilderness. She is truly part of the legacy that enables Hidden Villa to inspire a just and sustainable future.

If you'd like to learn more about different giving opportunities, please contact us at development@hiddenvilla.org
---
Halloween Haunts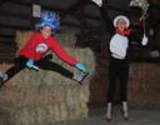 "Halloween Haunts is a time of enchantment,
Think of it as...personality enhancement,
For you'll get to choose what to be, you see,
There are costumes galore to fill you with glee.
And the part of all this that's the greatest of all?
Why, the children, of course! Come one, come all!"
-Anna Sand, Community Programs Intern
Thank you to everyone who came out for Halloween Haunts this year! The farm was full of costumed cutie pies and squeals of laughter, exploring a Dr. Seuss-themed enchanted trail. We look forward to seeing you again next year!
---
Questions, comments or ideas for what
you'd like to see in the e.Moos?

We'd love to hear from you!
Share your feedback with development@hiddenvilla.org
---
Hidden Villa was originally the home of Frank and Josephine Duveneck and their family, who over the years made the ranch into a place for environmental discovery, social awareness, and community involvement. Today, Hidden Villa is a nonprofit educational organization that uses its organic farm, wilderness, and community to teach and provide opportunities to learn about the environment and social justice.