April e.Moos & Views
News straight from the cow's mouth...

---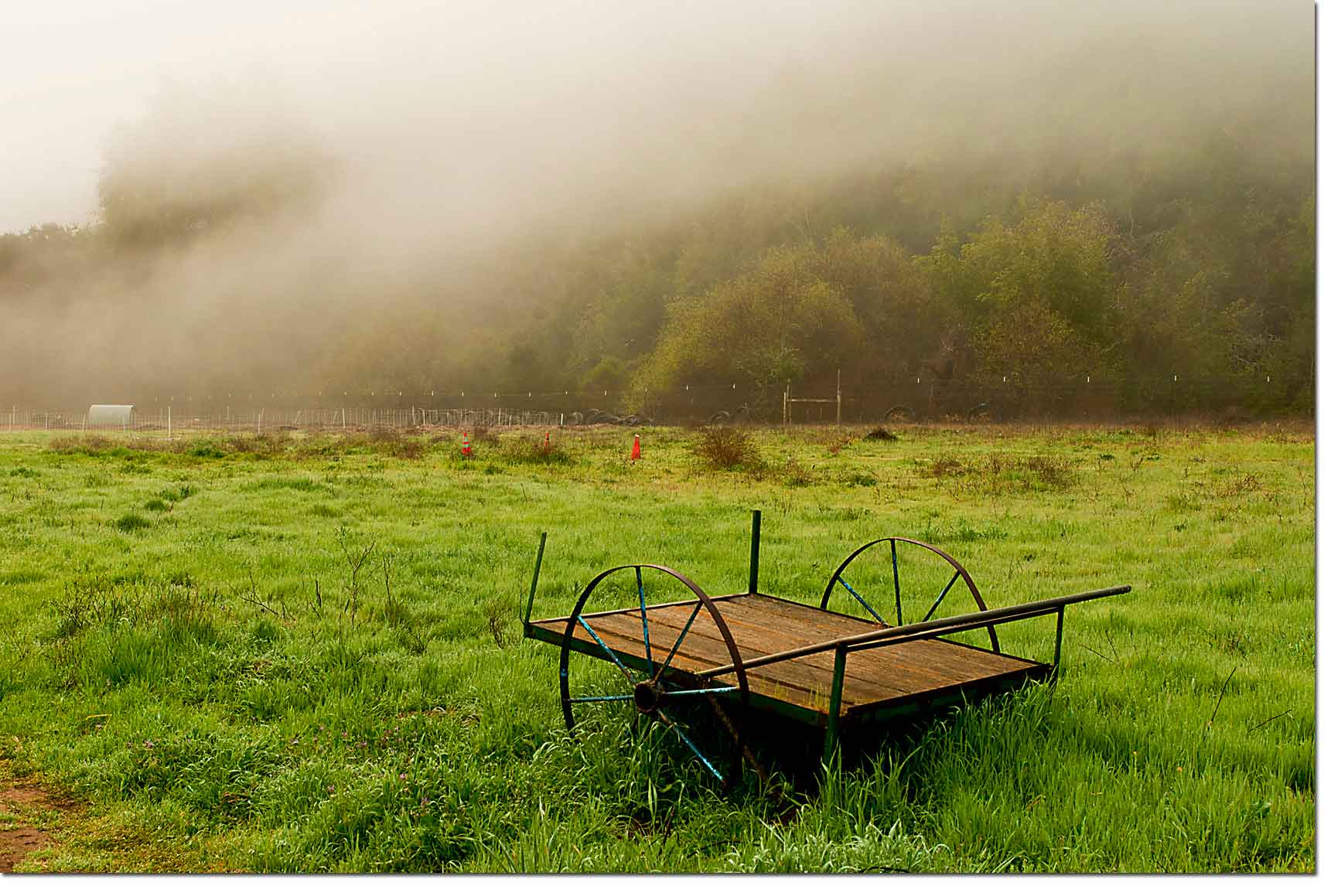 ---
Transitions and New Beginnings
There are many new beginnings at Hidden Villa, and we're not only talking about blooming Buckeyes and baby lambs...
---
This month the Hidden Villa community is delighted to welcome three new interns. These interns will join the Animal Husbandry Department, the Agriculture Farm Crew, and the Development Department. We are excited for the energy, enthusiasm and talents they will bring to the organization.
Hidden Villa's organic farm is also gearing up for a new season. Registration is now open for our Community Supported Agriculture Program (CSA), which provides members with a weekly share of organic produce from our farm and also donates 25% of its produce to the Community Services Agency of Mountain View to provide access to fresh, organic produce for our low-income neighbors.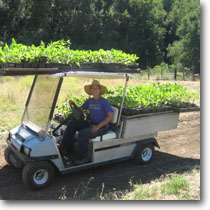 Hidden Villa's farm not only produces organic fruits and vegetables...it also produces farmers! Each year three new interns join the Agriculture Farm Crew to gain hands on training in sustainable farming. Please welcome Evan Conklin, our new Journeyman Farmer, who arrived in January all the way from Michigan. Evan will manage the CSA program and be the friendly face of Hidden Villa at the Los Altos Farmer's Market, which will begin later this Spring.
Spring beginnings and transitions also bring me to the end of my internship at Hidden Villa. My time here has been a life changing experience. Over the past two years I've worked with the Agriculture Farm Crew and the Development Department, and, like many interns before me, I've been empowered through the unique training and mentorship that Hidden Villa offers to move forward and create my own path. This season I am starting my own farm in Sunol, CA, a new beginning I am very excited about! I will be working at Hidden Villa part time, and I look forward to continuing to learn and grow in this beautiful place.
There is no better way to enjoy Spring and this time of new beginnings than coming to Hidden Villa and taking it all in for yourself! We hope to see you on the farm.


Suzanne Allcroft,
Farm and Food Advocacy Intern '12-'13,
current Hidden Villa Data Coordinator
---
Be sure to reserve your share soon as memberships are filling up quickly!
Join our Community Supported Agriculture (CSA) program for the 2013 season to receive weekly baskets of local, sustainable and organic produce. Our veggies will sweeten your summer like none other!
Visit our website to register or to learn more.
---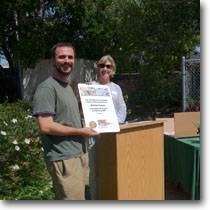 Join us for the
2nd Annual San Mateo School Garden Recognition Awards
on Saturday April 27th 2013, 10am-12pm at Redwood High School




Hidden Villa School Garden Specialist, Dan Ronco,
receives an award at last year's ceremony.
This month San Mateo County garden educators will be honored at the Second Annual School Garden Recognition Awards. The Awards serve to promote awareness of the benefits and impact of garden-based education and acknowledge school garden educators for their exemplary work in connecting children and youth to fresh fruits and vegetables, implementing sustainable practices, contextualizing classroom curriculum through hands-on learning, and more!
Held at Redwood High School, a Hidden Villa partnership school in Redwood City, CA, the Awards will feature local restauranteur, spokesperson, and sustainable food advocate, Jesse Cool.
Seating is available for up to 50 people, but there is plenty of standing room so please come show your support for garden-based education in San Mateo County!
Redwood High School,1968 Old County Road, Redwood City RSVP necessary: Irene Thayer at
ithayer@smcgov.org
or (650) 573-2496
---
The Interfaith Experience,
Hidden Villa's First Youth-led Conference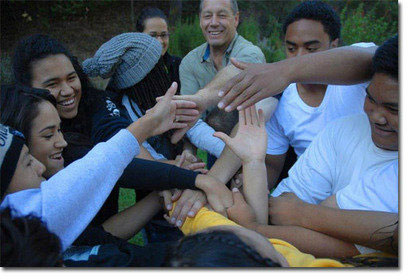 Join us for a day of stimulating conversation, information, and sharing as we host this youth-led conference reflecting a diverse spectrum of faiths on Saturday, April 20 from 10am-4pm. This will be an exciting day of participatory dialogue on community building, interfaith conflict, and social justice issues. Featuring keynote speakers Jim Burklo, Associate Dean of Religious Life at USC and author of Hitchhiking to Alaska: The Way of Soulful Service, and Sumbul Ali-Karamali, Master of Islamic Law and author of Growing Up Muslim. Check out our conference press release in the Los Altos Town Crier.
For teens, their families, and teen leaders
Free event!
Learn More
---
So Many Ways to Partner with Hidden Villa!
Hidden Villa is a nonprofit educational organization that uses its organic farm, wilderness, and community to teach and provide opportunities to learn about the environment and social justice. Our budget is evenly comprised of program fees and contributed revenue; This model compels us to produce quality programs and to build strategic alliances. To inspire a just and sustainable future, we need to ensure there is a place for everyone at the table. You have an opportunity to shape tomorrow and make a lasting impact by making a gift today.
---
---
Become a Season Pass Holder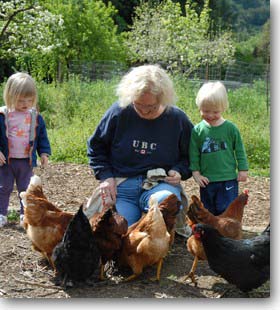 Season Pass Benefits:
Free and Unlimited admission to Hidden Villa's farm and wilderness during open hours*

Admission includes all people in a single car displaying pass

Subscription to our full color quarterly newsletter with information about upcoming events, classes, programs and more

Ability to replace pass if lost or stolen ($15 fee)

Reinforce the value that Hidden Villa has for you and your community
Purchasing a Pass is a wonderful way to enjoy our 1600 acres of wilderness, trails and organic farmland whilst ensuring they remain accessible to our community.

Online Application for Season Pass
Or connect with us at development@hiddenvilla.org or 650-949-9702.
*For the safety of our campers, Hidden Villa is closed during summer 2013 with the exception of select open weekends.
---
Wishlist
Do you have a digital camera that you no longer need? Do you have a deep chest freezer that you no longer want? Would you like to support Hidden Villa as we work to inspire a just and sustainable future?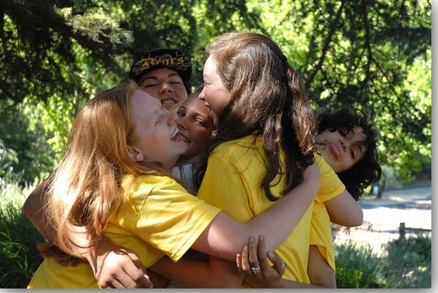 The Youth Development department is seeking a digital camera to capture the impact of its hands-on learning and leadership programs. The ideal camera is 10MP or higher, durable (for outdoor programs) and has the ability to take high resolution photos (1000KB or above). Video capabilities, memory stick and 5x optical zoom are especially exciting!
Hidden Villa is seeking 1-2 deep chest freezers in good working order.
Please connect with us at (650) 949-9702 or
development@hiddenvilla.org
.
---
Double Your Investment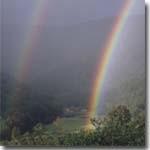 Many employers will "match" tax-deductible charitable contributions made by their employees, retirees and employees' spouses. Some even provide matching funds to support employee volunteer hours. Make your gifts to Hidden Villa have an even greater impact on building a just and sustainable future by taking advantage of your employer's matching gift program.
If you are not sure if your company has a matching program, or if you are a company representative and would like to start an Employee Matching Gifts program for your employees, contact Marc Sidel at (650) 949-8652 or
msidel@hiddenvilla.org.
---
Sign up for e.Scrip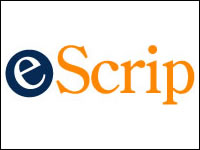 eScrip offers an easy way to support community education programs. By simply registering your credit cards with eScrip, Hidden Villa earns money on purchases made from supporting merchants. It is
FREE
to register your credit cards and by doing so, you make a big difference to Hidden Villa. To register, click on the link below and type "Hidden Villa" in the search box. It is that easy! We appreciate your support!
Join eScrip.
---
---
Hidden Villa was originally the home of Frank and Josephine Duveneck and their family, who over the years made the ranch into a place for environmental discovery, social awareness, and community involvement. Today, Hidden Villa is a nonprofit educational organization that uses its organic farm, wilderness, and community to teach and provide opportunities to learn about the environment and social justice.

---
Photo credits: Laurie Aubuchon, Dan Quinn, Lucy Zhang, Nikki Bryant

"Becoming aware of the relationships of all living things is the key to knowing ourselves."
-Josephine Duveneck

---
Hidden Villa is a Finalist in Global Giving's Video Contest!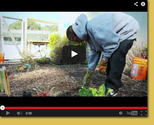 ---
Introducing
Hidden Villa's
HomeFarm series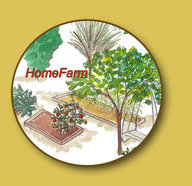 Whether you dream of year round self-sufficiency, or simply want to take your gardening know-how to the next level, our new set of sustainability workshops will give you the tools to grow a thriving garden in our local ecosystem.

Our classes are taught by Hidden Villa staff who bring knowledge honed by 25 plus years of innovative, sustainable farming.

See our calendar of events to sign up for HomeFarm workshops or to learn more!

---
Upcoming Public Programs

---
Stargazing
Saturday, April 13
Family Event!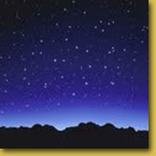 Join us for an introduction to our beautiful night sky and an evening full of astronomical wonders! Environmental Educator, Mila, will teach you about the sparkling stars, planets, constellations, and galaxies! Hot cocoa provided!

---
HomeFarm series
Growing a Cut Flower Garden
Saturday, April 27
Adult Class!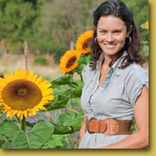 Join Lanette Anderson, Hidden Villa's flower farmer, for a day of all things flowers! Gain skills and knowledge about the most beautiful locally adapted flower varieties (as well as the easiest to grow). Learn how to harvest to ensure continual blooms!
Learn More
---