August '13
The Leadership Issue
________________________
Intern Spotlight:
Name: Lisa Veliz
Hometown: Oak Park, CA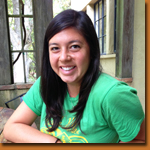 Lisa has steeped herself in hands-on learning over the past year as an Environmental Education Intern and Summer Camp Staff at Hidden Villa. She came with a desire to become an educator and to better understand the natural world and hands-on learning. In the upcoming school year, Lisa will be incorporating experiential education in the classroom as a Teacher's Assistant in Oakland while working towards her Masters in Education.
If Lisa could be any animal, she would be a Red Shouldered Hawk!
---
Upcoming Public Programs
---
Stargazing Party with the
San Mateo County Astronomical Society

Sun., Aug. 4, 8:00–11:00 pm
Family Event!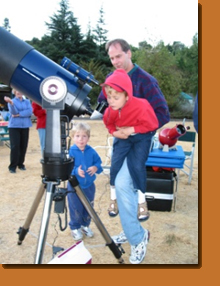 Enjoy a summer night under the stars with the San Mateo County Astronomical Society. Join us for an entertaining astronomy presentation by the amazing AstroWizard, Dave! Then head outside to view the sky through massive telescopes. Observe constellations, star clusters, galaxies and more. Bring a flashlight and blanket or lawn chair and enjoy our off-the-grid, country night sky.
Learn More
---

Whole Hog: All About Pork

Saturday, August 24
1:00- 5:00 pm
Adult program!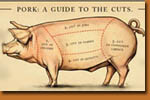 Learn about your favorite cuts of pork. Master charcuterie Chef Quentin Levy will demonstrate where bacon, ham and chops come from and give you tons of tips on how to prepare them. Home cooks, gourmands and curious pork loving folks welcome – bring your questions!

Learn More
---

F is for Farm:
Hidden Villa Gets Crafty in Your Neighborhood
Family Fun!

Saturday, Aug. 24, 10am-2pm
C is for Craft, 549 Bryant St., Palo Alto, CA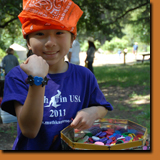 The farm moves downtown for a day of curiosity-filled activities and hands-on fun in the heart of Palo Alto! Join Bay Area farmers, artists and animals as we create crafts inspired by Hidden Villa's farm landscape. Featured activities include: tissue paper flower collages, printmaking using natural materials, felting with sheep's wool and much more!

Learn More

See our calendar of events for more fun, hands-on programs!
---

---
Youth Leaders in ACTion
by Sofia Pablo-Hoshino, 2013-14 Development Intern

"As assistant counselors in training, we are ambassadors of the Hidden Villa legacy who strive to both learn from and teach about our experiences at Hidden Villa, not only to other campers, but to our friends, families and communities."
-Assistant Counselors in Training Mission Statement 2013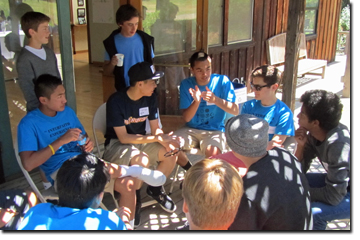 Three weeks ago I met Hidden Villa's Assistant Counselors in Training (ACT) participating in the first session of their training course. These young people, the majority of whom have attended Hidden Villa camp for nine or more years, emphasized that, "Hidden Villa is not just a summer place, but a place where people can find themselves." In their 12 day training, followed by a week-long internship, they are learning, sharing and reflecting on their deeply impactful experiences in hopes of creating the same value for future campers.
[Read More...]
---
A Place at the Table
The 17th Duveneck Humanitarian Awards Dinner
Saturday, September 21, 2013
Hidden Villa
Los Altos Hills. CA

Enjoy a delicious farm-to-table dinner
as we gather
to honor extraordinary humanitarians: Audrey Rust, the Noble and Lorraine Hancock family, and Sibella Kraus,
whose vital work brings forth dynamic and sustainable change in our families, communities, and the world.
This evening is Hidden Villa's core fundraising event and the proceeds will underwrite our programs, partnerships, and scholarship opportunities for the year.
Duveneck Dinner Tickets $250
Volunteer Value Tickets $150
To reserve your seat at the table, connect with us at (650) 949-9702,
development@hiddenvilla.org
, or visit
http://hiddenvilla.eventbrite.com
.
To learn about unique Sponsorship Packages for individuals and teams, please contact us at (650) 949-9702 or
development@hiddenvilla.org
.
---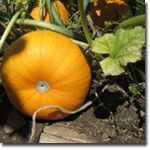 A Hidden Villa CSA Crew Original Recipe:
Simple Summer Squash Soup


The summer season brings an abundance of fresh fruits and vegetables to our community, allowing more time to be spent enjoying the warm sun and less time in the kitchen getting dinner ready. One of our most abundant veggies, the summer squash, is in peak season and can easily be incorporated into your family meals. With a soft outer shell and creamy delicate flesh, the summer squash is packed with vitamins and antioxidants that are guaranteed to make any meal delicious and nutritious.


Ingredients:

3 to 4 large summer squash, roughly chopped
About ½ bunch of fresh basil
1-2 tbsp butter, room temperature
Salt and Pepper to taste
1 cup fresh corn (optional)

Place chopped squash in a pot and cover with an inch or so of water. Steam until tender, about 10 minutes.
Leaving both the squash and water in the pot, use an immersion blender to puree the squash. If you prefer a thinner soup, you can add more water until you find a consistency you like.
Add ½ bunch of basil and continue to puree until well combined.
Add butter, one tablespoon at a time, salt and pepper to taste. (Optional: add 1 cup of fresh corn)
Serve immediately with fresh bread and enjoy! (This soup is delicious the second it is done and may turn brown if left out for more than an hour).
Enjoy!
For more CSA recipes, sustainable ideas and inspiring photos,
visit the Hidden Villa blog!
---
Swap.com Shoutout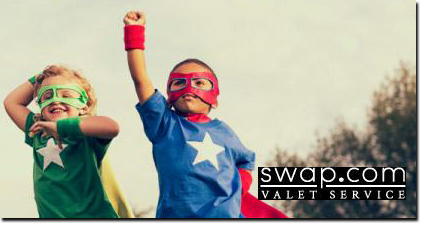 Thank you to all who have made Hidden Villa's partnership with Swap.com such a success! We are thrilled that many of you have been able to recycle outgrown kids' items and support Hidden Villa at the same time.
Here's the lowdown. You can now donate outgrown kids' items such as clothes, sporting gear, toys, games, books, DVD's and have them shipped (for free) to Swap.com. They sell the items online, and the sales proceeds go to Hidden Villa. Hidden Villa is excited to partner with Swap.com and support this new, sustainable way of making item donations easier than ever. Go to
http://hiddenvilla.swap.com
to get started!
---
Do you enjoy exploring Hidden Villa!?
Help us share our
hidden treasures with the Bay Area community by voting for us before August 15th in the Red Tricycle's
2013 "Totally Awesome Awards"!
---

Hidden Villa was originally the home of Frank and Josephine Duveneck and their family, who over the years made the ranch into a place for environmental discovery, social awareness, and community involvement. Today, Hidden Villa is a nonprofit educational organization that uses its organic farm, wilderness, and community to teach and provide opportunities to learn about the environment and social justice.

---
---
Questions, comments or ideas for what
you'd like to see in the e.Moos?!

We'd love to hear from you!
Contact tenaya@hiddenvilla.org.