February '16
---
---
Fruit Tree Pruning
Saturday, February 6th 10:00am -

12:00pm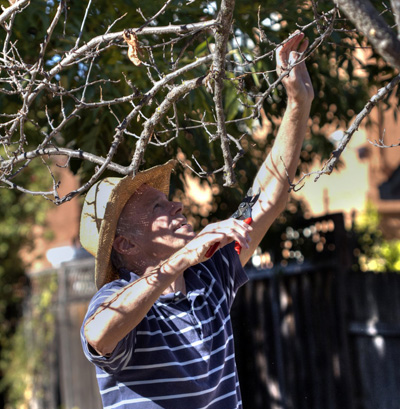 Join Tom Cronin, of Tom's Edible Gardens, and learn once and for all how to take care of your fruit trees! You can both improve your tree's health and maximize delicious yield with this basic knowledge.
REGISTER HERE
---
Wildlife of the Bay Area
Friday, February 12th 7:00pm - 8:30pm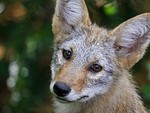 Join lead Hidden Villa Naturalist, Garth Harwood, at the hearthside for a fascinating evening featuring local wildlife both big and small. Questions answered, myths debunked, and true stories shared.
---
Hidden Villa Valentine's Bouquets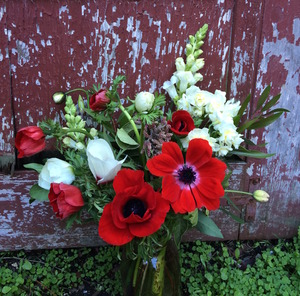 Celebrate your love with a Hidden Villa bouquet. Bouquets will be arranged with seasonal farm flowers and wild harvested greenery. Bouquets are $35 and can be picked up at Hidden Villa on Saturday, February 13th. There is limited supply, so order now at flowers@hiddenvilla.org.
---
​After-School Animal Husbandry Apprenticeship
Thursdays, 4pm-6pm
6 Week Sessions
February 18th-March 24th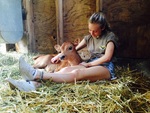 You are invited to train with Hidden Villa's experienced farm crew to learn sustainable and humane techniques of raising production animals during the lively season of birthing. Check out a photo tour of a previous sesssion.
Youth 8th-12th grades.

REGISTER HERE
---
Backyard Beekeeping
Saturday, February 20th
10:00am-12:00pm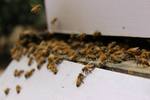 Have you ever wondered what it would take to keep honeybees in your own backyard? It's probably a lot easier than you think! This class will give an overview of the time, space, cost and equipment needed to start up your own backyard beehive.
---
Blacksmithing Class
Sunday, February 28th
1:00pm-4:00pm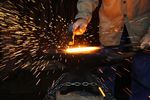 Come and learn blacksmithing in Frank Duveneck's old shop! We'll start with the basics of safety and fire management, and then progress to learning the fundamental techniques.

REGISTER HERE
---
See our calendar of events for more fun, hands-on programs!
---
Click here to share this message with a friend!

---
Seasonal Food and Flowers
Join Hidden Villa's Community Supported Agriculture (CSA) Program and get a weekly basket of seasonal, organic produce or flowers from our local, sustainable farm.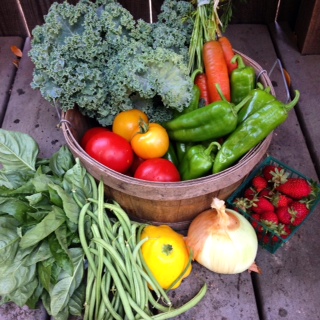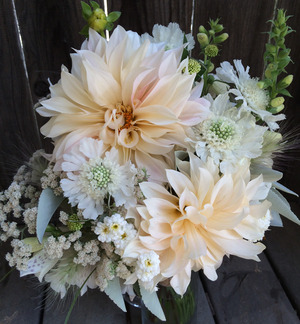 "
The CSA boxes and flowers have been awesome! I'm impressed at all the greens- they're so beautiful and flavorful."
"
I love my Hidden Villa CSA! You guys are rocking my kitchen!!!"
---
Celebrating Diny van der Velden
In March we'll be honoring our very own, Diny van der Velden who has contributed immeasurably to Hidden Villa since August 1985. To celebrate, Diny would like to create a scholarship fund for students who participate in Hidden Villa's Environmental Education Program and spend a night at the
Hostel.
"It's so gratifying to have been a part of this wonderful organization, with its rich legacy, for so many years. I've loved my time here on the farm, getting to work with so many different staff members and meeting guests from all over the world. While I have seen many changes over the years, the important things, like our mission and Duveneck family legacy, remain the same."
We want to thank Diny for her superb work in strengthening Hidden Villa's Hostel and Facility Rentals and Joel for his unwavering support over the years. We wish them all the best as they move to Oregon.
If you're interested in donating to the Hostel Overnight Fund in honor of Diny, please contact
development@hiddenvilla.org
---

Sponsorship opportunities and tickets are available here.

---
Teacher Time at Hidden Villa
Making NGSS Magic!
Are you a teacher looking for ways to discover how to teach Next Generation Science Standards (NGSS) in a way that is both fun and full of exploration? Join us for this educational workshop.

Wednesday, April 13, 2016
9:30am - 2:30pm
Teachers of grades 2-5
​Get excited about teaching science in a new way

Learn skills to help you facilitate student-driven learning

Experience dynamic ways to teach NGSS Practices:

Planning and carrying out investigations

Constructing explanations

Engaging in arguments from evidence

Discover ways to integrate hands-on learning in your classroom or schoolyard
There's no cost to teachers thanks to generous underwriting.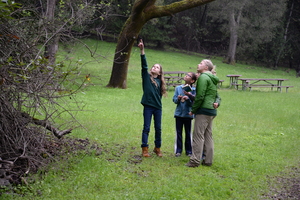 Contact us at (650) 949-8644
or
hveep@hiddenvilla.org.
---
Donor Spotlight: The Kaplan Family
The Kaplan Family: Rory, Dan, David, Dan, and Deb, believe in contributing to the community. They first discovered Hidden Villa decades ago when it was their polling place, and have since deepened their involvement as volunteers, program participants, and as donors.

They began talking about philanthropy in an effort to link their giving with the impact that the family would find inspirational. For the past several decades the multi-generational Kaplan Family gather the day after Thanksgiving to decide how the family's philanthropic funds will be allocated.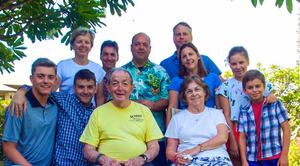 "We give because Hidden Villa fulfills every possible quality that we're looking for in an organization and personifies everything our family believes in."

The family's care for the local community mirrors the legacy of Josephine and Frank Duveneck. Together, we inspire a just and sustainable future.
---
Questions, comments or ideas for what
you'd like to see in the e.Moos?

We'd love to hear from you!
Share your feedback with sofia@hiddenvilla.org.
---
Hidden Villa was originally the home of Frank and Josephine Duveneck and their family, who over the years made the ranch into a place for environmental discovery, social awareness, and community involvement. Today, Hidden Villa is a nonprofit educational organization that uses its organic farm, wilderness, and community to teach and provide opportunities to learn about the environment and social justice.