October '13
The Transformation Issue
________________________
Upcoming Public Programs
---
BACON: A Love Story
Sunday, October 6th
4:00 pm- 7:00 pm
Adult Program, 21 and Over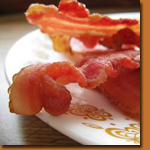 Join Charcutier Chef Quentin Levy for an informative gastronomical voyage, illustrated with delectable bacon treats and deliciously paired with great wines. Explore bacon in its many forms found around the world and learn how you can make your own delicious bacon with organic and locally sourced meats. Come with a group of friends or make new ones here--it's a bacon lover's dream!
Register here
---
California Native Plant Sale
Saturday, October 19th 10:00 am– 3:00 pm
All Ages Welcome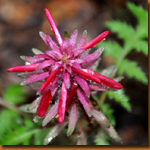 Fall is the premier time to plant in California! Scores of hard-to-find native plants, seeds, and bulbs suitable for California gardens will be available for you to select from. Speak to the event's experts from the California Native Plant Society about lawn alternatives such as native perennials, wildflowers, grasses and more! Native plant books, posters, and note cards will also be available for purchase. Come early for the best selection and bring your own box to take home your new natives! Cash or check only, no pre-registration required.

Learn More
---
Halloween Haunts!

October 25th and 26th
6:15- 9:45 pm
Family Event
Children ages 4-12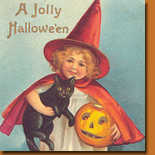 Travel through our enchanted trail as you collect treats and encounter silly and spooky characters along the way. At the end of your journey, enjoy hot cider, delicious goodies, and spook-tacularly fun entertainment. Bring the entire family for good, old fashioned farm-style fun -- nothing too scary. Halloween costumes extremely encouraged!

Learn More
---
See our

calendar of events

for more fun, hands-on programs!
---
Click here to share this message with a friend!
---

---

Fresh Faces, Clear Skies, An Unforgettable Evening
The 17th Annual Duveneck Humanitarian Awards Dinner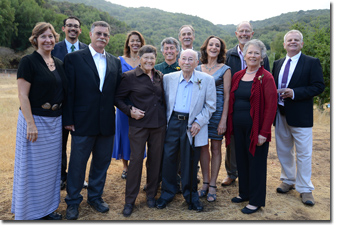 Executive Director, Chris Overington and Board Members Edgar Chavez, Rita Whitney, Rich Peers and David Duveneck smile with this year's Honorees: Audrey Rust, Sibella Kraus and the Noble and Lorraine Hancock Family
The skies cleared for a crisp evening of
interaction and impact at this year's 17th Annual Josephine and Frank Duveneck Humanitarian Awards Dinner. Conversations were ignited among friends, old and new, as we came together to be inspired by one another and the possibilities that exist when actions and values align. It was a heartfelt evening of farm food, friendship and fun!

The success of the event was elevated by the generosity of our friends at the
Morgan Family Foundation,
who are matching all gifts dollar for dollar through the autumn season. Thanks to the many supporters who invested in Hidden Villa at the Duveneck Dinner and beyond, we have already raised over $50,000!
We have less than $10,000 left to go. If you would like to partner with us as we work to inspire a just and sustainable future, right now is an especially meaningful time to leverage your impact.
---
Hidden Villa Welcomes New Interns!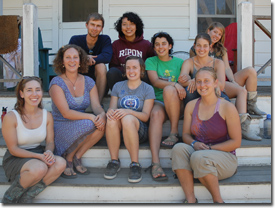 New Hidden Villa Interns cozy up on the White House porch with Intern Coordinator, Danielle Diaz (far left)
Hidden Villa welcomes it's new cohort of Environmental Education, Youth Development and Community Programs interns to the farm for a new year of experiential learning, personal and professional growth and community living. These interns will facilitate hands-on learning for our youth and local community. In addition, the Environmental Education Interns will develop essential naturalist and teaching skills through our Naturalist Certification Program, now entering it's second year!
"I am excited to see how education and teachable moments outside at Hidden Villa lend to a more sustainable future..."
-Griffin Cassara, Community Programs Intern
To learn more, check out Hidden Villa's
Internship Program
---
A New Season of Hands on Learning
School is back in session, and just because the summer season has ended doesn't mean the outdoor fun has to end too. Hidden Villa offers many fieldtrip opportunities for children's preschool to sixth grade classes to come for fun, hands-on learning in our educational garden, farm and surrounding wilderness.
Opportunities for the Fall/Winter programs are still available and registration for our Spring Programs will begin on October 2nd.
Learn more
about Hidden Villa's school programs and how your child can take part in fun, hands-on learning!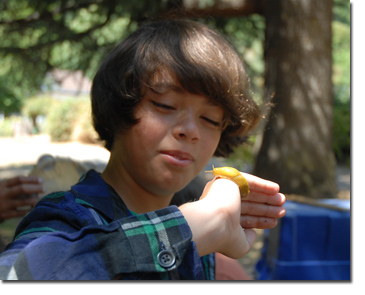 ---
---
Questions, comments or ideas for what
you'd like to see in the e.Moos?!

We'd love to hear from you!
Share your feedback with tenaya@hiddenvilla.org.

---
Hidden Villa was originally the home of Frank and Josephine Duveneck and their family, who over the years made the ranch into a place for environmental discovery, social awareness, and community involvement. Today, Hidden Villa is a nonprofit educational organization that uses its organic farm, wilderness, and community to teach and provide opportunities to learn about the environment and social justice.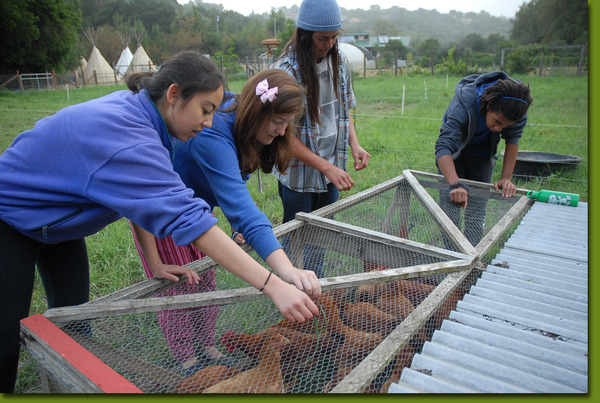 Connect with Hidden Villa
Kristen Powell, Colleen Rafferty, Maggie Shields, Susan Love

Photo credits:
Laurie Aubuchon, Lucy Zhang, Joel Bartlett, Dan Quinn.

Editor:
Tenaya Schnare