November '15
---



---
Upcoming Programs
---
Dia de Los Muertos
Sunday, November 1
1:00pm - 4:00pm


Celebrate this joyful Mexican holiday that honors those who have gone before us, and the sweet beauty of life! We will be crafting tissue paper marigolds, decorating sugar skull cookies with icing, and more. The focus of our gathering will be on community, crafts, music and food - all the wonderful things of life.
Register Here
---
See our

calendar of events

for more fun, hands-on programs!
---
Click here to share this message with a friend!

---
Share Your Story

An Oral History of the Duveneck Impact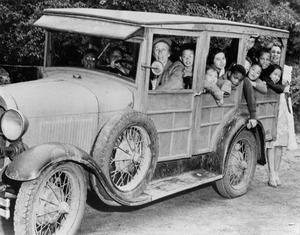 NPR interviewed David Isay,
founder of StoryCorps, about a new project, the Great Thanksgiving Listen. The project
gives people of all ages the opportunity to tell a story via an application on their phone that is saved as part of our collective, oral history.
At Hidden Villa we're excited to use this application to put together stories of people who have been influenced by Josephine and Frank Duveneck. We will interview folks that have a story to tell about the impact of these local pioneers, ensuring these stories reach future generations.
If you are interested in sharing your story, please contact Karen Wilkes at Karen@hiddenvilla.org. We are honored for the opportunity to capture your voice .
---
Farm Day with the CSA of Mountain View

Written by Ali Abbors, Hidden Villa journeyman
On October 10th we invited our friends from the Community Services Agency of Mountain View (CSAMV) for a celebration of our partnership.
25% the food grown at Hidden Villa is donated to CSAMV, where their clients select the food they'd like to prepare for themselves and their families.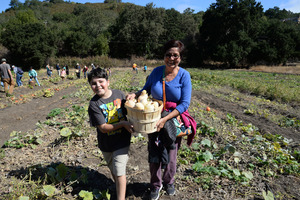 This year over 80 CSAMV clients of all ages shared in harvest activities, animal visits, and a community meal in our outdoor kitchen.
Clients were taken on a tour of the goats, chickens, cows, and sheep up-ranch, and the day culminated in a shared farm-to-table lunch of smoky vegetable soup, oven-baked flatbread, coleslaw, and fresh-pressed apple cider. Yum!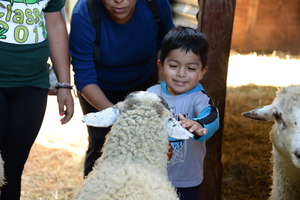 The event was a huge success, not just because everyone left smiling and well-fed, but because 80 CSAMV clients now know that Hidden Villa is their farm. Because of your financial support we are able to grow food for our neighbors from CSAMV.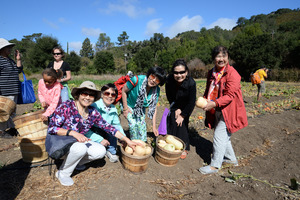 Thank you to all who joined us and support our partnership with the Community Services Agency of Mountain View. Learn more about their services
here
or ways to support this partnership here.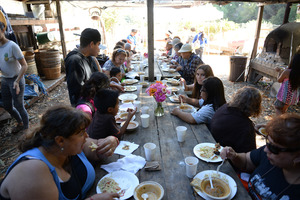 "We like the Hidden Villa vegetables because they are fresh and healthy for my family. Thank you. The food we ate was delicious."
---
Your Legacy at Hidden Villa

Is Hidden Villa special to you and your family?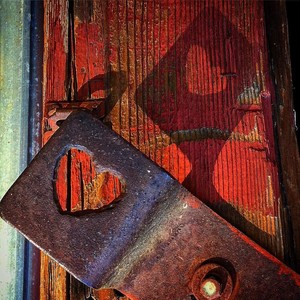 Consider making a Planned Gift and ensure that Hidden Villa is inspiring a just and sustainable future for generations.

Please contact Marc Sidel, Deputy Director of Development at msidel@hiddenvilla.org to learn more about making a planned gift to Hidden Villa.

For those of you who have already made this extraordinary commitment to Hidden Villa, let us know. We'd like to invite you to join our Duveneck Legacy Society, a special community of donors who have established planned gifts to Hidden Villa.
---
Questions, comments or ideas for what
you'd like to see in the e.Moos?

We'd love to hear from you!
Share your feedback with sofia@hiddenvilla.org.
---
Hidden Villa was originally the home of Frank and Josephine Duveneck and their family, who over the years made the ranch into a place for environmental discovery, social awareness, and community involvement. Today, Hidden Villa is a nonprofit educational organization that uses its organic farm, wilderness, and community to teach and provide opportunities to learn about the environment and social justice.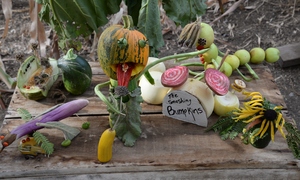 Contributors:
Ali Abbors, Sofia Pablo-Hoshino, Maggie Shields, and Marc Sidel
Photo credits:
Laurie Aubuchon, Joel Bartlett, Dan Quinn, and Lucy Zhang.

Thank you to each and every one of you who help pave the way towards a more just and sustainable future!