August '14
The Inspiration Issue



In this issue, we feature two special events that highlight the legacy of Hidden Villa's Founders and build community, the Duveneck Dinner and the Duveneck Forum Film Series.
---
Stargazing Party with the San Mateo Astronomical Society

For All Ages

Sunday, August 3rd
8:00pm - 11:00pm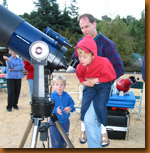 Enjoy a summer night under the stars with the San Mateo County Astronomical Society. Join us at 8pm for a very entertaining astronomy presentation by the ever popular Dave, The AstroWizard! Then around 9 pm, head outside to view the sky through massive telescopes. Observe constellations, star clusters, galaxies and more. Bring a flashlight and blanket or lawn chair and enjoy our off-the-grid, country night sky.

Register Here
---
Storytelling with Enid Davis "Let the Princess Save Herself" - All Ages

Sunday, August 24th
1:00pm - 2:00pm
FREE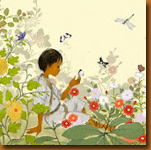 Many people think fairy tales have only passive females, but this is not so! Since Women's Equality Day is on August 26th every year, this fun storytelling program will focus on folktales around the world featuring spunky heroines. The observance of Women's Equality Day not only commemorates the passage of the 19th Amendment, but also calls attention to women's continuing efforts toward full equality. In addition to celebrating girls and women, we will honor the ancient art of traditional oral storytelling. Using puppets, creative dramatics, and a storyteller's wit and wisdom, families will be entertained in a joyful communal setting.
Register Here
---
See our

calendar of events

for more fun, hands-on programs!
---
Intern Spotlight


Emily Saeger
Hometown:
Washington D.C.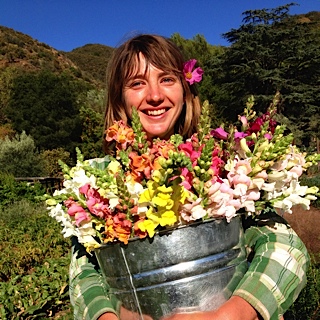 Emily is one of Hidden Villa's agriculture interns and is excited to be here because of the focus on education for the public and the intern cohort. Emily enjoys the fact that she has ample time and opportunity to learn by doing and ask questions of her team. She's preparing for a future in edible landscaping work. She's also found a new passion for flowers and bouquet making while working alongside our horticulturalist.
Emily's favorite:
Bintje Potatoes
---
---
Click here to share this message with a friend!
---
---
Connect With Us!

---
Please Join Us...
... for Hidden Villa's premiere fundraising event, the 18th Annual Duveneck Dinner: Illuminating Connections, Inspiring Our World. On Saturday, September 20th, 2014 we'll celebrate the impact we can each make on the world we share. All proceeds from the dinner directly support scholarship underwriting, making resources at Hidden Villa available to over 55,000 people each year.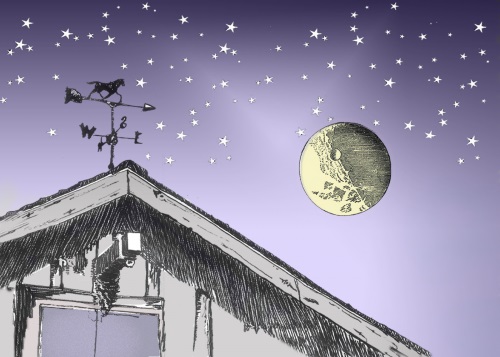 In honor of the remarkable legacy of Frank, Josephine and the Duveneck Family, Hidden Villa recognizes inspirational leaders who exemplify Hidden Villa's values and mission to
inspire a just and sustainable future.
We will honor local humanitarians Abby Ginzberg, Matt Flannery, and Leila Madrone and share our accomplishments in community.
Buy Tickets Now
.
Interested in Sponsoring the Duveneck Dinner? Contact us at development@hiddenvilla.org or (650) 949-9702.
---
Duveneck Forum Film Series
FREE Film Screening: Cesar's Last Fast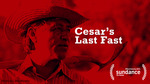 Josephine and Frank Duveneck opened their home to the United Farm Workers movement in the 1960s and provided a safe space for Cesar Chavez to organize California's first farm workers strike. Join us as we celebrate the legacy of our founders and this local change-maker.
Sunday, August 24th at 5pm
Potluck begins at 5pm and film screening at 5:30pm
Conversation & dialogue to follow
Register now for FREE admission.





Cesar's Last Fast is a documentary film about the private sacrifice and spiritual conviction behind Cesar Chavez's struggle for the humane treatment of America's farm workers and his impact on today's generation of organizers fighting for farm worker rights.
Watch the Trailer
---
Citizen Scientists at Summer Camp
The Summer Campers participating in the Sierra Backpacking program are wrapping up their 3 week adventure. They spent 15 days exploring San Francisco's water source; starting at Hetch Hetchy Reservoir, hiking into Tuolumne Meadows and arriving in Yosemite Valley just hours before you read this!
Our Summer Camp Director visited the group of 11th and 12th graders to restock their food supply last week. She told us that they were in good spirits, even after a few days of rain, and spent that day volunteering with the National Park Service pulling invasive plants at Tuolumne. They are finishing up with their Repeat Photo project, recreating historic photos and observing changes in the landscape. We're excited to welcome them back after their journey and are especially grateful to the
Alpine of the Americas Project
that helped make this new program possible.
Check out
their route
below. Impressive, ain't it?
---
Shop & Support Hidden Villa!
AmazonSmile
is a simple and convenient way to shop and support Hidden Villa when you purchase on Amazon. Shopping on AmazonSmile is exactly the same as shopping on Amazon.com, and it has the added bonus that Amazon will donate a portion of every purchase to Hidden Villa.

To shop on AmazonSmile and support Hidden Villa, go to
https://smile.amazon.com
.
Use your existing Amazon account to log in.
When first visiting AmazonSmile, customers are prompted to select a charitable organization. S
elect "The Trust for Hidden Villa." AmazonSmile will remember your selection, and every eligible purchase you make through AmazonSmile (smile.amazon.com) will result in a donation. Thanks for your support!
-------------------------------------------------------------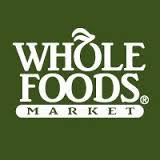 Whenever you reuse your own grocery bags at Whole Foods Market on El Camino Real in Los Altos, you are given the opportunity to donate a nickel to a local charity.
Hidden Villa
is honored to have been chosen by Whole Foods Market to benefit from the Nickels for Nonprofits program through September 28th. Next time you're at Whole Foods remember to use your 5-cent credit to help us create a more just and sustainable future.
---
---
Questions, comments or ideas for what
you'd like to see in the e.Moos?

We'd love to hear from you!
Share your feedback with sofia@hiddenvilla.org.
---

Hidden Villa was originally the home of Frank and Josephine Duveneck and their family, who over the years made the ranch into a place for environmental discovery, social awareness, and community involvement. Today, Hidden Villa is a nonprofit educational organization that uses its organic farm, wilderness, and community to teach and provide opportunities to learn about the environment and social justice.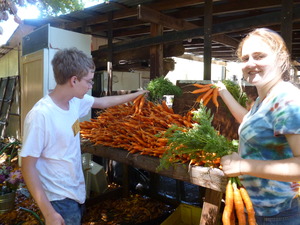 Contributors:
Suzanne Allcroft, Sofia Pablo-Hoshino, Maggie Shields, and Stephanie Sieveke.
Photo credits:
Laurie Aubuchon, Joel Bartlett, Dan Quinn, and Lucy Zhang.

Thank you to each and every one of you who help pave the way towards a more just and sustainable future!