January '14
The New Years Issue
_______________________
Seeking Young Leaders




Know a dynamic young person who wants to move resources to implement change? Hidden Villa is accepting applications for a residential Development Intern position until January 31, 2014. Perks include living and working at a 50 year-old non-profit, a competitive montly living stipend, valuable fundraising skills, and oh so delicious farm fresh food!
Check out our
Job Posting
for more details!
---
Upcoming Public Programs
---
Farm & Wilderness Experience
Saturday, January 18th
10:00 am- 12:30 pm
Families with children ages 7-12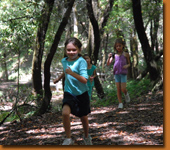 As an extension of our school program, join us for a guided wilderness hike and farm tour of Hidden Villa! The weekend Farm and Wilderness experience invites you to appreciate the connectedness of all life while discovering the unique characteristics and roles of plants and animals that live among Hidden Villa's diverse ecosystems. A trained naturalist will guide you along the trails and then take you around the farm to visit our fun and friendly farm animals!



Register Here
---
Nature Games & Crafts
Sunday, January 25th
1:00 pm– 3:00 pm
Families with children ages 4 & Up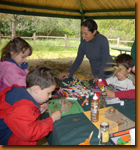 Put on your "deer ears" and learn to hear what the forest is saying or learn to roar like a mountain lion...our environmental education interns love to teach children how to open their senses to nature! Come enjoy fun and interactive games to bring you closer to the wild side and participate in simple nature craft activities where you can bring home your own 24-hour bug house you've made yourself. Then, rain or shine, we'll close with a special group hike through the woods so you can try out your cool new nature skills!

Sign Up Here
---
The Scoop on Poop!

Thursday, January 30th
3:00 pm- 4:00 pm
For children ages 3- 5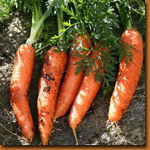 Get the scoop on poop in this fun gardening class just for preschoolers. First we'll head out onto the farm to collect all the ingredients we need to plant our very own spring garden...specifically poop! There are many kinds here on the farm, all of which are important for growing everything we eat, from fruits and veggies to milk and ice cream. The class will learn the connections between compost and soil, sample veggies growing in our garden, then craft a special planting project to take home for their very own garden.

Sign Up Here
---
See our

calendar of events

for more fun, hands-on programs!
---
Click here to share this message with a friend!
---
---
Connect with Us!

2014 Summer Camp registration begins on January 22nd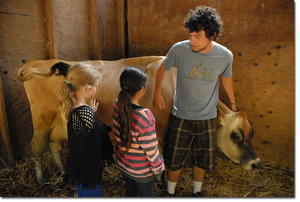 Join us for the 70th year of Hidden Villa Summer Camp! 

We offer unique Residential and Day camps for young people ages 4-18 that celebrate multicultural community, inspire awe for human and natural beauty, and empower young people with the tools to make positive and lasting changes in their families, their communities and the world.

Explore the wilderness! Make new friends! Take care of farm animals! Choose your own activities! Have fun!
Registration will begin at 10:00am on Wednesday, January 22 on our website. You will be able to register using this link beginning on the 22nd at 10:00am or alternatively, you may follow the registration links from our homepage.

New to Hidden Villa Summer Camp?
If you would like to set up your camper registration account prior to January 22, please call the
Summer Camp office by January 20 at (650) 949-8641.
---
Intern Spotlight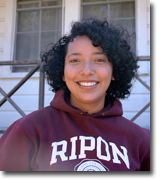 Name: Dulce Anahi Andr
ade Estrada
Hometown: Hayward, CA
Dulce deeply believes that providing mentorship for and serving youth are vital ways of helping young people, especially underserved youth, reach their dreams. As a Youth Development Intern at Hidden Villa, Dulce works with youth from all backgrounds as they participate in a wide variety of experiential education and service learning programs. Dulce can relate personally to the circumstances of many of the youth she works with.
"I know what it feels like to be underprivileged and I also know what it feels like to be inspired by others' commitment to make this world a better place. Because of this, I am inspired to give back."

Thank you for being an inspiration to pay it forward, Dulce!

To learn more about Dulce's perspective and the youth she serves, check out her bi-weekly posts on all things Youth Development on the Hidden Villa blog.
---
Make a Run for it, Duveneck Style!


For the first time in Hidden Villa history, we invite you to join us for the Duveneck Dash, a noncompetitive educational run/walk fundraiser on Saturday, April 18 that provides interactive experiences for all ages! The Duveneck Dash carries on the mission of our founders, Frank and Josephine Duveneck, to share Hidden Villa's land and legacy with our community and to raise funds for Hidden Villa Summer Camp scholarships.

Choose the best adventure for you! Event offerings include a 5k and 10k run/walk on Hidden Villa's wilderness trails, a walking loop around Steinman's pasture, educational booths, and "Toddler Town" at our natural playground.

The cost for this event is $20 per person for the 5K and 10K; $10 per person for the Steinman's Walk. All proceeds will support Hidden Villa's Summer Camp scholarships. Additional donations are welcome.
Thanks to supporters like you, we are able to provide over $165,000 in Summer Camp scholarships each year!
To learn more or to register, visit the event page on Active.com!
---
A CSA Crew Original a la Suzanne Allcroft:
Apple Puff Pancake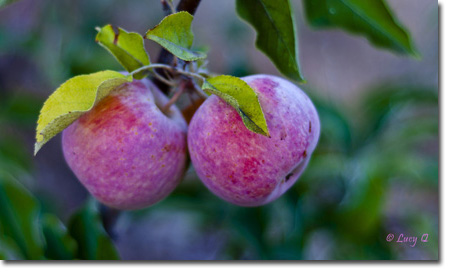 A breakfast (or anytime) treat my mom makes for special occasions. While similar to a Dutch baby, the apples and cinnamon
take it to the next level of winter warming!
6 eggs
1 ½ c. milk
1 c. all-purpose flour
3 Tbsp. granulated sugar
1 tsp. vanilla extract
½ tsp. salt
¼ tsp. cinnamon
4 Tbsp. butter
3 apples, thinly sliced (peeled optional)
3 Tbsp. brown sugar
Preheat oven to 425 degrees.

In a blender or large bowl mix eggs, milk, flour, sugar, vanilla, salt and cinnamon until blended. Batter will be lumpy.

Melt butter in a cast iron skillet or 13"x 9" baking dish in the oven.

Add apple slices to the skillet or baking dish and return to oven until butter sizzles. Do not let brown. Remove from oven.

Pour batter over apples, sprinkle with brown sugar.

Bake in the middle of the oven for 20 minutes or until puffed and brown. Serve immediately. I recommend eating with maple syrup, honey or jam.
---
---
Questions, comments or ideas for what
you'd like to see in the e.Moos?!

We'd love to hear from you!
Share your feedback with tenaya@hiddenvilla.org.

---
Hidden Villa was originally the home of Frank and Josephine Duveneck and their family, who over the years made the ranch into a place for environmental discovery, social awareness, and community involvement. Today, Hidden Villa is a nonprofit educational organization that uses its organic farm, wilderness, and community to teach and provide opportunities to learn about the environment and social justice.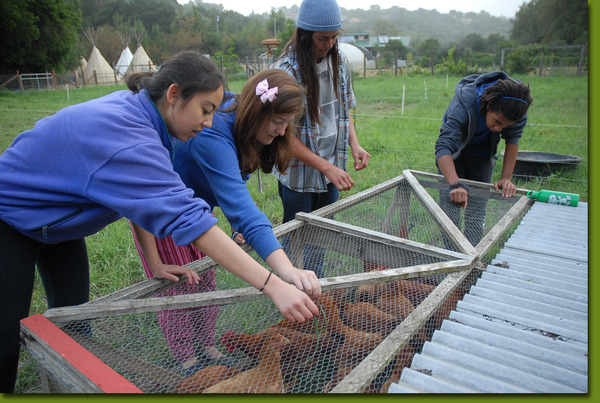 Contributors:
Kristen Powell, Tenaya Schnare, Maggie Shields, Suzanne Allcroft, Susan Love & The CSA Crew

Photo credits:
Laurie Aubuchon, Lucy Zhang, Joel Bartlett, Jay Davis, Dan Quinn.


Thank you to each and every one of you who help pave the way towards a more just and sustainable future!