January '17
---
Happy New Year from Hidden Villa!
---



Download the Easy2Hike App on your phone to enjoy free self-guided tours at Hidden Villa!
---
PreSchoolers on the Farm




3-part Series
1st Class - Friday, Jan 20
2nd Class - Friday, Jan 27
3rd Class - Friday, Feb 3
3:00 p.m. - 4:00 p.m.

Bury your hands in sheep wool, throw corn to the chickens, and more! There's lots to discover on the farm... we ask your child the questions and they discover the answers in this fun weekly class just for the preschool set. This is a 3-Part Series Class for ages 3.5 to 5 and parents/caregivers. NOTE: No charge for siblings under 18 months old.

Register Here
---
Nature Games and Crafts
Saturday, January 21
1:00 p.m. - 3:00 p.m.
Come enjoy some games and crafts specially designed to bring you and your child closer to nature. Space is limited! For families, activities designed for children ages 4 and up.

Register Here
---
Yoga for Healthy Backs


Saturday, January 28
10:30 a.m. - 12:00 p.m.
Appropriate for anyone who would like to build back strength, increase flexibility, improve posture, or reduce chronic pain. Wear comfortable clothing and bring a yoga mat.
Register Here
Weekend Farm Tours


Saturdays and Sundays 10:30 a.m. - 12:00 p.m
1:00 p.m. - 2:30 p.m.
Taste a root, come face to snout with a pig, and discover the connections between sweaters and sheep on a guided tour of Hidden Villa's farm and educational garden! Under 2 years old, free of charge.
---
See our

calendar of events

for more fun, hands-on programs!
---
Click here to share this message with a friend!
---
Connect With Us!
Tel: (650) 949-8650
info@hiddenvilla.org
26870 Moody Road
Los Altos Hills, CA 94022

Thank you!
We are so grateful that you are a part of our community and that you love Hidden Villa! With your generous support, we met our match challenge and surpassed our goal to raise $100,000! Thank you for helping us end 2016 in such a strong place and making Hidden Villa accessible for generations to come.
_____________________________________
_________
Summer Camp 2017 Registration
Hidden Villa Summer Camp provides young people with new experiences and encourages them to consider the effect of their choices and actions on the world. In each camp we ask campers to utilize their agency as allies and advocates for themselves and each other in age-appropriate ways.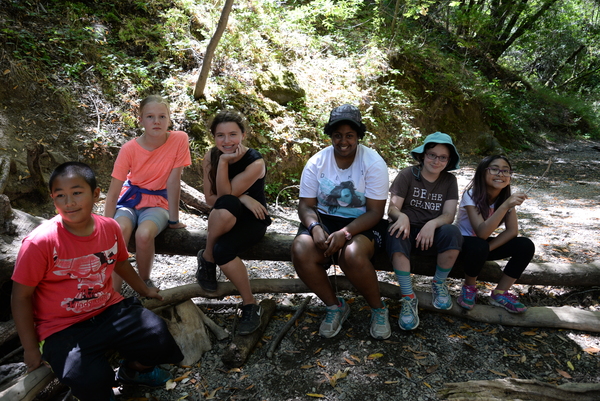 Registration
Saturday, January 21
- Overnight programs @ 2pm
- Day programs @ 4pm

New Exciting Programs!
The Explorers Program
Offered on School Holiday and Break schedules, the Hidden Villa Explorers Program is perfect for providing your child with a fun filled day! This exciting program is based on experiential outdoor learning that inspires curiosity and investigation.
January Explorers Program Dates
Homeschool Explorers
January 12 and 17

February Explorers Program Dates
President's Holiday Week
February 21 - 24

April Explorers Program Dates
Spring Break
April 6 & 7
April 13 & 14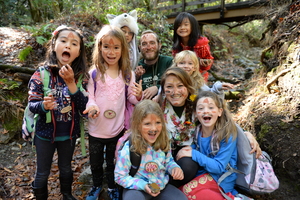 After-School Adventures
The very first session of our brand new After School Adventures program was a great success and we are excited to be offering even more sessions for Spring 2017! After School Adventures is designed for Kindergarten through 5th grade students to engage in the outdoors, make lasting friendships, and explore the natural world through kid directed, inquiry-based learning and play.

After receiving requests for these types of programs for years, we're thrilled to give parents and caregivers the opportunity to have their children explore Hidden Villa's farm and wilderness once a week for an entire semester. Children will have a blast and it will be a perfect change of pace from their day in the classroom.

Teen Programs & Apprenticeships
After-School Animal Husbandry Apprenticeship
February 16 - March 23

Train with Hidden Villa's experienced farm crew to learn sustainable and humane techniques for raising animals. After a comprehensive introduction to each animal, apprentices will team up to master the care of their favorite animals. All sessions meet on Thursdays from 4pm - 6pm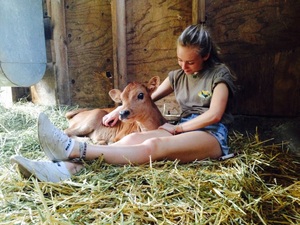 ____________________________________________________
Visit Us
We recently increased the Gate Fee and Season Pass Fee. When you come to Hidden Villa, the gate fee will be $10 per car. Please consider purchasing a Season Pass for yourself and a friend if you plan on visiting often. The Season Pass will allow you to park at Hidden Villa for a calendar year without paying for parking.

____________________________________________________
Summer Camp Counselors Wanted
Hidden Villa Summer Camp is rewarding for campers and counselors alike. Our staff help create impactful opportunities for youth from all different backgrounds, while engaging with our natural world. They gain experience problem solving, public speaking, working in teams, developing curriculum, and serving as leaders. Browse Summer Camp 2017 positions.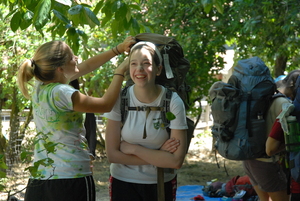 ___________________________________________________
Donation Request
If you have a gas stove you are looking to get rid of and it is in working condition, please reach out to us and let us know!
---
---
Questions, comments or ideas for what
you'd like to see in the e.Moos?

We'd love to hear from you!
Share your feedback with daniel@hiddenvilla.org.
---
Hidden Villa was originally the home of Frank and Josephine Duveneck and their family, who over the years made the ranch into a place for environmental discovery, social awareness, and community involvement. Today, Hidden Villa is a nonprofit educational organization that uses its organic farm, wilderness, and community to teach and provide opportunities to learn about the environment and social justice.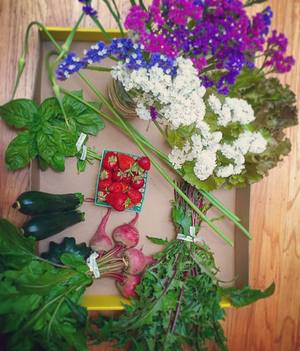 Contributors: Daniel Chmielewski, Sofía Pablo-Hoshino, and Marc Sidel.
Photo credits:
Laurie Aubuchon, Joel Bartlett, Dan Quinn, and Lucy Zhang.

Thank you to each and every one of you who help pave the way towards a more just and sustainable future!