---
Join us in
celebrating what we've accomplished together
in the past year and
take a look at our new
Annual Report.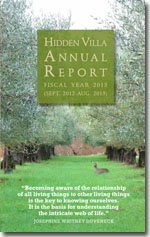 What was your favorite moment at Hidden Villa last year? Was it watching your children connect with a farm animal or spotting a beautiful wildflower?
To share the magic of this place with everyone, Hidden Villa provides over $550,000 of underwriting for scholarships, field trips, hands on education, youth leadership, and more.
Together, we raise the funds to make Hidden Villa accessible to 55,000 visitors each year.
Please join us by making a gift!
Join us in raising $50,000 by August 31 to ensure that just as many visitors can experience the magic of Hidden Villa in the coming year.
View our new Annual Report online!
Duveneck Forum Film Series
Soul of Justice: Thelton Henderson's American Journey

Join us for a thought-provoking film and enriching dialogue. Potluck and Discussion with filmmaker
Abby Ginzberg to follow screening.

Sunday, June 29th at 5pm.
Register now for FREE Admission.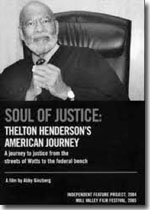 As the first black attorney in the
Civil Rights Division of the Kennedy Justice Department in the 1960's, Henderson confronted the intricate challenges of being a black man in authority within the largely all-white world of the American legal system.
Check out the
Facebook event
for updates!
---
Celebrating Hidden Villa Volunteers
This May, Hidden Villa celebrated its volunteers and community members at the Annual Volunteer Appreciation Party. With generosity and dedication, Hidden Villa's volunteers teach, garden, farm, perform administrative tasks, serve on committees and on our Board of Trustees, donate, build, and help maintain everything from our property to our website.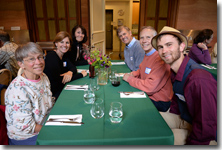 Every aspect of Hidden Villa's operations is supported by Volunteers. They are the backbone of Hidden Villa and provide over 13,000 hours of service to help fulfill the mission of
Frank and Josephine Duveneck.
Thank you to our wonderful Volunteers!

Interested in volunteering or service-learning as an individual or with your team? Contact volunteers@hiddenvilla.org.

Special thanks to Justin's Restaurant for catering the event.
---

Summer Camp & Summer Hours Beginning Soon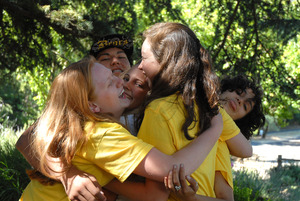 We're excited to welcome new and returning camp families and are looking forward to the fun, exploration, and connection to come. This year we're offering two new opportunities, Kinder Camp and a Sierra Backpacking Excursion, extending our summer camps to children ages 4 to 18.
Please note that with camp programming in session, we'll be closed for most of the summer from June 13 - August 18.
Please come visit us the following open weekends:
June 14th & 15th
June 28th & 29th
July 12th & 13th
July 19th & 20th
August 2nd & 3rd
---
---
Questions, comments or ideas for what
you'd like to see in the e.Moos?!

We'd love to hear from you!
Share your feedback with sofia@hiddenvilla.org.

---

Hidden Villa was originally the home of Frank and Josephine Duveneck and their family, who over the years made the ranch into a place for environmental discovery, social awareness, and community involvement. Today, Hidden Villa is a nonprofit educational organization that uses its organic farm, wilderness, and community to teach and provide opportunities to learn about the environment and social justice.