Becoming aware of the relationship of all living things to other living things is the key to knowing ourselves.

-Josephine Duveneck, Founder

---
---
Upcoming Public Programs

---
Join your child for a fun hands-on activity making organic ice cream from scratch topped with fresh fruits and herbs from Hidden Villa's garden. Learn how our extraordinary dairy cows work with earthworms to bring us this creamy and delicious treat!
---
3rd Annual Women's Healing Conference Saturday, May 18
9am–9pm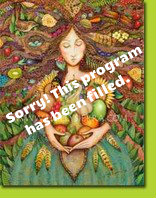 This day of workshops is presented by many of the best local practitioners honoring feminine strength, beauty and wisdom. Among the offerings: Women's Healing Practices, Herbal Medicine, Endocrine Health, Holistic Medicine, Herb Walks, Yoga, Qi Gong, Self expression through Movement & Art, Creative Cooking, Awakening Shakti, Sharing & Healing Circles
Learn More
---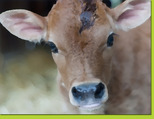 Learn how to make butter the old fashioned way in
this DIY article
from
Lucky Peach
. Recognize that bovine beauty!? That's right, the story features Hidden Villa's very own Jersey cow, Cleo!
May e.Moos
Straight from the cow's mouth...
---
Los Altos Farmers Market Kicks Off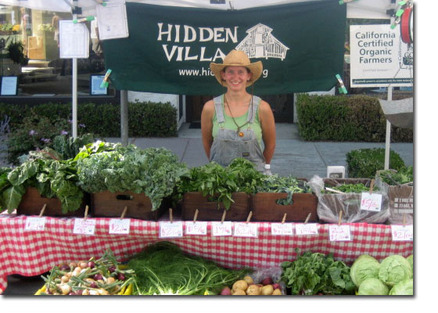 On Thursday, May 2nd, the
Los Altos Farme's Market
commenced the summer market season of delectable local eats, fresh produce and community fun. Come visit Hidden Villa and other local food producers on Thursdays from 4-8pm on State Street in downtown Los Altos. Hidden Villa pastured and sustainably-raised eggs, meat and organic veggies are available and will make your tastebuds want to dance. Hidden Villa farmers proudly raise our meat, eggs and veggies through innovative and sustainable farming techniques that steward our land and wilderness whilst nurturing each vegetable into its most tender, sweet and succulent self!
We hope to see you soon!
---
Hidden Villa Partnership Gardens
Honored in 2nd San Mateo
School Garden Recognition Ceremony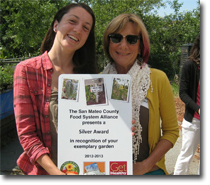 Second year Hidden Villa Environmental Education Intern, Josie Watson, receives
the award for Taft Community School Garden from special guest and presenter, Jessie Cool.
On Saturday April 27th, over 60 members of the San Mateo County garden-based education community gathered to receive awards for their exemplary school gardens, which included Hidden Villa's partnership garden-based education programs at Taft Community School, John Gill Elementary and Roy Cloud Elementary! Special guest, Jesse Cool, spoke to the connection between school gardens, human and environmental health, and a sustainable food system, and Safe Routes to School Coordinator, Daina Lujan, eloquently represented the support of the San Mateo County Office of Education.

Attendees heard insights on successful garden sustainability from a Best Practices Panel that included Hidden Villa's School Garden Coordinator, Jenny Zaebst; UCCE Master Gardener, Ally Christian; and John Muir Elementary Teacher, Cindy Marconi. Held in the beautiful garden at Redwood High School, engaging garden tours and kid activities were provided by students from the Redwood Academy of Environmental Leadership. Hidden Villa is a member of the San Mateo Food System Alliance's Farm to Institution Committee, who presented the School Garden Recognition Program.

Thank you to all applicants for your work inspiring students to make healthy choices for themselves and our world through hands-on garden-based learning and congratulations to the 2013 Award Recipients!

---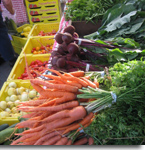 Only 12 CSA Shares Left!
Grab one of the last 2013 season memberships to receive weekly produce baskets starting next week: May 14th!
Local, sustainable, organic and did we mention delicious!? Our veggies will sweeten your summer like none other!
---
So Many Ways to Support
Hidden Villa!

Hidden Villa is a nonprofit educational organization that uses its organic farm, wilderness, and community to teach and provide opportunities to learn about the environment and social justice. Our budget is evenly comprised of program fees and contributed revenue; This model compels us to produce quality programs and to build strategic alliances. To inspire a just and sustainable future, we need to ensure there is a place for everyone at the table. You have an opportunity to shape tomorrow and make a lasting impact by making a gift today.
---
Wishlist

A digital camera to capture the impact of its Youth Development hands-on learning programs. The ideal camera is 10MP or higher, durable (for outdoor programs) and has the ability to take high resolution photos (1000KB or above). Video capabilities, memory stick and 5x optical zoom are a bonus!
1-2 deep chest freezers in good working order.
Please connect with us at (650) 949-9702 or development@hiddenvilla.org. Thank you!
---
Purchase a Season Pass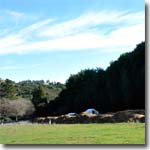 Did you know that by investing in a
Season Pass
you can partner with Hidden Villa to steward local, open space and reinforce the value this land has for you and your community?
Perhaps you are looking for a way to make your lifestyle more active and would like a beautiful natural place to walk and hike. Or perhaps your family would like to explore our gardens, picnic next to a creek and come nose-to-nose with a farm animal!
A Season Pass permits one car to skip the usual $5 parking fee and park in our lot during our public operating season (September through May and select open weekends during the summer). Purchasing a Pass is a wonderful way to enjoy our 1600 acres of wilderness, trails and organic farmland whilst ensuring they remain accessible to our community.
Online Application for Season Pass
Or email bjohnston@hiddenvilla.org, or call 650-949-9702.
---
Double Your Investment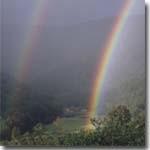 Many employers will "match" tax-deductible charitable contributions made by their employees, retirees and employees' spouses. Some even provide matching funds to support employee volunteer hours. Make your gifts to Hidden Villa have an even greater impact on building a just and sustainable future by taking advantage of your employer's matching gift program.
If you are not sure if your company has a matching program, or if you are a company representative and would like to start an Employee Matching Gifts program for your employees, contact Marc Sidel at (650) 949-8652 or
msidel@hiddenvilla.org
.
---
Sign up for e.Scrip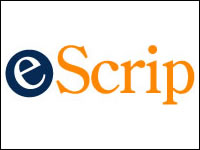 eScrip offers an easy way to support community education programs.
By simply registering your credit cards with eScrip, Hidden Villa earns money on purchases made from supporting merchants.
It is
FREE
to register your credit cards and by doing so, you make a big difference to Hidden Villa. To register, click on the link below and
type "Hidden Villa"
in the search box. It is that easy! We appreciate your support!
---
---
Are you interested in reallocating your resources to bring forth a just and sustainable future?
Connect with us at development@hiddenvilla.org or (650) 949-9702 to learn how you can become more involved in Hidden Villa's work.

---
Hidden Villa was originally the home of Frank and Josephine Duveneck and their family, who over the years made the ranch into a place for environmental discovery, social awareness, and community involvement. Today, Hidden Villa is a nonprofit educational organization that uses its organic farm, wilderness, and community to teach and provide opportunities to learn about the environment and social justice.


---
Photo credits: Laurie Aubuchon, Dan Quinn, Lucy Zhang, Nikki Bryant