Welcome to the Great Lakes Town Hall!
Like the town meetings on which it is modeled, the Great Lakes Town Hall provides a "space" for you to come together with your neighbors around the basin to share and explore what it means to be a Great Laker. Have something to say about the Great Lakes? Join the discussion on the Town Hall today!
Scroll down the email for previews of this week's guest writer, weekly editorial, monthly feature and information about updating your preferences for receiving GLTH new content notices.
This Week's Daily Post Writer
Marc Smith is a life-long conservationist growing up in the woods and waters of Virginia. Currently, Marc is the State Policy Manager with National Wildlife Federation, based out of Ann Arbor, Michigan. Marc directs NWF's Great Lakes water resources programs at the state and regional level. Since 2004, Marc was NWF's Regional Representative, responsible for managing NWF's partnerships and building strong conservation networks with its state affiliates in the Great Lakes region.
Prior to this, Marc was NWF's Legislative Representative in the Washington, D.C. office for three years advocating to Congress, federal and state officials on land conservation issues. Before joining NWF in 2001, Marc worked for two Members of Congress. Serving as Senior Legislative Assistant for the late Congressman Bruce F. Vento (St. Paul, Minnesota) for over four years, Marc handled the Congressman's Resources Committee responsibilities and helped manage the legislative staff. Marc also worked for former Congressman Robert A. Underwood as Senior Legislative Assistant focusing on environmental cleanup and military land management issues.
He is the proud father of two spirited children. Marc spends most of his time enjoying the Great Lakes with his family, fly-fishing, kayaking the Huron River, and playing/coaching soccer.
Our Weekly Editorial
Each week, one of our moderators, Dave Dempsey, Gary Wilson or Brenna Wanous, writes an essay describing, praising, questioning or highlighting a Great Lakes issue.
This week, Brenna's We Get What We Pay For essay delves into the issue
of agriculture and the environment. What are the specific causes of the problem? What are growers, the government, non-profit organizations and the public doing about them? What are the solutions, and how are we all responsible for changing our expectations and supporting sustainability?
She writes,
"As a society, as individuals, we know that you get what you pay for. If you buy a $300 car, guaranteed it's not going to be a Cadillac.
So why do we think so differently about food?
We expect to pay a minimum for food while at the same time demand that growers do the work to begin employing IPM or organic methods or build multi-thousand dollar nutrient storage facilities."
Monthly Feature: 5 Questions
Each month we premier one of three added features of the Great Lakes Town Hall. These three consist of Opinion Polls, 5 Questions and the Great Lakes Spotlight.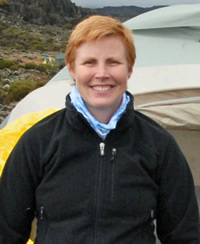 This month, Jennifer Browning, Executive Director of the Biodiversity Project, is in the hot-seat as we feature the 5 Questions section. One question we asked Jennifer was
"You're responsible for messaging for two of the world's greatest watersheds, the Great Lakes and the Mississippi River. How are they similar or different?"
Great Lakes Town Hall "New Content" Notifications
Do you miss getting email notifications letting you know that there is a new essay, poll or comment on the GLTH? You can sign yourself up getting these notifications, and tailor what you will be notified of! To do so, follow the instructions below:
1. Log in on the Great Lakes Town Hall homepage.
2. Hover your mouse over your name in the green navigation bar on the left-hand side of the page.
3. Click on "My Account", and once your profile appears, select the "Notification settings" tab.
4. Enable the "Master Switch" and select the criteria for your updates.
Questions? Email Great Lakes Town Hall Manager Brenna Wanous at brenna@greatlakestownhall.org.