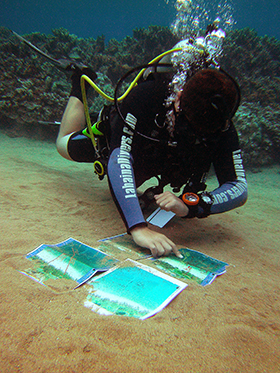 The founder of ReefQuest collects data for the Virtual Reef project; photo by Maurizio Vecchione
Reef Champion Partners with CORAL
If you're ever feeling discouraged about the state of the planet, look no further than 15-year old Dylan Vecchione for inspiration. At age 13, Dylan founded his own nonprofit called ReefQuest to foster marine stewardship through citizen science. But the idea for ReefQuest—and his first "initiative," as he puts it—began when he was only seven. Visiting Kahekili Beach Park in Maui with his family, he saw tourists stepping on coral reefs and then complaining that the coral was hurting their feet.

Dylan began walking up and down the beach, doing regular "beach patrols," explaining to his fellow beachgoers that the reef was alive—and that in fact, it was people who were hurting the reef by stepping on it. Their reactions, he says, were varied, but most were appreciative and inspired by a kid wanting to save reefs for future generations. "I made an emotional connection with them," he says. Read More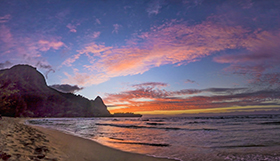 CORAL is expanding our water-quality work onto Kauai to help address recently documented declines in the Makua area's reef health; photo by Abe Kowitz
Monitoring Makua
On the north shore of Kauai, just north of the well known Hanalei Bay, is an idyllic stretch of coastline known as "Makua." Makua, a Hawaiian word for provider, may refer in this case to the important resources that came from this once vibrant reef ecosystem and helped provide for the needs of people living in the region for many generations. The reef continues to be used by the local community and visitors to Kauai for subsistence fishing, gathering of "wana" or sea urchin, cultural practices, snorkeling, surfing, and swimming. But today the reef's ability to continue to sustainably provide is being challenged. Fish numbers are declining, and a coral disease has recently been documented in the region. To help inform possible solutions, CORAL is teaming up with the Hanalei Watershed Hui (HWH) to gather data on water quality that might yield clues as to the causes of these symptoms. Read More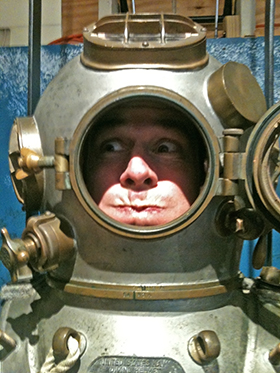 Wes tries on a World War II-era U.S. Navy dive suit; photo by Licia Hewitt.
CORAL Field Peeps
Wes Crile thinks it takes a watershed to save a reef. Sound daunting? Not to him—he views it as a great opportunity. Since joining CORAL as a Hawai'i field manager in January, he has been busy getting to know his new watershed in Maui. Because Maui is an island, he says, some of its water quality problems are more obvious than in a watershed like Chesapeake Bay, where he worked previously. "On Maui, a simple trip to the store can easily take me through 10 to 15 separate watersheds. You can really see the direct impacts (both positive and negative) that our actions on the land are having on the sea and the reefs."

In addition to restoring streams in the Chesapeake Bay watershed, Wes has worked with communities in northern Nicaragua to protect endangered sea turtles and build sustainable tourism partnerships, with small-scale farmers in West Africa and Haiti, and fishing communities in Latin America and the Caribbean, among others. He is building on those experiences at CORAL. Read More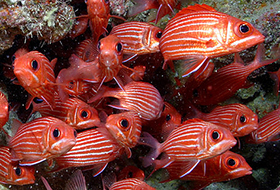 The Papahanaumokuakea Marine National Monument is home to several endemic fish species, like these Hawaiian squirrelfish (Sargocentron xantherythrum); photo courtesy of US Fish and Wildlife Service
Deep Diversity
Coral reefs deep in the Papahanaumokuakea Marine National Monument (PMNM) in the Northwest Hawaiian Islands may be home to the highest percentage of endemic fish on the planet, according to a new study by NOAA scientists published in the Bulletin of Marine Science. These fish are native to Hawai'i and found nowhere else. In the two-year study, researchers concluded that close to 50 percent of the fish they observed in waters between 100 and 300 feet deep were unique to Hawai'i and that on some of the deeper reefs, over 90 percent were endemics. An earlier survey, in water shallower than 100 feet, had found that about 21 percent of the fish there were endemic. The PMNM is part of a large protected area that includes islands, atolls, and other underwater habitats. Read More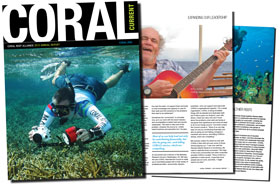 In our just-released Annual Report, CORAL recognizes those who helped make our work possible in 2013.
2013 in Review
We are delighted to announce the publication of CORAL's 2013 Annual Report, now available online. This look back at a productive year—one that saw notable conservation successes and advances in leadership—is voiced by just a few of the many passionate people responsible for driving our coral reef conservation initiatives forward. As always, we appreciate this special opportunity to give formal recognition to the many people—donors, partners, advocates—who supported us throughout the year. Thank you! Read More