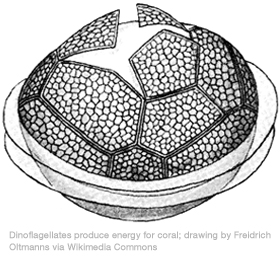 Food Banks for Coral
The tiniest species often do some of the most important work in an ecosystem. In the case of reef-building corals, the microscopic algae, or zooxanthellae, that live within them play a critical role: feeding the corals by taking up available nitrogen, a nutrient. In turn, corals offer the algae a home. While scientists have known about this mutually beneficial relationship for a long time, the details of exactly how it works were illuminated recently by researchers from the Ecole Polytechnique Federale de Lausanne in Switzerland. Using high-tech imaging, they found that the tiny algae act as food banks for the coral—stocking up on nutrients when they are plentiful, storing the nitrogen as uric acid crystals, and releasing the nitrogen to the corals slowly over time. Read More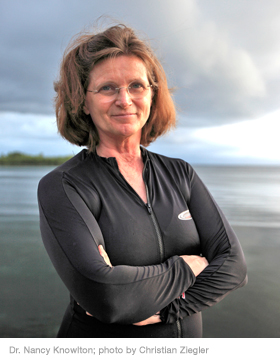 CORAL Board Member Honored
CORAL Board member Dr. Nancy Knowlton, Sant Chair of Marine Science at the Smithsonian's National Museum of Natural History and adjunct professor at Scripps Institution of Oceanography, just received one of the highest honors a U.S. scientist can be given: she was elected as a member of the National Academy of Scientists, a prestigious organization of scientists and engineers founded in 1863 by Congress. Says CORAL's Executive Director, Michael Webster, "Nancy was one of the first scientists to really start sounding the alarm about corals declining around the world and to figure out how corals work, what makes a healthy coral reef. She has been at the forefront of research in the last few decades, figuring out why reefs are declining and what we can do about it, and this recognition is very much deserved." Read More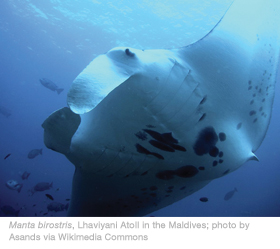 Manta Rays in the Moonlight
Manta rays, charismatic and graceful underwater "flyers," are threatened throughout the world from overfishing and bycatch. Greater insight into their ecology and behavior can help resource managers better protect them, and citizen scientists are playing a role. A recent study by researchers at the University of Queensland, Australia, used data collected from dive operators to learn that manta rays at Lady Elliot Island are more likely to gather during full or new moons, that they visit dedicated "cleaning stations," where smaller fish rid them of parasites, that they gather in groups of 80 or more when looking for food, and that their numbers are higher in the fall and winter when wind speeds are lower. Discovering areas that are critical for manta rays can help managers decide where to set aside sanctuaries—like the newly established shark and ray sanctuary CORAL helped establish off the coast of Indonesia. Read More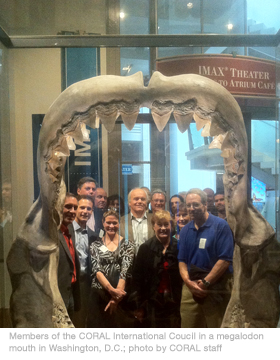 Introducing the CORAL International Council
Effective coral reef conservation takes a village—and in our case, the village is made up of a large and diverse community that includes non-profit and government partners, business leaders, E-Current subscribers (yes, that's you!), and donors (yes, we hope that's you!). In April, we launched a new group that will be a critical part of our team moving forward: the CORAL International Council. Council members have committed to work directly with the Board and staff to help raise CORAL's profile, generate additional funds for our programmatic efforts, and serve as advisers for various aspects of our work. Before the first meeting, Dr. Nancy Knowlton treated members of the Council to a private tour of the Smithsonian's Sant Ocean Hall, where we snapped this great photo. Want to learn more about the Council and how to get involved? Email Sarah Freiermuth, Development Director.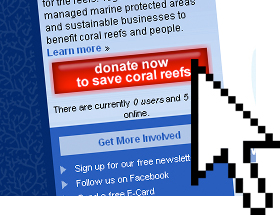 It's Spring Renewal Time
Budding flowers. Baby animals. Your Coral Reef Alliance membership. What do they have in common? Springtime, the season of renewal! And there are still ten days left of spring to renew your membership—or join, if you haven't yet. The core support provided by our CORAL members provides the backbone for all of our conservation efforts—and there's no better way for us to start off our new fiscal year in July than with an influx of financial contributions by our devoted champions . . . like you! If you've recently renewed your membership—thank you! If not, please consider making your gift today. Donate Today!
CORAL Calendar Casting Call
If you're into underwater photography, it's not too late to be considered for inclusion in our 2014 CORAL Calendar! We'll be accepting photos for a couple more weeks, and if you live in the United States and submit a photo by Saturday, June 15, we can enter it in the July E-Current photo contest too! We like to use as many photos from our talented supporters as we can in the calendar, so if you've taken a shot that captures the beauty of coral reefs, we would love to see it and share it with our community. Enter the Photo Contest