Too many nutrients in coastal waters fuel overgrowth of macroalgae, which smothers coral reefs; photo by CORAL staff
Too Much of a Good Thing
Scientists have known for a long time that wastewater loaded with nitrogen and phosphorus is problematic for coral reefs; seaweeds flourish and outcompete the reefs, and diseases like "dark spot syndrome" can result. But researchers haven't necessarily been able to prove that cause and effect until now. A new study—the longest and most thorough to date—examines the effects of these pollutants on healthy reefs—and proves how problematic they are. But the study also shows that corals may be able to recover quickly once the pollution is removed.

Researchers from Oregon State University, Florida International University, and the University of Florida just published the results of a three-year study of star coral (Siderastrea siderea) near Key Largo, Florida in Global Change Biology. Over the course of the study, they slowly released nitrogen and phosphorus into the water surrounding a reef. The study reef had a two-fold increase in disease and a 3.5-fold increase in bleaching compared to a control site. But one year after the researchers stopped releasing nutrients, the reefs showed no measurable differences. Read More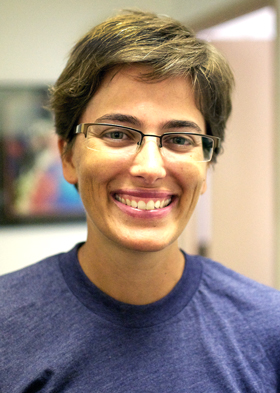 CORAL Hawai'i Field Manager Liz Foote has helped build a strong coalition of stakeholders for reef conservation on Maui and beyond; photo by CORAL staff
CORAL Field Peeps
Liz Foote, CORAL's Hawai'i field manager, wants to get more people in the water. "I want people to see what a stressed reef looks like, what a healthy reef looks like," she says. Soon, she'll be taking a few—Maui residents, nonprofit partners, hotel representatives, and local decision makers—on a snorkeling trip in Ka'anapali so they can experience the wonder of a reef firsthand and understand what needs to happen to conserve them.

For as long as she can remember, she wanted to dive, inspired by watching Jacques Cousteau films in the basement of her Connecticut home, and taking diving courses at the earliest possible age. But she also wanted to explain what was going on underwater—to communicate about and be an "advocate" for science—so she volunteered at her local aquarium and participated in the Aquanaut Program throughout high school. After obtaining a graduate degree in science education, Liz founded Project S.E.A.-Link, a nonprofit connecting marine scientists with teachers and students. Read More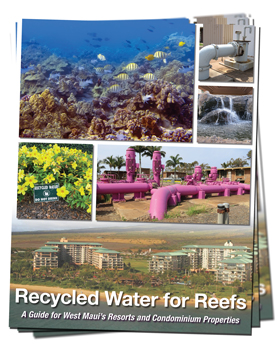 Recycled Water for Reefs is a one-stop guide for coastal property managers who want to take advantage of Maui's reclaimed-water system.
Reducing, Re-Using, and Recycling for Reefs
Healthy coral reefs need clean, clear water—and that's the aim of our campaign to help hotel managers in West Maui prepare to use recycled wastewater to irrigate their landscaping and golf courses. The County of Maui is expanding its "purple pipe" system for distributing recycled wastewater, and over the next four years, as many as 14 hotels will connect to the system (to be followed by more in 2019).

To help with that process, CORAL has published Recycled Water for Reefs/A Guide for West Maui's Resorts and Condominium Properties, which includes tips for connecting to the recycled water system and navigating the permit process. In addition to helping improve water quality for coral reefs, hotels will save money by using "R1" water, making it a win-win scenario. Prior to publishing the guide, CORAL conducted a survey of hotels about their water use. In analyzing the results, we found that "Hotel X" could save up to $147,000 on its water bill every year by using recycled water. Download the Guide

The hard work of our CORAL International Council and a generous donor have allowed us to offer you our best year-end match in our history; illustration by Emily M. Eng
Your Year-End Gift—Tripled
In the past, we've been able to offer opportunities for you to double your contributions to CORAL through generous donor matches. And now, for the first time, we are able to offer you the benefit of tripling—yes, tripling!—your year-end gift. Our newly-formed CORAL International Council and a very generous couple have each pledged to donate $100,000 if we can raise that amount from you this holiday season. That means that all gifts made by January 17, 2014—if we are able to reach our $100,000 target—will be matched three to one.

For more details, and to make your 2013 contribution in support of healthy reefs, please visit www.coral.org/2013. Thank you! Make a Gift!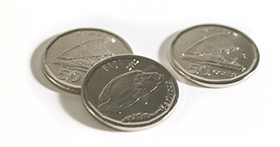 The Fijian half-dollar coin features the humphead parrotfish (Bolbometopon muricatum); photo by CORAL staff
Win a Parrotfish Coin
Want to be the proud new owner of a beautiful Fijian coin featuring the endangered humphead parrotfish? Send a question about parrotfish, reefs, CORAL, or anything reef-related to info@coral.org. We'll mail the first five responders a shiny new coin and publish a few of the questions received—with our answers—in the February issue of E-Current. E-Mail Us