Monthly Digest
Latest News and Opinion on and from
Rio de Janeiro's Communities
September 2014
Volume IV Issue 9

Welcome to our September digest with latest news from RioOnWatch (Rio Olympics Neighborhood Watch), Catalytic Communities' project to bring visibility to favela perspectives on the rapid transformations in Rio through 2016. For this month's RioOnWatch articles see below and for an exhaustive list of news reports and features on favelas from the full range of English-language media sources, large and small, see the right-hand column. Should this email be clipped, click below to view entire message.

With tension in Rocinha, the Police Unit in the area has changed command. In Alemão yet another youth has lost his life to police violence. Maré violently and suddenly lost a valuable community leader, Morro do Timbau's Residents' Association president Osmar Paiva Camelo, who RioOnWatch interviewed shortly before his death. And in an effort to protest against violent deaths in the favelas, mothers in Manguinhos staged a peaceful and powerful demonstration advocating peace and justice... As conflicts in a number of communities escalate, it's important to ask: what went wrong with the UPPs?

In eviction news, residents of Vila União de Curicica have begun organizing against the largest eviction of a single community so far for the 2016 Olympic Games. Nearby, titled residents of Vila Autódromo undertook a notable act of civil disobedience by serving breakfast to Olympic construction workers, demolition crews and passers-by to raise awareness of their determination to remain, despite local media outlets' portrayals to the contrary. In the meantime, Rio's real estate crunch and lack of affordable housing has thousands looking for new homes. Some such settlers of the new favela Nova Tuffy, in Alemão, are awaiting inevitable removal signed off by the Brazilian courts.

Although resistance in such trying times is difficult, determined residents are effective, bringing hope to many. Lessons have been gleaned from traditional peoples' successful struggles in urban Rio. This month's shining example came with the long-awaited final federal recognition of Quilombo Sacopã, whose residents have resisted eviction for decades.

Not-to-be-missed on the housing front is our in-depth piece on the dismantling of the much-lauded and anticipated Morar Carioca program. RioOnWatch also visited Bairro Carioca, Rio's 'premier' housing project. Here is what we found.

More inspiration this month comes from our media profile of O Cidadão, a community newspaper in Complexo da Maré that emphasizes the importance of favela identity and community perspectives. In Campo Grande, a new community program is born to educate children with sporting activities.

Finally, last month we took our vision of favelas as models for sustainable development one step further by launching the idea of LEED-Up sustainable upgrading at the Greenbuilding conference in São Paulo. We also published a review of a radical book making complementary suggestions.

Please enjoy, share and don't forget to like us on Facebook. Invite us to speak on a campus near you this Fall. Join our Favela Perceptions Survey team in a major city near you. And if you like what we do, please join us as an Olympic Champion--we are depending on readers like you to donate monthly and guarantee our work through the Olympics!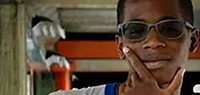 Teenager Shot Dead by Police in Complexo do Alemão
by Nicole Froio | September 28
A 17-year-old student was shot dead in Complexo do Alemão on Saturday September 27. According to witnesses, Marcos Heleno was shot by police and was left in agony on the sidewalk until the ambulance arrived an hour later. He died in hospital. Residents of Alemão took to social media to speak out about the event and complain about the current state of their community.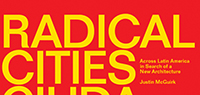 R
adical Cities: Across Latin America in Search of a New Architecture by Justin McGuirk [BOOK REVIEW]
by Sara McTarnaghan | September 27
In his book Radical Cities: Across Latin America in Search of a New Architecture, art critic Justin McGuirk takes readers on a ride across the physical and social landscapes of urban Latin America, criss-crossing the continent, centralizing exceptional stories of urban innovation.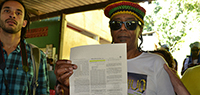 Quilombo Sacopã Recognized by Federal Government After Decades of Struggle
by Nicole Froio | September 26
After decades of fighting for the right to stay on their inherited land, Quilombo Sacopã was recognized by the federal government this Tuesday September 23. Sacopã is the first urban quilombo to be recognized by the federal government in the state of Rio and is located in Lagoa, one of the richest parts of the city.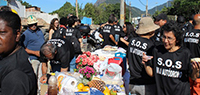 Community Breakfast Seeks Recognition and Solidarity in Vila Autódromo
by Ian Waldron | September 26
Vila Autódromo residents held a unique breakfast on the morning of Wednesday September 24, in an effort to bring attention to ongoing evictions in their neighborhood ahead of the 2016 Olympic Games. A full spread of food, juice and coffee was laid out for residents, passers-by and construction workers.
Community Leaders in Campo Grande Propose New Alternative for Youth Athletic Development
by Francis Torres | September 25
Around 30 community members and volunteers met on the morning of Saturday September 20 in Campo Grande to discuss the launching of a new cross-community sporting initiative: the League of Neighborhoods (Liga dos Bairros in Portuguese). The project seeks to fill a perceived lack of opportunities and necessary equipment for young athletes in lower-income neighborhoods, while using sports as a way of fostering values and contributing to the civic development of alienated youngsters.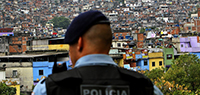 What Went Wrong With The UPPs?
by Jorge Antonio Barros | September 23
The UPPs were a smart response on the part of the government. But they may have an expiration date if not accompanied by social investments. Misconduct, all too common among the troops, cannot be swept under the rug in the favelas, where residents are tired of being oppressed between the cross and the rifles.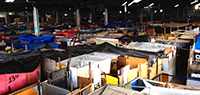 'Nova Tuffy': Two Thousand Await Eviction For Repossession of Factory in Alemão
by
Henrique Coelho | September 22
One of the access ways to Complexo do Alemão, in the North Zone of Rio de Janeiro, has been home to nearly two thousand people for the past seven months. They live in a climate of uncertainty, following a judicial decision that called for the repossession of the old factory where they have been living. Public security authorities in the area confirmed they are planning an operation to carry out the repossession.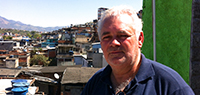 I
nterview with Osmar Paiva Camelo, President of Morro do Timbau, Shot Dead on Monday
by RioOnWatch | September 20
Osmar Paiva Camelo, 54, President of the Morro do Timbau Residents' Association in Complexo da Maré, was shot seven times on the evening of Monday September 15 at close range. He was known as an enthusiast for the pacification process in the community. RioOnWatch interviewed Osmar on Tuesday September 9, less than a week prior to his death, to learn more about his vision for the community.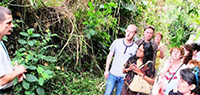 G
reenbuilding Brasil Conference Introduces LEED-UP: Favelas as Models of Urban Sustainability
by Jessica Goodenough | September 20
Vale Encantado, a favela in the heart of the Tijuca forest, was used as a case study to demonstrate favelas' potential as models of sustainable development during the international sustainable building conference GreenBuilding Brasil, held in São Paulo from August 5-7. The example of Vale Encantado was used to illustrate the potential vocation for sustainability among favelas and of sustainably upgrading informal settlements worldwide. It was also the focus of a collaborative solution-mapping charrette among participants.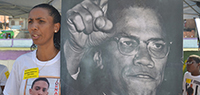 Mothers in Manguinhos March for Youth Victims of Police Violence
by Nicole Froio | September 18
The mothers of victims of violence in favelas called for justice in a powerful protest in Manguinhos Saturday September 13. Holding up photos of the young men killed by the Military Police, around 50 protesters marched with the funk collective Apafunk while asking for peace in their communities.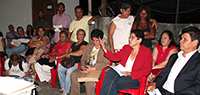 1
00 Residents Meet to Resist Evictions for the Olympics, in Vila União de Curicica
by Ian Waldron | September 15
Nearly 100 residents met in Vila União de Curicica on the night of Wednesday September 10 to discuss their plan to resist eviction in the face of the TransOlímpica highway and bus corridor slated to pass through their community. The community has been portrayed in the local press as entirely passive and quite delighted with the City's decision to remove the neighborhood, and is calling for local and worldwide attention in supporting those residents who have not been consulted and who are not being fairly compensated.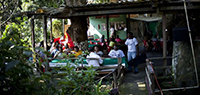 The Miracle of Resistance: Lessons From Rio's Urban Quilombos & Indigenous Groups
by Désirée Poets | September 15
Brazil's colonial past has created a socio-political landscape in which issues of race and ethnicity remain problematic. Today, indigenous and black groups continue to resist the discriminatory social order left by the colonial encounter. The lived struggles of ethnic groups in the city provide a window into persisting ideas on race and ethnicity, which hinder their recognition as ethnic groups.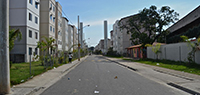 A
Look Inside Bairro Carioca - Rio's "Premier" Housing Project
by Sara McTarnaghan | September 11
Bairro Carioca, one of Rio de Janeiro's flagship Minha Casa Minha Vida housing projects, is frequently referenced by local officials as exemplifying transit-oriented and highly affordable public housing, given as an example of the transformative potential of investment in public housing. The 11 condominiums that make up the project are now home to approximately 11,000 people. This is the specific site the City has been using to illustrate MCMV to international reporters covering Rio since 2013.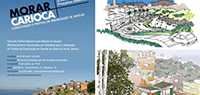 Morar Carioca: The Dismantling of a Dream Favela Upgrading Program
by Kate Steiker-Ginzberg | September 10
An architect recently described the Morar Carioca program as "the greatest unfulfilled promise" in Rio de Janeiro. Over the past few years, we have seen this ambitious and visionary favela urbanization project get packaged into the Olympic legacy framework, co-opted by political interests, and then abruptly dismantled without sufficient explanation.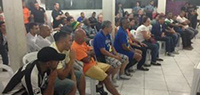 Between Tension and Conflicts, Rocinha's UPP Changes Command
by

Davison Coutinho

| September 8
Major Priscila Azevedo, commanding officer of Rocinha's Police Pacification Unit (UPP) has been promoted to commanding officer of the South Zone UPP unit. The announcement was made on Wednesday, August 20, at Rocinha's local association meeting, by Colonel Frederico Caldas, UPP coordinator. The meeting was an opportunity for residents to voice their concerns regarding the UPP, like the increase in violence in the community and the police's lack of respect for the local population.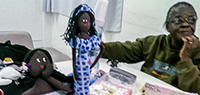 E
ighth Anniversary of Brazil's Law to Protect Women from Domestic Violence
by Deborah Athila | September 5
Eight years ago, the fight against domestic violence gained a new ally: the Maria da Penha law. The law was seen as a milestone in the campaign for gender equality, but it still faces obstacles such as a prevailing sexist culture and the social oppression of women who report violence.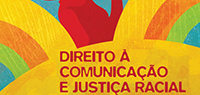 Report Launch: The Right to Communication & Racial Justice
by Ed Bentsi-Enchill | September 4
On Thursday August 28, the Favela Observatory hosted a seminar in Complexo da Maré to launch the official publication of the Right to Communication & Racial Justice project. The project promotes community access to media production in order to increase recognition of the relationship between institutional racism and the violence experienced by Afro-Brazilians, favela residents and low-income communities.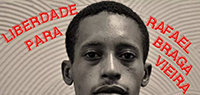 Criminalization, Militarization and the Normalized Absurdities that Condemned Rafael Braga Vieira
by Andrea Cangialosi | September 3
A debate held on August 20 at Rio's Fluminense Federal University (UFF) sought to explore the issues of police violence and the criminalization of poverty and social movements in the wake of the widely disputed conviction of Rafael Braga Vieira. Braga, 26, is a black homeless man who was taken into custody after he was found in the possession of two plastic bottles of liquid detergent during the mass protests in June 2013.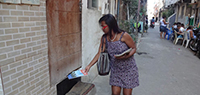 Comunity Media Profile: Maré's 'O Cidadão' Newspaper by Cerianne Robertson | September 1
O Cidadão intentionally seeks to fill the gaps in external sources' coverage of and interaction with Maré. Editor Gizele Martins says: "I believe the role of community media is to break this." Furthermore, she suggests, community media are simply better at covering issues related to favelas. The people who live in Maré are best situated to tell the stories of Maré.

Stay Connected with RioOnWatch

BBC
September 30
'Teachers not footballers' needed by Brazil
by Martin Hall
Ozy
September 30
Making a Business Out of Bringing Good Food to Rio's Hilltop Favelas
by Shannon Sims
The Economist
September 30
Man vs City
by Ricky Burdett
ISN
September 30
Brazil's Police Struggle to Pacify Gang-Run Slums
by Ioan Grillo
WOLA
September 29
Police Militarization: Similarities Between Ferguson and Brazil
by Liz Leeds
Wall Street Journal
September 29
Google, Microsoft Expose Rio's Favelas
by Will Connors
RioReal Blog
September 29
Rio de Janeiro: Radical City, diagonal city
by Julia Michaels
The Independent*
September 28
M
usic and elections take on the violence of Rio de Janeiro's drug ganges
by Donna Bowater
Trinidad & Tobago Guardian
September 28
UWI lecturer: Armoured vehicles not the solution
by Charles Kong Soo
RioReal Blog
September 27
Police violence at the Rio Film Festival: the documentary "À Quema Roupa" (Point Blank
)
by Julia Michaels
Favelissues
September 27
Favela, Culture and the Power of 'Things'
by Andrew Carman
The Atlantic CityLab
September 26
Google and Microsoft Are Putting Rio's Favelas on the Map
by Aarion Marshall
Wall Street Journal
September 25
Google, Microsoft Expose Brazil's Favelas
by Will Connors
Arch Daily
September 23
Al Jazeera's Rebel Architecture: Episode 6, "The Pedreiro and the Master Plan"
by Katie Watkins
CCTV
September 23
B
razilian community bank uses local currency to boost economy
by Lucrecia Franco
Wall Street Journal
September 23
Middle Class Brazil Lifts Voice
by Loretta Chao, Reed Johnson and Luciana Magalhães
FrameWeb
September 22
Rebel Architecture: The Pedreiro and the Master Planner
by Peter Smisek
TONIGHT
September 22
From Brazilian favelas to cool Soweto fellas
by Munya Vomo
The Economist
September 21
Slower going: Brazil's household survey
by J.P.
The Independent
September 19
Postcard from...Rio de Janeiro
by Jenny Barchfield
TES Connect
September 19
W
hen schools are at war, teachers must broker peac
e by Donna Bowater
Huffington Post
September 19
In Brazil the World Cup is Over But the Sexual Violence Continues
by Gary Barker
Al Jazeera America
September 18
V
iolence catches up with favela peacemaker
by Matt Sandy
Favela@ LSE
September 18
Types of favela media activism
by Leonardo Custódio
Brazzil
September 17
1
2 Million Brazilians Live in Shantytowns, 94% Say They Are Happy
by Alana Gandra
Daily Journal
September 16
I
ndigenous people in Brazil facing deforestation, joblessness, seek out cities, end up in slums
by Jenny Barchfield
SmartData Collective
September 16
12 Data-Driven Cities Making the Internet of Things a Reality
by Tracey Wallace
The New York Times
September 16
B
razil Removed From UN World Hunger Map
by The Associated Press
ImportantCool*
September 15
Rio Favela Media Building The Future in The Present
by Felicity Clarke
Cities Today
September 15
Interview: Eduardo Paes, Mayor of Rio de Janeiro
by William Thorpe
Reflejos
September 14
G
irls from Brazil's favelas find escape in ballet
by AP
The Week
September 13
Spokesman of the Brazilian Slums
by Flora Charner
CS Monitor
September 12
Reporting on Rio's realities - and comparing them to New York City
by Rachel Glickhouse
Yahoo! News
September 12
Rousseff in Rio slum visit as poll gap closes
by AFP
Favela@ LSE
September 11
T
he revolution of the day to day: Young people's public action in Rio de Janeiro
by Udi Mandel Butler
Metro
September 11
Rio de Janeiro favela get world's first player-powered football pitch
Rio Gringa
September 10
Reporting on Rio Realities: Rising Community Journalists
by Rachel Glickhouse
InsightCrime.org
September 10
B
razil's Red Command and the Police Who Fight Them
by Ioan Grillo
Toward Freedom*
September 10
Brazil's Dance with the Devil: The Olympics, The World Cup and the Fight for Democracy - Book Review
by Armando Carmona
FGV News
September 8
Shortage of doctors is the greatest source of complaints on social networks
The Atlantic CityLab
September 5
Despite the Hype, the World Cup Ended Up Being Bad Business for Brazil's Sex Workers
by Julie Ruvolo
Latin Correspondent
September 4
Report: Armed militias now control 148 Rio communities
by Natalie Southwick
Red Light Rio
September 5
World Cup was bad business for sex workers: Observatory of Prostitution Report
by Julie Ruvolo
VOXXI
September 4
Olympic road construction leads to displacement of Rio favela residents
by Diego Rosette
Favela@ LSE
September 4
O
n raids and connecting favela resistance(s) in Kenya and Brazil
by Wangui Kimari
The Art Newspaper
September 3
Photographing and Fashioning the Reality of Brazil
by Tatiane Schilaro
The Art Newspaper
September 1
Artist opens
art and technology school in Rio favela
by Charlotte Burns
Al Jazeera America*
September 1
O
lympic bus route to displace 900 families from Rio favelas
by Donna Bowater
*CatComm supported/quoted
September Highlights
from CatComm

Lecture tour near you?
Since 2010, CatComm Founder & Executive Director Dr. Theresa Williamson has spoken at North American universities on a range of topics.

This year's talks so far include Augustana College, CUNY, University of Maryland, Syracuse University, Wellesley College, McGill University, University of Wisconsin-Madison, Cornell University, Pomona College, Pacific University, Ramapo College, University of Colorado-Boulder, and Goucher College.

Are these colleges near yours? Would you like to attend a talk? Would you be interested in bringing Theresa to your campus? We have 7 more spots available and flexible dates between October and December 2014.
"It was a terrific talk. That's my opinion, as both an academic and an activist. And the feedback from everyone else I talked to has been nothing but superlatives. Everyone thought it was informative, the analysis was complex and nuanced, and it gave us great insights into the political and organizing scenes in Rio and Brazil. I'm very pleased and would definitely recommend Theresa's talk to others."
-- Dr. Tom Angotti, Hunter College
---
Favela Perceptions Survey-Researchers Needed!
For more information and how to get involved
click here
.