Monthly Digest
Latest News and Opinion on and from
Rio de Janeiro's Favelas
May 2015
Volume V Issue 5

Welcome to our May digest with the latest news from RioOnWatch (Rio Olympics Neighborhood Watch), Catalytic Communities' project to bring visibility to favela perspectives on the rapid transformations in Rio through the 2016 Olympic Games. For this month's RioOnWatch articles see below and for an exhaustive list of news reports and features on favelas from the full range of English-language media sources, see the right-hand column.

Favela do Metrô has faced a slow, painful process of forced evictions since 2010. In the last week of May a new wave of demolitions began as the City destroyed stores and homes with little warning to their owners. Protests by residents and UERJ students ended in clashes with the police, yet this whole issue has so far received almost no English-language coverage outside of RioOnWatch. A court order has suspended demolitions in Favela do Metrô for the time being.

Demolitions also occurred in Vila Autódromo and Providência while even the world famous jazz bar The MAZE in Tavares Bastos was marked for demolition. The treasured Museu da Maré survived its eviction scare at the end of last year, but its quest for a guaranteed right to remain continues. In the midst of these evictions and threats, the book SMH 2016: Removals in Olympic Rio de Janeiro was published as a thorough documentation of forced evictions under the Eduardo Paes administration. The book argues the Olympics is not the reason for evictions but serves as justification for them. At a panel event following publication, author Lucas Faulhaber argued the Brazilian media is not doing enough to bring attention to evictions and their real motivations.

The Architectural Review published an excellent overview of Rio's current predilection for eviction by Catherine Osborn. In the same publication, CatComm Executive Director Theresa Williamson cautions strongly against relying on individual land titles as the solution, as formal titling clears the way for the equally dangerous threat of gentrification.

The heated debate on police violence and crime continued this month. Brazil's Parliamentary Commission of Inquiry held a public hearing in Complexo do Alemão to discuss police brutality in the community. The Alemão police killings made it into an important article in the New York Times arguing they are "often grimly accepted as a normal fixture of policing in a country fed up with violent crime." As Brazil's congress considers reducing the age of criminal responsibility fom 18 to 16, Observatório de Favelas published a passionate article by Alan Miranda, who argued young people deserve more and better alternative opportunities to crime and repression.

The global attention on Rio begins to build again in anticipation of next year's Olympics, and there is no doubt the pressure of international scrutiny influences the City's policy decisions. Projects that are designed to impress outsiders while obscuring a stagnant reality have a long history in Rio that stretches back to slavery. In 1831 Brazil signed a treaty abolishing the slave trade "for the English to see," yet went on to import even more slaves in the years following. Recent research from Emory University puts the number of African slaves to arrive in Rio at two million, exceeding all previous estimates. Despite its slave history Brazil has gained a reputation as a racial utopia, yet NPR interviewed expats of color, cleverly illustrating how racism and racial inequality is pervasive.

A gari, or trash collector, who was fired in April after participating in strikes and activism argued that such oppression of rights to organize constitutes modern day slavery. Our recent overview of Rio's recycling system highlights that much recycling actually occurs through informal systems, outside of the municipal waste management company the gari criticizes.

It is a lack of investment in basic services like waste management that still frustrates many low-income communities throughout the city. In Cascadura, local leaders say even the most basic maintenance, promised but not yet delivered by the City, would make significant positive impacts to the local park, school and clinic.

With the countdown upon us—14 months until the Olympic Games in Rio—the pressure is mounting. On the one hand, repression, intimidation, cooptation and violence are escalating. On the other hand, communities are connecting, organizing and claiming their rights more than ever. To support our ongoing diligent work on behalf of favelas in this challenging period and facilitate increasingly productive coverage and understanding of favelas, on May 1 we officially launched @RioONWire, the world's FIRST favela news wire. See the May News from CatComm below for more information on this resource and the upcoming crowdfunding campaign to support it.

We hope you enjoy this month's carefully compiled digest and video recommendations below. Please share and don't forget to like us on Facebook and follow us on Twitter.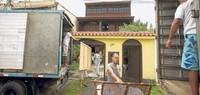 Despite Millions Paid Out in Compensation, The City Can't Get Rid of Vila Autódromo
by Ruben Berta | May 31
Despite demonstrating his dissatisfaction in doing so, over recent months Mayor Eduardo Paes has conceded to give millions in compensation to those from Vila Autódromo who have vacated property on the edge of the water or in the way of the construction of new roads. The highest values—up to R$3 million each—however, have not left those who had to leave happy, as those recipients are middle class people who owned commercial properties or homes that would not be out of place in any condominium in Barra.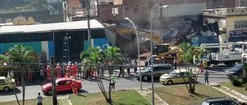 Workers and Shop Owners in Favela do Metrô Evicted Without Warning Next to Olympics Stadium
by Nicole Froio | May 29
Various waves of residents of Favela Metrô-Mangueira, in the North Zone of Rio de Janeiro, have been fighting forced evictions since November 2010. The most recent eviction episode began Wednesday May 27 when the City started demolishing shops and properties in the favela without notice.
Two Centuries of Conning the 'British': The History of the Expression "É Para Inglês Ver," or "It's for the English to See" and Its Modern Offshoots
by Patrick Ashcroft | May 28
Today, a "para inglês ver" law, policy or project is one which, from the outside, appears to address a problem, but which in practice is merely a superficial change, a temporary fix or public relations exercise intended to appease community interests and appeal to domestic and international public opinion. It does little to benefit those it purports to help, either because implementation on a well-designed policy is poorly conducted and easily corruptible, or because it is actually designed for political motives rather than social or philanthropic ones.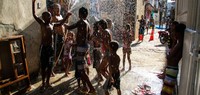 Young People Deserve More: A Critique of Attempts to Reduce the Age of Criminal Responsiblity
by Alan Miranda | May 27
Since young people are the future of the country, the debate should focus on their value and potential. Instead of suggesting a reduction of their rights, it is imperative to think about and create alternatives to meet their needs. What is being debated currently, however, is their right to grow up—something that young people ought to have a right to automatically.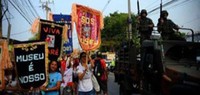 Museu da Maré Celebrates Nine Years While Facing Threats of Eviction
by Miriane Peregrino | May 26
Museu da Maré celebrated nine years on Friday May 8, but has been facing threats of eviction since last September by the owner of the building where it has been located since 2003, when it was known as the Maré Cultural Center. A unique initiative in the areas of social museology and the preservation of favela memory, the museum was created in 2006 by a group of residents of Complexo da Maré.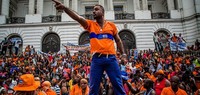 I Was Fired Because I Dared to Leave the Slave Quarters
by Célio Gari | May 21
"I worked fifteen years for Comlurb, and at the end of April I was fired. I was not the only one. Seventy-seven of my colleagues were also let go in the final days. All of the garis that committed the 'sin' of exercising their right to strike, who organized and decided to become visible, were punished. My friend, Bruno da Rosa, for example, was fired because he dared respond to one of the managers who acted as if he were a real-life slave driver."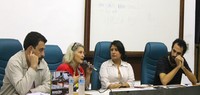 Panel Debates Forced Evictions and Urban Reform in the Olympic City
by Sergio Saenz | May 20
On Wednesday May 13 the Rio de Janeiro State University hosted a panel featuring Lucas Faulhaber, Maria de Lourdes Lopes, and Guilherme Boulos to discuss the issues of forced evictions and urban reform in the Olympic city. Faulhaber was the first to speak, saying the purpose of the book was to "show and report the process that is happening due to mega-events like the World Cup and the Olympic Games. This process isn't only because of the World Cup or the Olympic Games; this is a recurring processin the history of of Rio."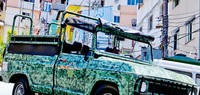 Jeep Tour Not Well Received by Favela Residents
by Lana de Souza | May 19
According to residents of Rio de Janeiro's favelas, the presence of Jeep tours in their communities makes them feel like animals in a zoo, constantly being photographed in aninvasive manner. Some of the residents, acting as local guides, believe there are better waysfor visitors to get to know the favelas.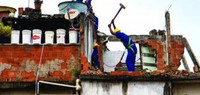 "The Olympics Serve to Legitimize Evictions"
by Bruno Porpetta | May 18
"We made a map to show where people were removed from and where they ended up, which shows families moving from one end of the city to the other. Many went to live in public housing built by the Minha Casa Minha Vida program, generally very far away, with a lack of infrastructure, transport, health services and all the rest. And a lot of this public housing is in areas which are controlled by militias or drug traffickers, the majority of the militias being in the West Zone of the city."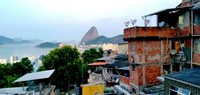 In Tavares Bastos, World-Famous Bar The MAZE Faces Demolition
by Brooke Parkin | May 15
The world-famous jazz bar, The MAZE, in the Tavares Bastos favela in Rio's South Zone neighborhood of Catete, has been marked for demolition by the City of Rio. The MAZE, founded by BBC correspondent Bob Nadkarni in 1981, has plentiful documentation disputing allegations from the City, which claims the building is an unsafe structure. They fear the impending demolition will be the first step in a targeted eviction of the entire community.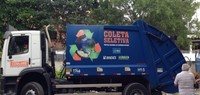 Recycling in Rio de Janeiro: An Overview
by Christine Wilkes | May 14
In Rio, the formal recycling system handles a very small percentage of the estimated 10,000 tons of waste collected every day by Comlurb (the city's Municipal Waste Management Company). The vast majority of recycling happens before Comlurb collects any waste, an informal recycling system that relies on the initiative of both individuals and for-profit companies.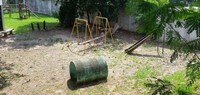 Community Leaders in Cascadura Demand Attention From the City
by Elma Gonzalez | May 13
As Cascadura, a neighborhood in Rio's North Zone, faces mobility and economic challenges due to recent changes to transportation routes, communities in the neighborhood are also confronting hardships in recreation, education, and health. Local leaders and residents are speaking out against the lack of investment by the municipal government in Cascadura's community park, public school, and local clinic.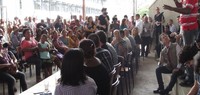 Public Hearing in Alemão Investigates Police Brutality in the Community
by Elma Gonzalez | May 12
A public hearing conducted to investigate human rights violations in Complexo do Alemão took place on Monday May 4 in the community's Caic Theóphilo de Souza Pinto School. The meeting was organized by Brazil's Parliamentary Commission of Inquiry (CPI) after the first three months of 2015 in Alemão were filled with violent murders by the police. The school where the meeting took place is currently used as a Pacifying Police Unit (UPP) base while the official police building is renovated. A few days after the event, the UPP coordinating body announced it will remove the base from the school.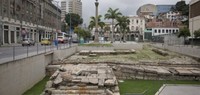 Research Indicates that Rio Received Two Million African Slaves
by
Sergio Saenz | April 11
For a long time it was imagined that few more than a million slaves disembarked in Rio, while more than 2.6 million were taken to other parts of coastal Brazil. Now, studies confirm that the relative number in Rio is much higher than was previously estimated by various historians. This conclusion is based on a rigorous database compiling Port records going back three and a half centuries. According to the new information, close to two million slaves arrived in Rio.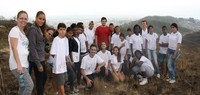 Complexo do Alemão Youth Create Documentary to Promote North Rio's Urban Forest
by Sarah Jacobs | May 9
Complexo do Alemão is home to the city's North Zone's last remaining piece of Atlantic Forest, which stretches across Brazil's Atlantic coast. The Serra da Misericórdia, a 17 square-mile piece of land, spreads through the 15 neighborhoods that make up Complexo do Alemão, home to approximately 200,000 people. A group of 17 young people from Complexo do Alemão have joined the fight to preserve the Serra by producing a documentary entitled Olhares da Misericórdia (Views of Misericórdia).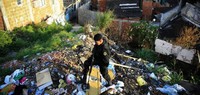 Pacifying Police Unit (UPP) Installations Part 4: 2013
by Patrick Ashcroft | May 7
2013 was a crucial year for the UPPs. In the first four years of the program, the media, social commentators and public security experts had largely been supportive of the program, and positive results had been highly publicized. However, 2013 was the time at which deep cracks started appearing in the project. It became clear that the ideal of 'community policing' was not being realized in those unstable areas most in need of security.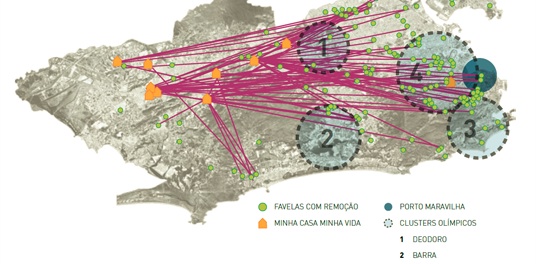 Book Maps Forced Eviction of Residents During Eduardo Paes Administration
by Maria Eduarda Chagas | May 5
The book SMH 2016: Removals in Olympic Rio de Janeiro maps forced evictions by the Mayor Eduardo Paes administration from 2009 to 2013—more than 65,000—and concludes that Paes oversaw more evictions than his predecessors [most associated with evictions] Pereira Passos (1900s) and Carlos Lacerda (1960s) combined.

Stay Connected with RioOnWatch

Rio Real May 31
Metropolitan Rio de Janeiro: a chance to rethink market and service duality
by Julia Michaels
The Rio Times
May 31
Rio's Cantagalo Favela Hosts its First Jazz Festival on June 6th
by Chesney Hearst
Architectural Review*
May 30
A new threat to favelas: gentrification by Theresa Williamson
The Christian Science Monitor
May 29
FIFA arrests resonate in Brazil, still smarting from World Cup waste by Taylor Barnes
Business Insider May 27
Green oasis rises in heart of Rio slum by Claire de Oliveira Neto
Architectural Review*
May 27
Rio's eviction predilection
by Catherine Osborn
The Rio Times
May 26
New Hiking Trail Opened in Rio's Pavão-Pavãozinho Community
by Lisa Flueckiger
The Washington Post
May 23
'Olympic Park' viral video satirizes failing Rio infrastructure by Dom Phillips
The Guardian
May 22
Uncovering unheard voices of Brazil by Yasir Mirza
The Telegraph
May 22
Rio de Janeiro tourism officials say 'violence has returned'
by Donna Bowater
The Guardian
May 22
Circus Maximus by Andrew Zimbalist review – an Olympic-sized rip-off
by Simon Jenkins
NPR May 22
Expats Find Brazil's Reputation For Race-Blindness Is Undone By Reality
by Lourdes Garcia-Navarro
The New York Times*
May 21
Despair, and Grim Acceptance, Over Killings by Brazil's Police
by Simon Romero and Taylor Barnes
The PanAm Post May 21
Electricity Bills Spike 1,400% in Rio de Janeiro Slums
by Alice Salles
International Business Times
May 20
Brazil Journalist Murder Highlights Violence Against Reporters In The Country
by Brianna Lee
Fox News
May 20
Tucked on hillside of Rio favela, trash dump-turned-garden offers respite for slum dwellers by AP
CityMetric*
May 19
Will the population of Rio really benefit from hosting next year's Olympic Games? by Drew Reed
BBC
May 19
Rio favela residents speak of shooting violence fears by Beth McLoughlin
Deutsche Welle May 18
When slums become tourist attractions by M. Mehta, P. Barth
Through the Cracks
May 18
Dope stories from favelas that aren't about drug lords by Alexandra Meleán
The New York Times
May 15
Buses torched in Rio favela protests by Reuters
The Washington Post May 15
Polluted waters could force Rio de Janeiro to move 2016 Olympic races
by Dom Phillips
PRI May 14
Brazil's new idea to fight crime: Sentence teens to adult jails
by Catherine Osborn
The LA Times
May 13
In Brazil's Slums, Residents Band Together to Protest Police Shootings
by Vincent Bevins
Rio Real
May 12
Metro Rio: a way into to shared problems?
by Julia Michaels
The Rio Times
May 12
Crime Numbers Drop in Rio Communities With UPPs
by Lisa Flueckiger
Shanghai Daily May 12
Successes, failures in purge of Brazilian slums
by Pau Ramirez, Bruna Gama
Beacon Reader May 11
I AM FAVELA: An Ultimate Fighter in Andaraí
by Flora Charner
NPR
May 11
Brazil's World Cup Legacy Includes $550M Stadium-Turned-Parking Lot
by Lourdes Garcia-Navarro
The Rio Times
May 11
Rio de Janeiro Sees Growth of Favela Communities
by Jay Forte
Fox News Latino
May 11
Rio's "pacified" favelas have lower murder rate than rest of city
by EFE
Rio Real May 9
Urban connections can surprise
by Julia Michaels
The Telegraph
May 7
Mapped: One-in-five murder victims in world is Brazilian, Colombian or Venezuelan
by Andrew Marszal, Harriet Alexander
Global Site Plans
May 6
Most Dangerous Favela in Rio de Janeiro, Brazil is First to Build Bike Lanes
by Bruno Amorim
The Rio Times
May 5
Fewer Military Policemen to Patrol Rio's Streets
by Lisa Flueckiger
Warscapes
May 4
Favela women activists in Rio de Janeiro
by Zaneta Denny
The Rio Times
May 4
Letter: Cantagalo Incident, Attacked in the Favela
by Chuck Cassie
Rio Real
May 2
The Santa Teresa bonde (streetcar): a loss far greater than transportation
by Julia Michaels
Yahoo! News
May 1
Pacifying police move into violent Rio slum, replacing army
by AP
*CatComm supported/quoted
RioOnWatch is a project of Catalytic Communities
May Highlights from CatComm

Now Booking Final University Tour Prior to 2016 Olympic Games
We are now booking the final 12 talk slots available prior to the 2016 Rio Olympics. Catalytic Communities' Executive Director and urban planner, Theresa Williamson, Ph.D., will deliver lectures on a variety of topics in North America next November, including cutting edge citizen journalism and community resistance strategies within Rio's current pre-Olympic landscape. 100% of proceeds fund community efforts on-the-ground. For more information or to arrange a lecture on your campus,
click here
. For the full brochure on lecture topics,
click here
.
---
Sign up for @RioONWire, the World's First Favela Wire Service!
And stay tuned for our upcoming crowdfunding campaign
With over 1200 tweets in just two months,
@RioONWire
is the world's first and only English-language favela news wire. The service offers hourly updates and critical background on news and events across Rio's favelas through the 2016 Olympic Games. Drawing on the knowledge and insight of our extensive network of community collaborators, RioONWire provides breaking news alongside essential-to-know background information, alerts on key upcoming events, and early access to the latest research on favelas.
Although originally conceived as a private-access resource to primarily facilitate quality reporting on favelas, early feedback from journalists and advocates has highlighted the value of making RioONWire a public resource, for all to access crucial information during this challenging period. As a result, we have decided to run a crowdfunding campaign to make a public RioONWire viable and support our media work through the Olympics. Stay tuned for more information, coming soon!
Click for full view of sample tweets from RioONWire's Day 1: