Dear CatComm Friend,
I just got an S.O.S. call from Shawn, a Canadian who's lived in Rio de Janeiro for the past decade. His cleaner Rosimeri called him in desperation after City authorities left her residence in Babilônia, a favela in the heart of Rio's South Zone. They told dozens of families they will be removed to make way for the widening of a walkway, and told her to sign relocation documents, promising her a unit in a public housing project being built 2 hours away. Despite Rosi having documentation of ownership, City officials spoke with her as if she had no rights and threatened her: 'sign the papers now or you'll get nothing.'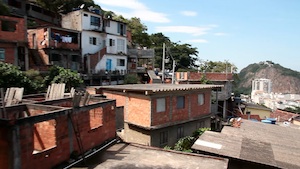 Shawn's instincts told him to tell her not to sign and to look for legal representation. He went online and, through a quick search, identified a number of local organizations in Rio working to combat forced evictions, including Rio Olympics Neighborhood Watch (RioOnWatch.org), Catalytic Communities' community news site providing favela-based coverage on Rio's fast-paced transformations in the lead-up to the 2016 Olympics. Among other topics, RioOnWatch has been chronicling evictions situations across the city since 2010.
Shawn called us and within minutes had the basic information he needed: legal contacts, someone ready to report on the situation, and important advice: "The longer the community resists and the more united they are, the more visibility they get, the better their outcome. Don't let Rosi succumb to pressure without legal counsel and public exposure." The next day he emailed me saying he'd called a number of organizations he'd found online working on these issues, and we were the only ones who answered and provided immediately useful information.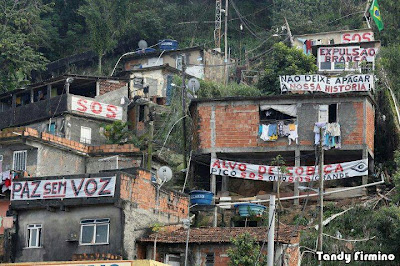 Babilônia's situation is not unique. Unfortunately we have received dozens of similar S.O.S.'s, including from nearby Santa Marta where no evictions were supposed to occur and Rio's first favela Providência, which I wrote an Op-Ed about for the New York Times in August. We've witnessed similar scenarios across Rio de Janeiro since the announcement the city would host the 2016 Olympics, and in every case we've stepped in to help.
The authorities feel confident mistreating communities like Providência, Babilônia and Santa Marta, not to mention dozens of less-heard-of favelas because of the historic stigmas and misjudgments about the value and qualities of these communities—the assumption these are 'slums' people should not be living in in the first place.
And this is why CatComm has become such a vital resource: we provide communities with the strategic resources of visibility and networks of support to paint a more accurate and empowering picture of these communities' accomplishments as well as the threats they are currently facing, which, together with unity and legal representation are the keys to effective resistance. While unity depends on the long-term bonds of residents themselves, and legal representation on specific agencies, visibility and networks are something we can provide immediately as a critical bridge while unity and legal support are harnessed.
CatComm's work has become vital to stopping, slowing, and improving outcomes in evictions situations across the city.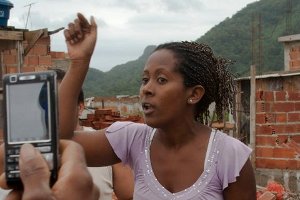 Next week we're meeting with Babilônia residents facing this latest of Rio's eviction threats. With your help, we'll also be launching our Community Journalism Initiative: dozens of community journalists in every region of the city could soon be reporting and documenting events as they unfold. But to carry on our work over the coming months we are depending on the success of our 2012 Rio Raffle.
We've sent you prior emails describing the raffle's prizes, the Grand Prize being a 1-week trip for two to stay in lovely Ipanema in Rio de Janeiro + 2 nights in Praia do Rosa whale-watching or Salvador. A $4700 value. There are also 2nd and 3rd place prizes too.
If you haven't yet donated, please DONATE NOW and ENTER OUR 2012 RIO RAFFLE using Razoo, Network for Good, or PayPal. The deadline is midnight Monday October 15th.
Please, we are counting on you, our collaborators and supporters, to help us raise $20,000 by Monday night. We're halfway there and there are only four days left to raise another $10,000. This email is a call to action: what happens in Rio over the coming years could pave a new path in urban development for cities around the world. But only with your help.
If you haven't yet, please SPREAD THE WORD NOW. You can use our fun first-ever crowd-sourced video with contributions from CatComm collaborators on multiple continents. You can use this sample email. Or you can simply forward this message. Our experience is that NOTHING works better than a personal ask, so please take the time to personally ask friends and follow up. Only with your help will we be successful in reaching our goal.
I'd like to conclude with a huge heartfelt *thank you* to all our collaborators, supporters, and friends who over the years have provided diverse types of contributions--talents, time, energy, connections and resources--that are each a fundamental part of why we have been successful in our work thus far. We wouldn't have done it without you and we continue to be grateful, and to count on your help.
In gratitude,
Theresa
Theresa Williamson
Founder & Executive Director
Catalytic Communities