Monthly Digest
Latest News and Opinion on and from
Rio de Janeiro's Favelas
February 2016
Volume VI Issue 2

Welcome to our "Six Months To Go" February Digest Special focused on Vila Autódromo, with the latest news from RioOnWatch (Rio Olympics Neighborhood Watch), Catalytic Communities' project to bring visibility to favela perspectives on the rapid transformations underway in Rio through August's Olympic Games. For this month's RioOnWatch articles see below and for an exhaustive list of news reports and features on favelas from the full range of English-language media sources, see the right-hand column. To access our Digest archives click here.

February 5 marked six months to the start of the Rio 2016 Games and with that milestone has come an unprecedented intensification of pressure on Vila Autódromo's 50 remaining families. On February 11 busloads of Shock Troops entered Vila Autódromo at 6am to illegally demolish three homes. On February 22 Shock Troops returned, this time to reposition part of the wooden wall dividing the community. This wall isolated the house and religious site of Candomblé practitioner Heloisa Helena in the Olympic Park, preventing her free access to her own home.

Two days later, over 100 troops returned to demolish two buildings of symbolic importance to the resistance: the Neighborhood Association and Heloisa Helena's house. Heloisa Helena's second letter published on RioOnWatch recounts death threats she experienced since negotiations with the City began.

With activist Maria da Penha's house still at risk of imminent demolition, solidarity with Vila Autódromo has never been more visible, from the 24-hour week-long presence of supporters in the community, to the presentation on February 27 of the thoroughly researched and updated People's Plan for the community's co-existence with the Olympic Park.

Last week, a social media video campaign called on Mayor Eduardo Paes to attend the People's Plan event. Now, a second social media video campaign asking Eduardo Paes when he will deliver promised upgrades to Vila Autódromo is gathering momentum. International supporters are asked to record an #UrbanizaJá (Upgrades Now!) video, stating your name, where you're from and asking for Upgrades to Vila Autódromo, then inviting three friends to do the same. Since Penha's house is the last the city can claim for demolition under the eminent domain order, now leaving only families that intend to stay, this is the crucial moment to ensure the Mayor heeds his public promise that "whoever wants to stay, can stay."

As a result of its compelling story, unrelenting resistance and commitment, Vila Autódromo has received unprecedented coverage from national and international mainstream media over the course of the month, including articles by AAP and CBC supported by RioOnWatch. A rare Globo article concludes Vila Autódromo has been the "target of the ravenous appetite of Olympic construction" and that the cost of resettlement compensations alone for Vila Autódromo ran sixteen times the cost of implementing the People's Plan, and when compared to Olympics infrastructure, is exceeded only by that of the Aquatic Sports Center.

The Popular Committee's dossiers documenting human rights violations there and elsewhere--and supported by RioOnWatch--have been called "fraudulent" by the Mayor, sparking a video in defense of the extensive research involved. For those interested in diving deeper into the numbers and context of evictions, the book SMH 2016: Removals and the Olympic City is now available in English and free through March 4.

Also this month, a police operation in Complexo da Maré left 19-year-old Igor Silva dead, with residents criticizing both police and media responses to the incident. Igor joins countless other victims of Rio's 'war on drugs.' A new Amnesty International report denounces the increasing levels of police violence against civilians.

Complexo do Alemão activist Thainã de Medeiros has documented examples of what the mainstream media gets wrong when covering favelas. Fortunately, a growing number of resident-led initiatives support the development of young favela communicators.

Local experts and activists gathered to discuss the context behind the water and sewerage crisis facing Rio residents. Some favela residents are uniting against water privatization, which they fear will exacerbate gentrification. Gentrification in Rio follows a well-documented trend of rapidly rising property and service prices in Olympic host cities.

Gender and sexuality were also in the news this month, with women organizing a feminist Carnival bloco against sexism and harassment. RioOnWatch translated an article featuring transexual activist Gilmara Cunha, who describes the particular difficulties LGBTQ individuals face in favelas.

Also not to miss on RioOnWatch in February, we published articles on the daily life of Complexo do Alemão mototaxi drivers, a neighborhood's collective action to fix a road, and a long-standing community-based cultural organization seeking to put West Zone culture on the map.

We hope you enjoy this month's carefully compiled digest. Please share and don't forget to like us on Facebook and follow us on Twitter.

The Popular Committee on the World Cup and Olympics has released a video responding to Mayor Eduardo Paes' claim that their dossiers are prone to "exaggerated dramatization" and are "fraudulent." Paes' comments were made during a closed-door OsteRio two weeks ago after being asked about the future of Vila Autódromo.
On Tuesday February 2, experts, activists, and community members gathered for the Encontro das Águas to discuss the water crisis in Rio de Janeiro. The afternoon event began with a workshop on collecting rainwater led by the group Águas de Março, followed by a roundtable discussion between technical experts and citizens about the condition of Rio's water.
Every time someone interviews me about Coletivo Papo Reto, they ask why it's important for the favela to have its own media outlets. There are many answers to that question, but this is the first that comes to mind: when the mainstream media tries to write about us, they always screw it up.
The first sight of one of the streets of Morro do Adeus in Complexo do Alemão is of a steep rise with a rift in the middle. In this rift there are a lot of debris, but less than before. It's already possible to see improvements to the pavement residents decided to build, as they could no longer stand not being able to climb to their homes safely.
Many Cariocas have been forced from their homes in the build-up to the Olympics. This article asks whether this is a special case in Rio, world-famous as a divided city where the fabulously wealthy live in close proximity to those in poverty, or whether it is a more systemic problem related to the Olympic Games and other mega-events.
The Globe and Mail
February 29
Ground Zero
by Stephanie Nolen
Global Post
February 28
Not many fish are left to bite in Rio's trash-lined bay
by Will Carless
CBBC
February 27
Rio shanty town cleared for Olympics
[VIDEO]
PRI
February 27
The bigger problems behind Brazil's recent disease outbreaks
by Catherine Osborn
The New York Times
February 26
Film Club | 'Kite Fight'
by Michael Gonchar
Brasil Wire
February 25
Rio de Janeiro and the Olympics: What is at stake?
by Brian Mier
Yahoo! Sports
February 25
Last residents of Rio slum fighting eviction for Olympics
by Bruce Douglas
Reuters
February 25
Olympic construction amplifies Zika threat after clearing of favela
[VIDEO] by Katie Sargent
Sky News Australia*
February 25
Officials bulldoze Rio favela for Olympic road
by AAP
Bloomberg Business
February 24
Rio Rebuffs Concern on Olympic Metro Advance, Needs More Funds
by David Biller, Tariq Panja
Huffington Post
February 24
Australian Athletes Banned From Favelas During Rio Olympics by Anthony Sharwood
The Guardian
February 24
Rio mayor brands Australia 'aggressive' after Olympic team's favela ban
by Reuters
plus55
February 24
Street art in Brazil: A risky business
ESPN
February 23
Rio mayor on Aussie ban: 'A lot of ignorance about Rio and Brazil'
by AP
Journalism in the Americas Blog* February 22
Community journalists deliver stories from their favelas in advance of Olympics
by Alessandra Monnerat
BBC February 21
Rio Olympic park built around man's house
[VIDEO]
Metro February 21
This man's house is inside the Olympic Park – and he's refusing to leave
by Dave Burke
The Seattle Times February 21
Misha Glenny's 'Nemesis': on top of the heap in Rio
by Tyrone Beason
Herald Sun February 21
Australian Olympians banned from Rio favelas over security concerns
by Jo
n Ralph
BBC February 20
Rafael Braga: Scapegoat or dangerous protester?
by Donna Bowater
The Rio Times
February 20
Rio Suggests Plan for Incomplete Metro During Olympics
by Jay Forte
ESPN
February 18
The Promise Rio Couldn't Keep
by Bonnie Ford
NPR
February 18
Moms And Infants Are Abandoned In Brazil Amid Surge In Microcephaly
by Lourdes Garcia-Navarro
USA Today
February 18
Rio Olympics: Protesting workers warn venues won't be ready if conditions don't improve
by Martin Rogers
Poynter February 17
A new website in Brazil wants to fact-check the Olympics
by Alexios Mantzarlis
The Guardian
February 17
Zika hysteria is way ahead of research into virus, says expert
by Jonathan Watts
WNYC February 17
How One Man Rose to Power in Rio's Largest Slum
[RADIO]
The Root February 16
Fighting a Black 'Genocide' in Brazil
by Kiratiana Freelon
The Guardian
February 16
The Zika virus mosquito is unmasking Brazil's inequality and indifference
by Eliane Brum
The New York Times
February 12
A Terrible, Happy Accident in Rio
by Alice Watson
RioReal Blog
February 10
Carnival 2016: more tolerance, more reflection
by Julia Michaels
The Guardian
February 9
The Brazilian carnival queen deemed 'too black'
[VIDEO]
by Barney Lankester-Owen, Bruce Douglas, Charlie Phillips, Juliet Riddell
Americas Quarterly
February 9
Rio's Big Moment: A Photo Essay
by Carlos Coutinho, Thainã Medeiros, Stephen Kurczy
USA Today
February 9
Rio's Olympic legacy largely falls short of bid promises
by Taylor Barnes
InSight Crime*
February 9
Rio Olympics: Prospects for Next Round of Favela Occupations
by Lloyd Belton
CBC*
February 8
Rio's Mood
[VIDEO]
The New York Times February 8
The Zika Virus and Brazilian Women's Right to Choose
by Debora Diniz
The Guardian February 7
Brazil's sprawling favelas bear the brunt of the Zika epidemic
by Jonathan Watts
RioReal Blog February 7
A troublesome mayor in Rio de Janeiro
by Julia Michaels
The Guardian February 5
Zika crisis and economic woes bring gloom to Brazil's Olympic buildup by Jonathan Watts
CBC
February 5
Rio Olympics: 5 controversies looming over the Games
by Joseph Quigley
The Times of Israel
February 5
Brazil's anti-terror chiefs ready for 'worst' at Rio Olympics
by Pierre Ausseill
Folha de S.Paulo* February 4
Six months out from Olympics, rich, not poor, are the big winners
by Jules Boykoff
The Washington Post
February 4
Six months out, Rio organizers are still a long way from the finish line
by Rick Maese, Dom Phillips
Folha de S.Paulo
February 3
Rio's Museu do Amanhã Already Showing First Signs of Damage
by Chico Felitti
EPIC*
February 1
Urban Mobility and "Emerging Consumers"
by Laura Scheiber
*CatComm supported/quoted
RioOnWatch is a project of Catalytic Communities
February

Highlights from

CatComm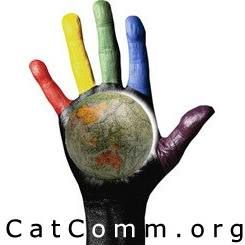 Enter the 2016 Rio Raffle Any Time This Year
Donations at any point in 2016 will count towards this year's Raffle which will be held in December. $10 early this year gets you a ticket, whereas by December the raffle tickets will be going for $20 each. So
get your Raffle tickets now
and support our work when it's more critical than ever.
---
Educational Community Visits
CatComm was thrilled to lead students and professors from Lakeland College in Alberta, Canada on an Educational Community Visit
to Vidigal this month. The visit was held in partnership with the Vidigal Residents' Association whose cultural director led the group from the quickly gentrifying peak to the community's eco-park, through alleys, streets and to the Residents' Association, while providing local context and insight into community responses to rapid change.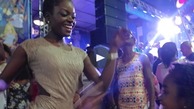 The Brazilian carnival queen deemed 'too black'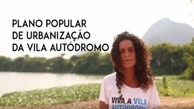 Convite para a apresentação do Plano Popular de Urbanização da Vila Autódromo
(PT)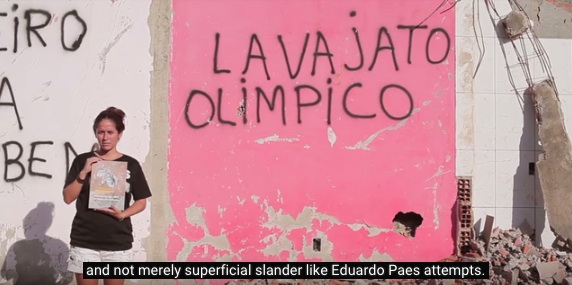 O Dossiê do Comitê não esconde nada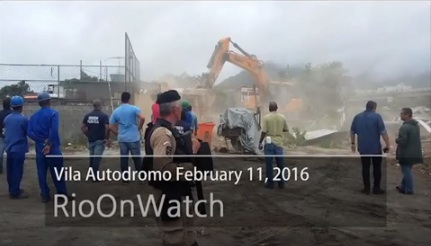 Altair Guimarães na Vila Autódromo - 11 de fevereiro de 2016
(PT)