Monthly Digest
Latest News and Opinion on and from
Rio de Janeiro's Communities
October 2014
Volume IV Issue 10

Welcome to our October digest with latest news from RioOnWatch (Rio Olympics Neighborhood Watch), Catalytic Communities' project to bring visibility to favela perspectives on the rapid transformations in Rio through 2016. For this month's RioOnWatch articles see below and for an exhaustive list of news reports and features on favelas from the full range of English-language media sources, large and small, see the right-hand column.

During October's elections, RioOnWatch published articles voicing concern over the growing role of militias in Rio's favelas, including growing threats to democracy. Community journalists relayed the apathy of frustrated residents and the electoral garbage around them. And with the presidential elections in mind, we published an important analysis of the federal housing program Minha Casa Minha Vida and what support for the program from all three primary presidential contenders means for quality housing in Brazil. Finally, an insightful analysis of Brazil's "ostentatious" culture connected everyone, from favelas to the political elite.

In a tragic turn of events, two young men were killed in Complexo do Alemão on the same weekend the community staged a march for peace and a resident wrote a cry for help for his favela. On this subject of urban violence, we recommend the film At Point Blank shedding important light on police violence in favelas.

In eviction news, residents of Vila União de Curicica held their first protest against the BRT TransOlímpica evictions slated for their community. Museu da Maré, a beacon for culture and art in Complexo da Maré, is being threatened with eviction which is being fought with protests and cultural activities. RioOnWatch visited the museum to document its importance to the community and far beyond.

In inspiring news, community-led orchestras were highlighted, we look at how children play in informal settlements and Complexo da Maré comes together to paint the community during an art festival. In Acari, black resistance and culture were celebrated on Fela Day. Rocinha celebrated fifty years of fighting for regularization of water services.

RioOnWatch is proud to have taken part in Blog Action Day 2014, publishing three important contributions to this year's global debate on inequality. First we published a description of the cultural phenomenon of 'rolezinhos,' a movement that seeks social inclusion through shopping malls. A public space researcher then compared Rio's favelas and gated communities. And both dialogued with our thorough visit to the newest--and largest ever--gated community being built in Rio de Janeiro, to house Olympic athletes and with claims of sustainability, appropriatelly named 'Pure Island.'

Please enjoy, share and don't forget to like us on Facebook and follow us on Twitter. Hear us speak on a campus near you this Fall. And if you like what we do, please join us as an Olympic Champion--we are depending on readers like you to donate monthly and guarantee our work through the Olympics!

Ostentação: A Game of Power for Politicians and Funk Artists
by Nathan Bonisseau | October 29
What can the music of funk ostentação, or "ostentatious funk," tell us about today's Brazilian society? At the other end of the spectrum of social activity, politicians too display a similar tendency of ostentation. Discourses and projects take on a more symbolic rather than rational function in such a context. In the era of excessive media coverage, high profile projects are one of the keys to political success.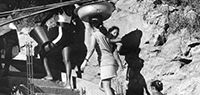 Fifty Years Fighting for Water Regularization in Rocinha
by Michel Silva | October 28
Access to clean water and sanitation is an essential human right, acknowledged most recently and thoroughly in a United Nations Resolution in 2010. In Rocinha, you'd be mistaken if you thought the lack of water services in the favela was only a recent problem. The fight for this human right grew in the late 1970s, when CEDAE (the state water utility responsible for providing access to water and sewerage) provided the workforce to supply water to the favela, with material local residents raised money together to buy. It was around this time that Rocinha residents founded the Organizing Committee of the Bairro Barcellos neighborhood.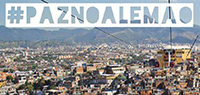 The Favela Where I Live is Bleeding
by Vitor Paz | October 27
Speaking about Complexo do Alemão, where I live, there was an initial promise of peace. According to media reports from November 2010, with an armed pyrotechnic circus and the media spreading news across the world that the territory was being reclaimed, the State pronounced its presence. There was a certain fear and apprehension of what was to come, which to today we are still waiting to see the benefits of. There was a ceasefire period and a false sense of peace. For a moment we even thought it was likely that pacification would work out… we were wrong.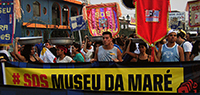 Global Reference, Local Resistance: Protesters Take the Streets Against Maré Museum Eviction
by Andrea Cangialosi | October 25
Residents of Complexo da Maré, artists, collaborators and supporters of Museu da Maré marched on Saturday October 18 against the eviction of the museum. Protesters blocked part of the Avenida Brasil highway and voiced their support for the museum with dances, performances, music, and poems.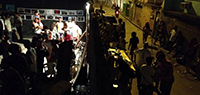 Fela Day: A Celebration of Fela Kuti and Black Resistance in Acari
by Elma Gonzalez | October 24
Fela Day is a celebration of the life of Fela Anikulapo Kuti, the Nigerian musician who is known for his Afrobeat sound and relentless resistance to the Nigerian military dictatorship throughout his life. Fela Kuti followers commemorate the artist every October 15, and this year, The cultural activism organization Faveleira hosted their first Fela Day with a workshop, lecture, film screening and several music performances.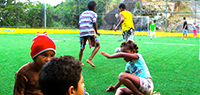 Engaging Play in Rio's Favelas
by Caitlin Dixon | October 22
Children occupy many available private and public spaces which they transform into temporary playgrounds. The available public spaces in favelas of Rio de Janeiro see this treatment, while the traditional playground equipment in these communities remains largely run-down and underutilized by residents.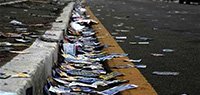 Irregular Political Propaganda Unchecked in the Baixada Fluminense
by Juliana Portella | October 21
With the end of the first round of elections, residents complain about the pollution that was generated by candidates' propaganda: flyers, signs, banners, flags and easels holding up posters. In the Baixada Fluminense, part of the Rio de Janeiro Metropolitan Region just north of Rio proper, it is impossible to forget that we are in an election period. Because it is on the periphery of Rio, and inspection to detect illegalities is rare, some candidates take the opportunity to evade election laws and advertise arbitrarily. In Nova Iguaçu, flyers of candidates called "santinhos," easels and posters take over squares, streets and sidewalks. Besides ruining the landscape, this advertising disrupts the free circulation of people.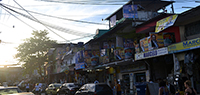 Election Time in Alemão: Garbage, Political Smiles and Opinions
by Saulo Santana | October 21
It is not news to anyone that here in Brazil, our political candidates do not have the best credibility amongst the people. This also happens where I live; differently from what many may think, we are not people who only think about funk, crime, and other related subjects. We have people who hold opinions.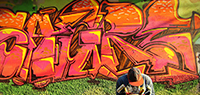 Residents and Street Artists Paint the Streets of Maré in Travessias Art Festival [SLIDESHOW]
by Andrea Cangialosi | October 17
Residents of Complexo da Maré, graffiti artists and visitors painted the community's walls with vibrant colors and graffiti art on Saturday October 11. The event "Tudo de cor pra Maré" (All colors for Maré) is part of the annual art festival Travessias, now in its third edition. The art festival Travessias celebrates the encounter between visual contemporary art and public spaces.
March for Peace Amidst Ongoing Violence in Complexo do Alemão
by
Elma Gonzalez | October 17
Two young men are reported to have been killed on Sunday in Fazendinha, Complexo do Alemão, North Zone—only one day after activists expressed their frustration with the area's excessive violence in a March for Peace demonstration on the morning of Saturday October 11. The event was meant to highlight the raging violence and police brutality in several favelas, particularly Complexo do Alemão and Vila Cruzeiro.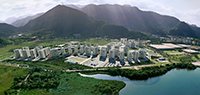 "Pure Island": Exclusivity, Isolation & Elitism at Rio's "Sustainable" Future Olympic Village
by Eduarda Araujo, Ian Waldron and Francis Torres | October 16
RioOnWatch has long been covering the public policies, evictions and human rights violations associated with Rio's preparation for its mega-events and how current urban transformations are felt and perceived in the city's favela communities. In this article, we look at a project on the other side of Rio's chronic problems of inequality: an island of wealth in a city marked by segregation: Rio's newest upper class housing development with no qualms about showcasing its intentions. For they are represented in its name: Ilha Pura, or Pure Island.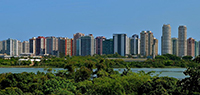 Gated Communities and Gating Communities: The Future of Urban Development in Rio?
by Caitlin Dixon | October 16
Walled islands of wealth and security have been a part of the Latin American urban landscape since the 1970s. From the inner-city to suburban areas, gated condominiums differ in size, development, and construction typology while the real estate companies, those buying into this lifestyle, and the public authorities continue to influence their expansion. The spread of this residential development model further increases the socio-economic disparities of an already deeply segregated Brazilian society.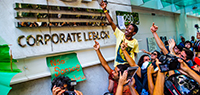 Brazil's Rolezinhos: Shopping Malls as Instruments of Geographic Inclusion
by Désirée Poets | October 16
The lead-up to the 2014 World Cup in Brazil was tumultuous. The world watched as Brazilians, angry at a rise in bus fares in the context of the exorbitant levels of spending for the upcoming sporting mega-events, took to the streets in an upsurge of protests in June 2013. The preparations for the 2014 World Cup and 2016 Olympic Games not only revealed the continuing deep inequalities within Brazil but also served as an opportunity for debate and activism. In this context, Brazil experienced one peculiar and rather brief phenomenon: the rolézinhos in Brazilian shopping malls. Despite taking place for only a couple of months, they questioned a number of long-term, deep-rooted socioeconomic inequalities and patterns of spatial segregation of contemporary Brazilian cities, a feature of a number of metropolises around the globe.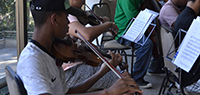 Classical is Not Dead: Orchestras Bring New Perspectives to Favela Youth
by Nathan Bonisseau | October 14
To compensate for the state's absence, civil society organizations offer activities and clubs in the afternoon in an effort to present new vocations to young people in the favela or simply offering a hobby to occupy the attention of otherwise idle kids. In the maelstrom of music coming out of the favelas, after-school activities focused on Brazilian genres like funk, samba and forró are often showcased as attractive alternatives to life on the streets. Classical music is usually dismissed as unattractive, inaccessible or elitist. Despite this, projects like Orquestra da Maré do Amanhã and Orquestras de Cordas e de Flautas na Grota are defying classical music prejudice and favela stigma.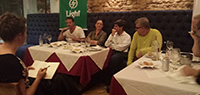 Rio de Janeiro's Militias Grow in Power
by Nicole Froio | October 10
The subject of militias has grown recently in local and international media coverage of Rio, amid concerns of lack of democracy and coercive votes in the controlled areas during this election season. While these concerns are genuine, a conference held by the Institute for the Study of Labor and Society (IETS), 'Militias: a growing power in Rio de Janeiro,' on September 29 presents how the control and profit of the militias goes deeper than electoral power, affecting residents on a daily basis. In a talk led by researcher Ignacio Cano, from the Violence Analysis Laboratory at Rio de Janeiro's State University, and journalists Sérgio Ramalho and Elenilce Bottari, the history of the militias was discussed, with final thoughts on solutions for the situation.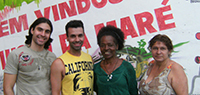 SOS Museu da Maré: Community Speaks Out Against Museum Eviction
by Andrea Cangialosi | October 9
During Museu da Maré's week of resistance, RioOnWatch visited museum Maré to document its importance and impact on the community. The documented testimonials are from visitors, curators and collaborators of the museum.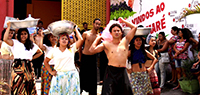 SOS Museu da Maré: Community Museum Protests Eviction
by Andrea Cangialosi | October 8
After seven years providing an acclaimed space for historic preservation, culture and art inComplexo da Maré, the Museu da Maré has been marked for eviction, with 90 days to vacate the premises. Several hundred people supported the museum's permanence during the museum's cultural protest entitled 'Spring of Resistance: Museum, Memories, Utopias,' where workshops, free guided tours and petition signing sessions showcased the importance of the museum for the community.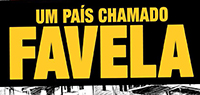 A Country Called Favela by Renato Meirelles and Celso Athayde [BOOK REVIEW]
by Andrea Cangialosi
| October 7
Um País Chamado Favela (in English, A Country Called Favela) by Renato Meirelles, president of Data Popular, and Celso Athayde, co-founder of CUFA, examines the accomplishments of favelas and their economic advancements, with analysis of informal housing and its economic power from trained specialists and favela residents. Statistics are accompanied by residents' real life stories and testimonials.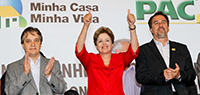 Despite Questions, Presidential Candidates Lean on Federal Housing Program For Electoral Support
by Sarah McTarnaghan | October 3
In 2009, a new federal housing program, Minha Casa Minha Vida (MCMV) or My Life My House, redirected resources for housing and local development in urban Brazil towards mass-construction of public housing. Just five years later, roughly two million housing units have been constructed nationwide, and the program has received both fierce criticism and high praise. As the presidential elections near, promises of expanding Minha Casa Minha Vida are pervasive, as the three leading candidates have all pledged to support expanding the program.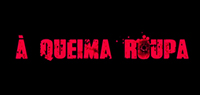 At Point-Blank: A Documentary About Police Violence in Favelas and Beyond
by Ian Waldron | October 2
A screening of À Queima Roupa (At Point-Blank), followed by a debate on police violence, was part of Rio International Film Festivel 2014 on Friday September 26. The documentary produced and directed by Theresa Jessouroun is an investigation into the violence and corruption that have plagued Rio de Janeiro's low-income neighborhoods over the past 20 years. While historical in a sense, the issues it sheds light on continue into the present day.
The Power of Militias in Rio de Janeiro's Elections
by Marasílea Gombata | October 2
Militias are present in over 170 other areas within Rio de Janeiro state, some where Police Pacifying Units (UPPs) have been installed. Besides territorial control, the militias perform public functions related to criminal interests. Unlike the drug trafficking gangs that used to control territories now controlled by the UPPs, the militias have already managed to elect city council members and state deputies of their choice, interfere in the mayor's race and are decisive in elections for governor.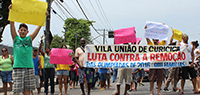 Vila União de Curicica Marches Against BRT TransOlímpica Evictions by Ian Waldron | October 1
The first major act of resistance by Vila União de Curicica, a community that lies on the path of the TransOlimpica Bus Rapid Transit line, took place on Saturday September 27. Originally marked to receive upgrading and infrastructure through the Morar Carioca favela upgrading program, the neighborhood is now to be removed entirely for the new Olympic transit line that stretches north-south between Deodoro and Barra da Tijuca.
The Guardian
October 31
How one Brazilian slum is blurring the boundary between forest and city
by May East
Rio Gringa
October 29
Why social media mattered during Brazil's presidential race
by Rachel Glickhouse
The Guardian
October 29
Obligatory voting, socialism and corruption: Brazilians tell us what they think about Rousseff's re-election
by Guardian readers
The Guardian
October 29
How sick are the world's healthcare systems?
by Jonathan Kaiman, David Smith, Anu Anand, Jonathan Watts, Patrick Kingsley, John Hooper, Nicky Woolf and Peter Otterman
The Rio Times*
October 28
Community Members Fight Closure of Museu da Maré by Chesney Hearst
Yahoo! News
October 27
Daldry Favela Film Wins Rome Festival Prize by Sky News
BBC
October 27
Brazil's president preaches unity after hard-won victory
by Wyre Davies
RioReal Blog
October 27
Brazil elections 2014: Dilma hangs on by 3% and Bigfoot takes Rio
by Julia Michaels
BBC
October 26
Brazilian elections: Voting divided along class lines
by Wyre Davies
The Bellingham Herald
October 25
Unpaid volunteers worth millions to Olympic Games
by Stephen Wade
Rio Gringa
October 25
Why is Brazil's 2014 Presidential Election So Divisive?
by Rachel Glickhouse
NDTV
October 25
Rio Beefs Up Security Ahead of Brazil Presidential Vote by Agence France-Presse
CCTV America
October 24
Favela Surf Club aids poor children in Rio
The New York Times
October 24
Time to Address Core Issues in Brazil
by João Maia
InSight Crime
October 24
Rio de Janeiro Militias Muscle in on Brazil Elections
by Geoffrey Ramsey
Fox News Latino
October 23
South African Icon Chester Williams Teaching Rugby in Brazil
by Pablo Giuliano
Brown Political Review*
October 22
Favela Chic by Francis Torres
Favelas@LSE
October 22
Favela painting: Building community, social change and emancipation through a OrgansparkZ/Art installation by J. Miguel Imas
The New York Times
October 21
Brazilians Are Shocked, Shocked at Corruption by Antonio Prata
NextCity October 21
This Neighborhood needed a Basic Sewage System - It Got a Gondola Instead by Catherine Osborn
Favelas@LSE
October 21
Where has gender gone? The big absence in Brazilian presidential elections 2014
by Louisa Acciari
International Business Times
October 21
Brazil: Favela Gunmen Party in Rio de Janeiro 2016 Olympics Pool
by Umberto Bacchi
City Metric
October 21
Radical architects, skyscraper slums and informal cities: an interview with Justin McGuirk by Barbara Speed
No Se Mancha
October 20
Favela Gay
by Mancha Contributor
The Guardian
October 20
Trash first look review - Stephen Daldry forages into a favela mystery
by Jordan Riefe
Arch Daily
October 20
From Bogotá to Bombay: How the World's 'Village Cities' Facilitate Change by Laura Amaya
LSE's American Politics and Policy blog
October 19
B
ook review: Favela Digital: The Other Side of Technology by David Nemer
by Leonardo Custódio
Favelissues
October 19
Traditions & Favelas: Seeking Spatial Future
by Diana Maldonado
The Economist
October 18
Brazil's presidential election: looking for change
by Serrinha
RioReal Blog
October 18
Rio's trains are decades late
by Julia Michaels
MintPress News
October 15
This is What 'Occupy' Looks Like in a Rio Slum by Will Carless and Edgar Costa
The Huffington Post
October 15
The Children Living with Violence in Rio de Janeiro's Favelas by Beth McLoughlin
Toward Freedom
October 15
On World Day of Food Sovereignty: Struggling for Land in Brazil
by Beverly Bell
CCTV America
October 15
Rio shantytowns mapped for first time
Global Post
October 15
Rio's poor are being priced out. Here is where they are going
by Will Carless and Edgar Costa
BBC
October 14
Brazilian and UK film Trash shown in Rio de Janeiro film festival by Julia Carneiro
Terre des Hommes
October 14
The Bullet: Police violence during the World Cup 2014
Rio Real Blog
October 13
Ilha Pura (Pure Island): 3 square miles under total control
by Julia Michaels
Motherboard
October 13
The Mailman Mapping Brazil's Largest Favela by Hand
by Brian Mier
The Hollywood Reporter
October 13
'Point Blank' ('A Queima Roupa'): Rio de Janeiro Review by Jonathan Holland
Favelissues*
October 12
Radical Cities / Radical Changes by Luis Diego Quiros
RioReal Blog
October 12
Ipanema, underground
by Julia Michaels
International Socialism
October 10
Love Football-Hate FIFA
by Des Barrow
Mirror
October 9
Hill of Champions: The powerful story of a mixed martial arts project in a Brazilian favela
by Alex Watt
Museums Journal
October 9
Sheelth: we need a lot more colour in our museums
by Geraldine Kendall
Quartz
October 9
Why Brazil's protests didn't translate into change at the ballot box
by Rachel Glickhouse
Citylab
October 8
In Brazil, Where Police Killings Are Commonplace, Cell Phone Cameras Play A Powerful Role by Jordana Timerman
VOXXI
October 8
The challenges of senator Romario for Rio in 2016
by W. Alejandro Sanchez
The Guardian
October 6
Smart slums: utopian or dystopian vision of the future?
by Dan McQuillan
RioReal Blog
October 6
Rio 2014 elections, first round by Julia Michaels
Al Jazeera America
October 3
Gangs, militias set campaign rules in Rio favelas ahead of elections
by Matt Sandy
Rio Real Blog
October 3
Paramilitary gangs in metropolitan Rio de Janeiro: what's to be done?
by Julia Michaels
Geostadia
October 2
Global Parties, Galactic Hangovers @ Los Angeles Review of Books
by Christopher Gaffney
GlobalPost
October 2
Brazil's favela dwellers are cashing in on campaign season
by Will Carless
Boulder Weekly
October 2
Rising above Rio
by Elizabeth Miller
teleSUR
October 2
Locals notice progress in Santa Marta, Brazil
by Stephanie Kennedy
BBC October 1
Rio Olympics on track, says IOC
*CatComm supported/quoted
October Highlights
from CatComm

Lecture tour near you?
Since 2010, CatComm Founder & Executive Director Dr. Theresa Williamson has spoken at North American universities on a range of topics.
This year's talks include Augustana College, CUNY, University of Maryland, Syracuse University, Wellesley College, McGill University, University of Wisconsin-Madison, Cornell University, Pomona College, Pacific University, Ramapo College, University of Colorado-Boulder, and Goucher College.

Learn more!
Join us!
"It was a terrific talk. That's my opinion, as both an academic and an activist. And the feedback from everyone else I talked to has been nothing but superlatives. Everyone thought it was informative, the analysis was complex and nuanced, and it gave us great insights into the political and organizing scenes in Rio and Brazil. I'm very pleased and would definitely recommend Theresa's talk to others."
-- Dr. Tom Angotti, Hunter College