Monthly Digest
Latest News and Opinion on and from
Rio de Janeiro's Favelas
June 2015
Volume V Issue 6

Welcome to our June digest with the latest news from RioOnWatch (Rio Olympics Neighborhood Watch), Catalytic Communities' project to bring visibility to favela perspectives on the rapid transformations in Rio through the 2016 Olympic Games. For this month's RioOnWatch articles see below and for an exhaustive list of news reports and features on favelas from the full range of English-language media sources, see the right-hand column.

In Rio, favela evictions continue a central theme this month, with Vila Autódromo residents left bloody, with damaged housing, a house literally cut in half, and occupying problematic public housing, after violent confrontations with local officers, and Metrô-Mangueira suffering yet another removal. These and others led us to describe the new trend of lightning evictions--forced evictions with little warning and tenuous court approval--in a number of favelas this month.

Meanwhile, the City announced a series of public consultations to develop a plan for public housing in the Port area. The first meeting introduced the subject and the second was received with tough questions from Port area residents. All this while Favelinha da Skol and Metrô residents have been left waiting and in desperate need of public housing for five years.

Violence was also high in the news this month with the congressional debate on lowering the age of criminal responsibility heating up and competing for air time with incidents of violent crime. On RioOnWatch, we reviewed The Trigger, a film about the disappearance of bricklayer Amarildo at the hands of police in 2013. In Rio's North Zone, even drug traffickers were heard asking for peace when a drug lord's audio file was released this month. And after shocking events in Charleston, RioOnWatch published a comparative look at how white criminals are treated by the mainstream media in the US and Brazil.

We also celebrated World Environment Day by compiling inspiring community projects that promote sustainability. The community of São José Operário celebrated the day with an environmental education event. In the North Zone, women from Complexo do Alemão are creating a women's support group for local mothers, while community collectives citywide came together to discuss the importance of grassroots media groups and the role of new youth collectives in tackling a wide range of issues. The best known of this new trend is the Papo Reto Collective, featured in this must-see video from Fusion. Finally, even the Pope stood up for favela qualities this month, arguing the relationship between resolving issues of poverty and sustainability had everything to do with these communities.

Three growing leaders from South Zone favelas were profiled this month. Evictions resistance activist and guide Vitor Lira shared his unique perspective on Santa Marta, while Pavão-Pavãozinho guide Gabriel Abreu provided an inspiring model of community reinvestment. Finally, in Babilonia militant activist André Constantine won the Residents' Association election and began his mandate organizing a mutirão, or traditional day of collective action.

And in speaking of collective action, on June 19 we launched @RioONWire as a free and open, public service. Please take the time right now to sign up! Rather than maintaining it a subscription service, we have decided to launch a crowd funding campaign--our largest and most imporatnt ever--to guarantee and expand all our work through next year's Olympics. Keep your eyes peeled over the coming weeks for updates. We'll be counting on your help to support the campaign and spread the word!

We hope you enjoy this month's carefully compiled digest and video recommendations below. Please share and don't forget to like us on Facebook and follow us on Twitter.

On Wednesday June 24, NGO Viva Rio hosted a public meeting in Gloria, in the South Zone of Rio to discuss the importance of collectives as a new form of community organization and their role inside and outside favelas. The debate was part of the organization's digital inclusion project, Viva Favela.
Many projects were promised when the City and State of Rio de Janeiro turned their attention to social program planning in Complexo da Maré. The authorities began to consider investing in social programs within the pacified communities when they identified the incapacity of guaranteeing quality of life improvements strictly by militarizing the favelas, despite spending nearly R$2 million (US$639,019) per day to install the Pacifying Police Unit (UPP) in Maré. Issues such as basic sanitation, health, mobility, and early and digital education were allocated funding, in a community that represents one of the lowest Human Development Index (IDH) rankings in the city.
"Let's quit this shooting all around us. This violence is killing residents, no one can take it any more." This was a request made by Playboy, a drug trafficker from the Costa Barros favela in Rio's North Zone in an audio file released last week. In it, Playboy proposes a ceasefire to Claudinho da Mineira from Morro do Chapadão. According to Playboy, the war has not been beneficial to either party. He says both of them are "being stubborn" by choosing to continue the battle. Although he does not ask for a truce, he wants the unnecessary shooting to stop.
On Saturdays in the community of Pavão-Pavãozinho, a high-reaching favela overlooking Copacabana beach in the South Zone of Rio de Janeiro, children stream up the steps to an airy patio in the home of Gabriel Abreu, with notebooks in tow. They gather at a table and take out their pens and pencils, as a young volunteer writes a lesson plan on the whiteboard. They are boys and girls of all ages from the favela in which Gabriel grew up and has lived his life. This past year, Gabriel has successfully turned the profits from his tourguide business into creating and hosting a small English school out of his home. Although Gabriel's modesty would prevent him accepting this description, he is an extremely bright social entrepreneur with a fantastic business model for creating change in his community.
On Thursday June 18, the Port Urban Development Company (CDURP) of Rio de Janeiro hosted a second public hearing regarding a Participatory Housing Plan for the Port area, following an introductory meeting on June 10.
The event brought together an audience of about 150 people and was initiated by CDURP president Alberto Gomes Silva who presented a summarized version of last week's diagnosis referring to a series of maps and tables developed by the municipal urban planning and data analysis agency Instituto Pereira Passos (IPP) and the Brazilian Geography and Statistics Institute (IBGE), responsible for the national census.
Almost nine months after 43 Mexican students were abducted, three parents and a classmate of the 43 Normalistas visited Rio de Janeiro last week to conclude the Caravana 43 journey across South America. Parents Mario César González, Hilda Hernandez Rivera and Hilda Legideño Vargas, along with Normalista survivor of the attack Francisco Sánchez Nava, comprised the Caravana. The group, which also visited Argentina and Uruguay, met with Brazilian victims of violence, activist groups, indigenous groups and education activists in diverse areas of Rio. The Caravana's objective was to form a strong network with other Latin American movements and unite strengths against 'state terrorism' in Latin America, Sánchez Nava said.
When Dylann Roof, a 21-year-old white man, allegedly killed nine African Americans at the Emanuel AME Church in Charleston on Wednesday, it took hours for national media to cover the story. The silence became a talking point across social media and was analyzed by Mic as US citizens struggled to discover details of the incident. Two days earlier in Rio de Janeiro, Afro-Brazilian Women's advocacy group Geledés had undertaken a similar analysis of media silence comparing the minimal coverage given to a young white, wealthy and connected perpetrator of a violent crime in Rio, in relation to a black minor alleged perpetrator on the same week.
On June 28, Lélio Fernandes ran home from his supermarket job to watch City workers demolish half of his house. He opened a door on the second-floor–where a bedroom and a toilet used to stand–to reveal a sheer drop into a pile of rubble. The workers stopped demolishing Fernandes' house after half of it was gone because it was the end of the work day.
A public hearing on a plan for social housing in the Port region of Rio de Janeiro took place on Wednesday June 10. Housing Secretary Carlos Portinho introduced the meeting as a "point of departure from which a new housing plan will be built collaboratively" to 140 people who attended the event, including representatives of civil society, government agencies, researchers and, most critically, residents of the region. An excellent analysis is available in Portuguese by the Metropolis Observatory.
A group of women in Complexo do Alemão, in the North Zone of Rio, met for the second time on Saturday June 13 to organize a women's council that aims to discuss community issues. Around 20 women came together in the Praça do Conhecimento building in Nova Brasília to have breakfast, coffee and speak about the needs of their community.
The case of Amarildo de Souza, the bricklayer who was tortured to death by the Military Police in Rocinha in 2013, made waves across Brazil and abroad. His death became a symbol of police repression in a country where thousands are killed by police every year. The title of Rodrigo Mac Niven's documentary about Amarildo, O Estopim (The Trigger) reflects this. In many ways, Amarildo's story, and the campaign for justice after details of his case came to light, was a "trigger" in changing attitudes towards the pacification process implemented in Rio's favelas since 2008.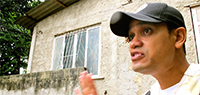 "Militant" Favela Activist Wins Historic Election in Babilonia
by Brooke Parkin | June 17
Leader of the Chapa Amarela and newly elected president of the Residents' Association, André Constantine celebrated the result as a chance "to rescue the association;" to bring transparency, bring unity and reinstate it as "a tool to fight to represent the aspirations and desires of the residents and not the public power." André has become a well-known figure in favela advocacy circles for his impassioned speeches, historical references and proactive approach.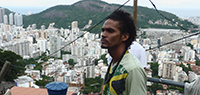 Touring Favela Santa Marta Through the Eyes of Activist Guide Vitor Lira
by Julia Jones | June 16
On Monday June 1, police, municipal guards and city officials crowded into the Santa Marta favela to destroy a number of homes, leaving residents confused, panicked, and without shelter due to the delay in promised public housing construction. Last month, RioOnWatch took a tour of Santa Marta led by Vitor Lira, a 5th generation resident of the community. In addition to leading tours to show the reality of life in the neighborhood, Vitor plays a vocal role in community activism and offered insight into the ongoing transformations and pressures of eviction.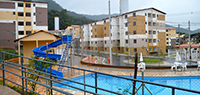 Former Residents of Vila Autódromo Denounce Problems in Parque Carioca Replacement Housing
by Vladmir Platonow | June 15
Nearly a week after the confrontation between residents of Vila Autódromo and municipal guards in Jacarepaguá, near the future Olympic Village, the community mobilized once again on June 8. At the same site, they denounced the practices of the Municipal Solicitor General who residents say has acted inappropriately towards residents in dispossession negotiations. Residents also complained that the properties of Parque Carioca—the public housing complex to which many residents were removed, built by the Rio city government in partnership with Caixa Econômica Federal—are uninhabitable.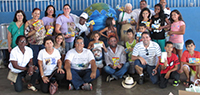 Community in Praça Seca Shows How Small Green Actions Make a Difference
by Sarah Jacobs | June 14
Residents and activists in the São José Operário community, home to approximately 6,500 people in the Praça Seca area of Rio's West Zone, celebrated World Environment Day on June 3. The event provided a space for residents to reflect on environmental issues in their community and more broadly.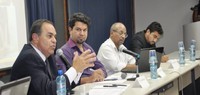 Rio Debates the Role of the State in the Criminalization of Poverty
by Sergio Saenz | June 12
On Monday June 8, the Pontifical Catholic University of Rio de Janeiro hosted a panel to discuss the Role of the State in the Criminalization of Poverty From a Human Rights Perspective. The seminar addressed a wide variety of issues, such as the genocide of black Brazilians, thereduction of the age of criminal responsibility, Pacifying Police Units, and the current justice system and incarceration policy.
City Bulldozer Damages Home and Puts Residents at Risk in Vila Autódromo
by Brooke Parkin | June 10
Pedro Henrique Berto arrived home to Vila Autódromo from work one Wednesday to an unexpected surprise: the City's bulldozers smashed a hole into his house, snapping a crucial beam supporting the structure and leaving the house in a precarious state. Despite the immediate and obvious danger posed to him and anyone inside the house, the City workers' first reaction was to dismiss the damage and deny any responsibility.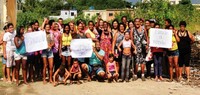 Families Removed from Skol Community in Alemão Await Homes Promised Nearly 5 Years Ago
by Melissa Cannabrava | June 9
The hundreds of families that were removed from the community known as Favelinha da Skol are requesting that work on the promised Minha Casa Minha Vida public housing be initiated urgently and are accusing the government of abandoning them. The promised land is situated in front of Rubens Berado Municipal School and has become a dump site, attracting rats and insects. Dump trucks frequently offload debris on the site. For almost five years the residents have been receiving social rent and they say the one year deadline for relocation was never met.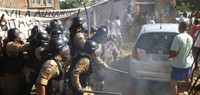 Tense Week Introduces New Policy of "Lightning Evictions" Across Rio Favelas
by
Sarah Jacobs | June 8
In Santa Marta in Rio's South Zone, Vila Autódromo near the Olympic Park in the West Zone, and Favela do Metrô in the North Zone, a series of "lightning evictions"–forced evictions with little or no warning and tenuous court approval–took place in favelas across Rio last week in a climate of confusion and tension in what appears to be a new shift in policy.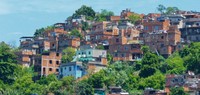 World Environment Day: Five Community Projects for Sustainability
by Nicole Froio | June 5
Favelas are natural incubators for new ideas, sustainability initiatives and community-led projects. World Environment Day is organized annually by the United Nations to bring awareness to environmental issues around the world. In honor of this year's World Environment Day theme "Seven Billion Dreams. One Planet. Consume with Care," RioOnWatch has compiled a list of five favela initiatives that aim to make communities greener and more sustainable.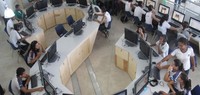 Democracy Through Technology: The Risks of Inclusion
by Jeffrey Omari | June 3
Although favelas like Maré have only had limited success with police occupation, digital inclusion—the idea that increased access to technology can be a boon to society by serving as a means to increase democratic participation, help reduce violence, and incorporate favelas into Brazil's formal economy—remains pivotal to the State's efforts to redefine the economic and political conditions in favelas.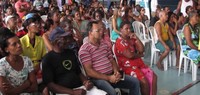 Complexo do Alemão Residents Highlight Rio Government's Broken Promises of Housing in Favela da Skol
by Sarah Jacobs | June 2
The Public Defender's Office exists to guarantee access to legal assistance for all Brazilians, a right enshrined in the constitution. It launched its "Caravan of Rights" campaign in a community sports center on the weekend. Residents were able to talk to public defenders about their rights and had access to a range of services, from printing identity documents to accessing information on jobs and training.

Stay Connected with RioOnWatch

RioOnWatch is a project of Catalytic Communities
June Highlights from CatComm

@RioONWire Now Public & Free!
With over 2100 tweets in just three months,
@RioONWire
is the world's first and only English-language favela news wire. The service offers breaking news, hourly updates and critical background on news and events across Rio's favelas through the 2016 Olympic Games. Drawing on the knowledge and insight of our extensive network of community collaborators, RioONWire provides breaking news alongside essential-to-know background information, alerts on key upcoming events, and early access to the latest research on favelas.
Although originally conceived as a private-access resource to primarily facilitate quality reporting on favelas, early feedback from journalists and advocates has highlighted the value of making RioONWire a public resource, for all to access crucial information during this challenging period. As a result,
we publicly launched RioONWire on June 19
and the number of followers has already tripled.
---
Stay Tuned for Our Crowd Funding Campaign!
RioOnWatch has become the global go-to news portal for favela perspectives on the rapid-paced transformations taking place in Rio de Janeiro through the 2016 Olympic Games. With the intensity of change and awareness of our work growing, calls for support from Rio's favelas now come in throughout the day, every day. We must be ready to respond to these requests with real-time support, while growing the types of services we offer to take advantage of this unique window of opportunity.
In the coming weeks we'll be launching our largest and most important crowd funding campaign ever. We hope to count on our entire extended community of collaborators and friends to make our goal. Please keep your eyes open, we'll be counting on you!
---
Now Booking Final University Tour Prior to 2016 Olympic Games
We are now booking the final 12 talk slots available prior to the 2016 Rio Olympics. Catalytic Communities' Executive Director and urban planner, Theresa Williamson, Ph.D., will deliver lectures on a variety of topics in North America this November, including cutting edge citizen journalism and community resistance strategies within Rio's current pre-Olympic landscape. 100% of proceeds fund community efforts on-the-ground. For more information or to arrange a lecture on your campus,
click here
. For the full brochure on lecture topics,
click here
.