Monthly Digest
Latest News and Opinion on and from
Rio de Janeiro's Favelas
April 2015
Volume V Issue 4

Welcome to our April digest with the latest news from RioOnWatch (Rio Olympics Neighborhood Watch), Catalytic Communities' project to bring visibility to favela perspectives on the rapid transformations in Rio through the 2016 Olympic Games. For this month's RioOnWatch articles see below and for an exhaustive list of news reports and features on favelas from the full range of English-language media sources, see the right-hand column.

The tension we've documented in pacified favelas so far this year took a tragic turn at the start of April. Shootings in Complexo do Alemão on the first two days of the month left five residents dead, including a ten-year-old boy and mother killed by stray bullets. The killings prompted a series of protests, including a march in Alemão that drew 500 people, and discussion forums in search of solutions to the violence. Community leaders at forums organized by the newspaper O Dia and favela news portal Viva Favela were adamently critical of pacification and current policing methods, which they believe are complicit in the alarming rates of violence against civilians.

Efforts by the State government to salvage and improve the pacification program include the formation of an Executive Commission for the Monitoring and Evaluation of the Pacification Policy. This commission aims to promote citizen participation in designing ways for pacification to support social initiatives. In the meantime, some community leaders have attended an educational seminar on legal rights in cases of police intimidation, as well as procedures for securing legal home ownership.

Housing issues have played an important role this month. Research into Minha Casa Minha Vida public housing revealed residents face intimidation by local militias. Despite this and other risks, plenty of people around the city are demanding the public housing they've been promised. This month groups of 200 to 400 occupants, some with documents certifying their right to public housing, were forcibly evicted from a CEDAE building in Santo Cristo and then a building in Flamengo. Residents of Morro do Bumba, the site of a landslide five years ago, are also still waiting to receive promised public housing, even as they continue to live on potentially dangerous land.

It is in the context of this ongoing housing crisis that new demolitions in the West Zone next to the Olympic Park are taking place. Although determined protests continue, Vila Autódromo's remaining residents are struggling with demolitions and uncertainty as rumors of imminent removals circulate and the BBC provides an important update. Demolitions are also underway in Vila União de Curicica. The promised re-routing of the TransOlympic BRT highway and bus corridor around most of the community had given residents reason for optimism, but the government appears to have changed plans, without justification. Changes to transportation systems are not only affecting housing, but businesses too. The re-routing of bus lines around the BRT in Cascadura, in Rio's North Zone, has left shop-owners struggling to survive in an area with drastically reduced business.

Still, there is hope to be drawn from local-scale community initiatives. The City once called for the removal of Vila Laboriaux, in Rocinha, but the community recently received prize money—from the same government—in recognition of sustainable activities including waste clean-up, urban art, community gardening, cultural activities, and environmental education and preservation. Vale Encantado, in the Tijuca Forest, is cementing its own reputation as a model for community sustainability. Its current projects include solar panels, a biodigester, a new neighborhood association headquarters, a community garden, and a cooperative restaurant. And finally, Vidigal has continued celebrations of its 75th year with music and arts events in its revitalizing Cultural Center.

With the countdown upon us—15 months until the Olympic Games in Rio—the pressure is mounting. On the one hand, repression, intimidation, cooptation and violence are escalating. On the other hand, communities are connecting, organizing and claiming their rights more than ever. And all of this is taking place faster and faster, while global attention continues to concentrate on Rio in these months leading up to the 2016 Games. To support our ongoing diligent work on behalf of favelas in this challenging period and facilitate increasingly productive coverage and understanding of favelas, we have created @RioONWire, the world's FIRST favela news wire. @RioONWire has just completed its first month in beta launch with 513 updates from the ground, and the official launch event will take place in Rio on May 13. We invite you—our fans, readers and collaborators—to sign on as Olympic Champions, and gain access to up-to-the-minute news on the latest goings on across Rio's communities, as well as advance access to our latest research reports. See the April Highlights from CatComm below for more information.

We hope you enjoy this month's carefully compiled digest and video recommendations below. Please share and don't forget to like us on Facebook and follow us on Twitter.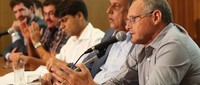 Infusing Participation in Pacification: The New Executive Commission for the Monitoring and Evaluation of Pacification Policy
by Valentina Romanin | April 30
Almost seven years after the implementation of the first Pacifying Police Unit (UPP) in Santa Marta, the ambitious security policy aiming to wrest control of favela territories from drug gangs is showing major weaknesses. As 2015 began with daily shootings in pacified favelas, on February 6 the government of the State of Rio de Janeiro published an official decree establishing a program charged with furthering the institutionalization and impact of the pacification policy.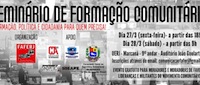 "Most People Have No Knowledge About Their Rights": Seminar Promotes Legal Education among Community Leaders on Housing Rights and Police Brutality
by Valentina Romanin | April 29
On March 28 the University of Rio de Janeiro State (UERJ) hosted the First FAFERJ Community Education Seminar, organized by the Federation of Favelas' Associations of Rio de Janeiro State (FAFERJ) in partnership with the Lawyers' Collective (CDA). The community education course was designed to teach favela residents, leaders and community activists about politics and citizenship.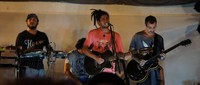 The Celebration Continues: 75 Years of Vidigal with the SUBA Group
by Iman Ahmed | April 28
April 11 marked the second of various celebrations planned to celebrate the 75th anniversary of Vidigal: theSUBA Vidigal event. SUBA (the Brazilian Subversive Union of Artists) organized the event to unite artists, musicians, poets, performers and thinkers across Vidigal's 75-year existence.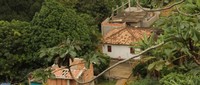 Vale Encantado: An Emerging Example for Sustainable Communities
by Asha Nidumolu | April 27
Over the past six months, Vale Encantado has made progress on a multitude of exciting projects beyond its initial solar panel project, including the installation of a biodigester, the development of a sewerage plan, continued efforts to gain land titles, and the building of a new neighborhood association headquarters, a community garden and the rustic and beautifully designed cooperative restaurant.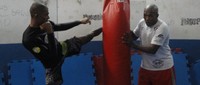 Citizenship Fight Project: Martial Arts in Chapéu-Mangueira and Babilônia
by Camila De Meo | April 23
In the communities of Chapéu-Mangueira and Babilônia in the South Zone of Rio, a group of children dream to be trained martial arts fighters. This dream has its origins in the Projeto Luta Cidadã (Citizenship Fight Project), which offers free martial arts training to children aged 8 to 18. Founded in 1998 by Marcelo 'Penca' da Silva Carvalho, a Chapéu-Mangueira born-and-raised Muay Thai fighter, the project seeks to channel children and adolescents' energy and prepare them for adult life.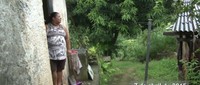 Five Years After Tragedy: Rain, Memories and Fear in Morro do Bumba, Niterói
by Gustavo Maia | April 22
While looking at the cloudy sky from her porch in Morro do Bumba, located in Niterói, in the Rio de Janeiro metropolitan region, housewife Laís Jussara Barreto, 35, said: "It was just like this on the day everything fell." Like Laís' family, about another 30 families still live in Bumba, even though the City of Niterói has banned living in all houses in the area due to the risk of new landslides. Surveyed by UOL, the remaining residents are unanimous in explaining why, despite fear of the disaster repeating itself, they decided to stay.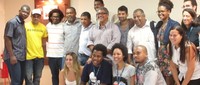 Optimism, Disillusionment and Despair: Favela Residents and Activists Debate Pacification
by Sarah Jacobs | April 21
Community leaders and members of the public met on April 16 to discuss the Pacifying Police Unit (UPP) program in Rio's favelas. The event was organized by the favela news portal Viva Favela (a program of NGO Viva Rio) as the first of a series of debates on issues affecting Rio's favela communities.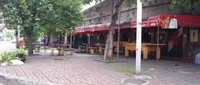 BRT Line in Cascadura Reduces Transit Access and Forces Businesses to Close
by Elma Gonzalez | April 20
For more than 50 years, Bar Caldo Cana has been a successful business in Riachuelo Square in the neighborhood of Cascadura, in Rio's North Zone. André Silva dos Santos has worked there for seven years as the owner and 48 years before that under the mentorship of his father. The bar is his life's work and the only means of financial support for his family. In August 2014, Cascadura suffered major transportation changes that jeopardized his business.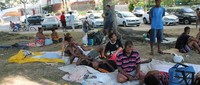 Over 200 People Violently Evicted From Eike Batista Building in Flamengo
by Sergio Saenz | April 19
Over 200 people occupying an abandoned building in Flamengo were brutally evicted by Military Police on Tuesday April 14. At least 11 people were injured by the police and three arrested, with reports of police using pepper spray on an elderly man who was holding a child.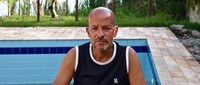 The Last Resident of Avenida Autódromo: A conversation with Tadilmarco Peixopo
by Brooke Parkin | April 18
Sitting in the rubble of his neighbor's demolished house on Sunday, April 5, Tadilmarco Peixopo, the last resident of Avenida Autódromo, described his surroundings of debris and vacant lots as a war scene: "It is as if you were living here and a bomb fell on the house next door and killed everyone, leaving you all alone. It is like the end of the world and everyone died."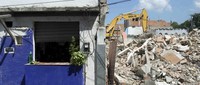 Olympic Demolitions Begin in Vila União de Curicica With Zero Justification
by Ian Waldron | April 15
Demolitions in Vila União de Curicica are now underway despite the promised re-routing of the TransOlympic BRT highway and bus corridor (TransOlímpica) announced by City government in December. Before that announcement, the West Zone neighborhood was being threatened with one of the largest evictions yet proposed for the 2016 Olympics due to its location along the proposed BRT route less than a mile from the future Olympic site.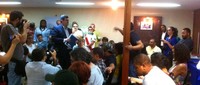 Forum Opens Tense, Crucial Dialogue for UPP Reform in Complexo do Alemão
by Asha Nidumolu | April 14
Residents of Complexo do Alemão, community leaders, researchers, government officials, members of civil society and journalists came together last Thursday, April 9 to discuss recent conflicts in Complexo do Alemão and debate solutions for the extreme violence that hasbecome routine in the community. The forum was organized by the newspaper O Dia, in partnership with the Center for Studies of Citizen Security (CESec) and the Institute for Religious Studies (ISER).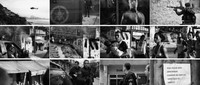 Statistics Reveal Alarming Rate of Police Violence in Rio
by
Sergio Saenz | April 11
The state of urban violence in Brazil is alarming. According to the Citizen Council for Public Security and Criminal Justice, an advocacy group based in Mexico City, 19 of the 50 most violent cities in the world are located in Brazil. This list includes cities such as Porto Alegre, Recife, Salvador, and Fortaleza, where the murder rates per capita are as high as 79.4 per 100,000 residents. Even more worrisome is that violence in Brazil is not only conducted by citizens; as seen with recent events, it is often carried out by police forces.
Rio's Minha Casa Minha Vida (MCMV) public housing is designed to house the poorest families—known as Band 1 financing—but are also targets for criminal group activity. After three months of investigation, EXTRA reveals that across the 64 housing complexes already built by the federal program in Rio, their 18,834 families are subjected to forced evictions, residents' meetings led by criminals, apartments used as points-of-sale for drugs, drug traffickers interfering in who gets new apartments, beatings and murders.
A community group based in the neighborhood of Vila Laboriaux, Rocinha, won a prize awarded by the same government that once called for the removal of the community. Movimento Preserva Laboriaux was named one of 85 winners of the City of Rio's Local Actions Prize, part of Rio's 450th anniversary celebrations.
Nowadays people live a connected life, both for work and leisure purposes. Who doesn't want free Wi-Fi in this era of smartphones and social media? The democratization of knowledge that accompanies digital inclusion is transformative for society. Those who have access to the Internet are not only better informed and up-to-date, but they also gain the power to transform society for the better.
Around 500 people took to the streets of Complexo do Alemão on the morning of Saturday April 4 to call for an end to violence in the community after five people were shot dead there in 24 hours. The victims included a ten-year-old boy, Eduardo de Jesus Ferreira, shot on the doorstep of his house by a policeman, and Elizabeth Alves de Moura Francisco, killed inside her home by a stray bullet.
Around 400 people were removed from the State Water and Sewerage Company building in Santo Cristo on Wednesday March 25. The occupants had been living in the building for 15 days. Some of the 400 who were evicted from CEDAE were part of the short-lived 8,000-strong occupation of the Telerj/Oi building in the North Zone, which was violently dismantled by the Military Police last April.
With 500 days to go until the start of the Rio de Janeiro 2016 Olympic Games, residents of Vila Autódromo took to the street to protest against the City's latest decree of eminent domain to list 58 houses for forced eviction. In the early hours of the morning residents declared: "Today, the protest by blockading the workers' and trucks' entrance to the Olympic Park represents the resistance of dozens of families who will not leave their houses for a one monthlong mega-event."
At least four people were shot dead and two others injured in Complexo do Alemão on April 1 during intense shootouts that started in the afternoon and progressed into the night. A child was then killed on April 2.

Stay Connected with RioOnWatch

Fox News Latino April 30
World Surf League removes Rio beach as competition site 'due to pollution'
by AP
BBC
April 30
Giving everyone in the world an address
by Robert Plummer
The Rio Times
April 28
Land Regularization Program Expands into Rio de Janeiro State by Jay Forte
The Economist
April 25
Sobriety at the Carnival
Rio Real
April 24
Drugs kill, but not the way you'd think by Julia Michaels
Favelas@LSE
April 22
A festive surveillance (and its discontents): Mega-events in Rio de Janeiro
by Jorge de La Barre
CityLab
April 21
Another Reason Brazil's Olympic Preparations Might Be 'The Worst Ever'
by Laura Bliss
MoMA Inside/Out*
April 21
Rio de Janeiro and São Paulo: From 'City of God' to Cities of People
by Athina Balapoulou
Journalism Practice
April 20
The Favelas Through the Lenses of Photographers by Alice Baroni
BBC*
April 19
Rio 2016: Is it the end of the road for eviction families? by Julia Carneiro
The Guardian
April 17
Brazil's 'bullets, beef and bible' caucus wants to imprison 16-year-olds
by Bruce Douglas
Vice News
April 16
The Olympics Are Screwing Rio de Janeiro's Poorest Citizens Out of Housing
by Ben Tavener
Rio Gringa April 16
Rio's Olympics Legacy: What Can't Be Fixed Overnight
by Rachel Glickhouse
Folha de S. Paulo
April 16
Who's who in the battle for Brazil?
by Vincent Bevins
The Guardian April 15
São Paulo's water crisis: in the Favela do Moinho, 2,500 residents rely on one impossibly thin blue pipe
by Claire Rigby
Latin Correspondent*
April 14
Despite no official plan, Olympic evictions begin in another Rio neighborhood
by Ian Waldron
Yahoo! News
April 14
Brazil police oust squatters from would-be Olympic hotel by Jenny Barchfield
Folha de S. Paulo
April 14
Rio Governor Admits Police to Blame for Death of 10-Year-Old Boy
In Sight Crime
April 13
Amid Rising Violence Rio Continues to Implement Pacification Program by Michael Lohmuller
Rio Real April 11
Complexo do Alemão: Democracy is hard by Julia Michaels
Nacla
April 9
Who's Protesting in Brazil and Why? by Bryan Pitts
The Mark News
April 9
Reach for the stars: Favela children to control NASA Mars mission by Wladimir Lyra
Brazil Talk April 8
Police violence part of Brazil's security problem
by Heidi Lipsanen
Favelas@LSE April 8
A different kind of security: The need for appropriate healthcare policies in Rio de Janeiro's favelas
by Erika Robb Larkins
The Washington Post
April 8
AP PHOTOS: Portraits from Rio de Janeiro's 'Cracklands'
by AP
KGNU Radio*
April 7
Catalyzing Marginalized Communities in Latin America
by Joe Richey
USA News
April 7
Squatters invade Rio building once billed as Olympic hotel
by Jenny Barchfield
Folha de S. Paulo April 7
Pacification Process for Rio de Janeiro Favelas Expected to Last Decades, Says Governor
Open Democracy April 7
Villa Autódromo's story fails to shock - and that is what is truly shocking
by Antonis Vradis, Felipe Pena
The Rio Times
April 6
Complexo do Alemão Favela Protests After Ten-Year Old Killed
by Jay Forte
The Guardian
April 5
Protesters march in Rio after police kill boy, 10, amid clashes with gangs
by Jonathan Watts
The Rio Times
April 5
Rocinha Organic Garden Youth Project Begins Second Year
by Chesney Hearst
Euro News April 5
Brazil: Anger at Rio military police after boy dies in favela clashes
The New Zealand Herald
April 4
Sevens: Football-mad kids from Rio's favelas take to oval ball with skills to rival experts
by Jim White
The Telegraph
April 4
Rio favela still wracked with fear and violence as Olympics 2016 approaches
by Donna Bowater
Yahoo! News
April 3
Rio police fire tear gas at protest over boy's death
by AFP
Vice News
April 2
Brazil's Overcrowded and Mismanaged Prisons Are at the Breaking Point
by Ben Tavener
International Business Times
April 2
Rio Olympics 2016: Vila Autodromo Residents Protest Eviction For Construction Despite Compensation Offers
by Thomas Barrabi
The Guardian
April 1
Favela residents protest forced Olympic relocation by blocking Rio roadway
by Jonathan Watts
Vice News
April 1
'The City of Asphalt and the Favelas on the Hills': At 450 Years Old, Rio Is Divided Into Two Worlds
by Frederick Bernas
Global Post
April 1
Police take over from military at Rio slum near airport
by AFP
The Rio Times
April 1
Military Police to Take Over in Rio's Complexo da Maré
by Lisa Flueckiger
The New York Times
April 1
Rio Residents Protest Olympic Eviction With Road Block
by Reuters
*CatComm supported/quoted
RioOnWatch is a project of Catalytic Communities
April Highlights from CatComm

CatComm at the 67th Annual Conference on World Affairs
This month Executive Director Theresa Williamson attended the
67th Annual Conference on World Affairs
in Boulder, Colorado (USA), where she participated in an array of informative
panels
providing historical context, new updates from the ground, and insight relating to Rio de Janeiro's favelas during the city's current period of rapid transformation. She was also featured on the United States' oldest community radio station, KGNU Community Radio, which provided a unique in-depth spotlight on Rio's favelas and the work of Catalytic Communities:
Radio: Hemispheres Catalyzing Marginalized Communities in Latin America
---
Now Booking Our November 2015 University Tour
Since 2010, Catalytic Communities' Executive Director, Theresa Williamson, Ph.D., has given lectures at universities across North America on a range of topics related to favelas and issues of urban development in Rio de Janeiro. This November, Dr. Williamson is delivering lectures on a variety of topics. For more information or to arrange a lecture on your campus,
click here
. For the full brochure on lecture topics,
click here
.
---
The World's First Favela Wire Service: Check out @RioONWire!
Following an exciting month in beta launch, we are thrilled to announce the official launch of @RioONWire, the world's first and only English-language favela news wire. The service offers hourly updates on news and events across Rio's favelas through the 2016 Olympic Games. Drawing on the knowledge and insight of our extensive network of community collaborators, @RioONWire provides breaking news alongside essential-to-know background information, alerts on key upcoming events, and early access to the latest research on favelas. We are also getting ready to publish, over the coming months, a number of reports ranging from a 6-year Media Monitoring report to the latest global Favela Perceptions Survey.
All of these and more are tools designed for you--RioOnWatch and CatComm fans, readers and collaborators--and are available to anyone who signs up as an Olympic Champion.
Here's
More Information
.
Here's the
Program Brochure
.
Click
here to sign up
.
Click for full view:

Recommended Video and Audio