Welcome to our February digest with the latest news from RioOnWatch (Rio Olympics Neighborhood Watch), Catalytic Communities' project to bring visibility to favela perspectives on the rapid transformations in Rio through 2016. For this month's RioOnWatch articles see below and for an exhaustive list of news reports and features on favelas from the full range of English-language media sources, see the right-hand column.

Carnival wows its spectators year in and year out, but this February the celebrations had to share the spotlight with criticsm and controversy. One street parade, or bloco, adapted traditional Carnival tunes into songs of protest, questioning the frivolity of the party in the context of Rio's continued struggles with police violence. In Alemão residents criticized police for shutting down parties and restricting access to spaces.

Following Carnival, a protest for peace in Maré also ended in clashes between police and demonstrators. In Palmerinha police insisted that the killing of a 15 year-old boy was done in self-defense, but the video recorded on the boy's own phone proved he and his friends were innocent. The current tension is underscored by a report that teen homicides are on the rise. The debates around policing in favelas can be better understood when contextualized in the UPP's history, and this month we published the second article in our five-part series documenting the timeline of UPP installations and residents' perceptions.

We also published the second article in a series on Rio's port zone. This latest contribution examines how the port's black population is marginalized at the same time as its culture is appropriated for tourism.

Mayor Eduardo Paes made news this month by pledging to fulfill promises to build a campus of the Federal Institute of Rio de Janeiro (IFRJ) in Complexo do Alemão. This pledge followed extensive activism by the community after it initially appeared that construction plans for the university had been abandoned. Residents of the Niterói occupation at Mama África are also awaiting implementation of upgrading plans, after their activism won them definitive title to the land last November.

Finally, this month has brought inspiring stories of favela residents taking action to help their communities. In Santa Marta, the highly respected community organization Grupo Eco continues to run the summer camp it began 36 years ago, despite serious funding cuts. In Cerro Corá young activists are working to develop the community library and 'Memories of Cerro Corá' photography exhibit they launched last December. Vila Kennedy community members came together to clean up after heavy rains, as they do regularly, in the absence of public investment.

With the countdown upon us--18 months until the Olympic Games in Rio--the pressure is mounting. On the one hand repression, intimidation, cooptation and violence are escalating, some of which had been predicted based on similar experiences in past Olympic cities, but which are taken to a new level here in Rio given the city's famed inequality. On the other hand communities are connecting, organizing and claiming their rights more than ever. And all of this is taking place faster, and faster, while global attention continues to concentrate on Rio in these months leading up to the 2016 Games. To support our ongoing diligent work on behalf of favelas in this challenging period, we are inviting our fans, readers and collaborators to sign on as Olympic Champions, for $10 a month, and gain access to up-to-the-minute news on the latest goings on across the city's communities from our soon-to-be-launched newswire (@RioONWire), as well as advance access to our latest research reports. See the February Highlights from CatComm below for more information.

We hope you enjoy this month's carefully compiled digest. Please share and don't forget to like us on Facebook and follow us on Twitter.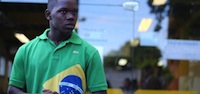 Posthumous Innocence Thanks to Mobile-Recorded Video
by Afonso Benites | February 28
Shoot first. Ask questions later. That's how a group of police officers carrying out a raid in the favela of Palmerinha north of Rio de Janeiro acted on Saturday night when they killed a 15 year old boy and injured another, 19 years old, with a bullet to the chest. Until last Wednesday afternoon, the official version from the police was that four criminals were shooting at an armored Military Police vehicle patrolling the area. In other words it was a case of self-defence or death on duty. However, the film made on the mobile phone of the young boy who was killed contradicts this claim and shows that the police shot at the group of four friends at least 10 times for no reason at all.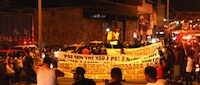 Residents Protest for Peace in Maré [IMAGES]
by Elma Gonzalez | February 27
Last Monday evening February 23, 800 people once again took to the streets to protest police violence in Complexo da Maré in a demonstration called Protest for Life in Complexo da Maré. The event began at 7 pm and ran as a peaceful march where protesters walked from Avenida Brasil towards the West Zone, reaching Linha Amarela where they walked on to the entrance of Vila do Pinheiro, where they first heard gun shots. The march descended into violence between police and the protesters. Police claim their confrontation was with suspected drug dealers, and El Mundo reports two people were killed and three others were wounded.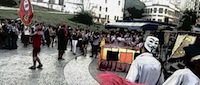 A Needle in a Haystack: The Politicized Carnival Bloco
by Camila De Meo | February 26
On February 12, the Marvelous City saw a new street parade, or bloco, join the other 456 blocosof carnival. Participants assembled in Largo da Carioca, in the city center near the Carioca metro station. This bloco was an initiative of a group called Occupy Carnival (Ocupa Carnaval), which describes itself as a politically oriented group, in collaboration with the groups Comuna que Pariu, Apafunk, and Planta na Mente, which fight for women's rights, social equality, and the legalization of marijuana, respectively.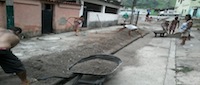 Vila Kennedy Residents Unite for Clean-up During Heavy Carnival Rains
by Geiza de Andrade | February 25
Residents of Vila Kennedy in Rio de Janeiro's West Zone gathered once again for a 'mutirão de limpeza'—a collective clean-up effort. These clean-ups happen every rainy day in summer and winter, as the rain causes earth and dirt to fill the water gully that runs between Sargento Miguel Filho Avenue and Barranquilla Crossing.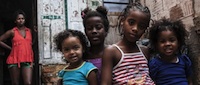 The Sociocultural Occupation of Mama África Awaits Upgrades [IMAGES]
by Bruno Morais | February 23
Houses numbered 48 and 50 on Passos da Pátria Street, in Niterói, share a special history of struggle for housing and dignity. Occupied for more than 20 years, 36 families now live inside their walls. In addition to the housing question, another feature of the Mama África occupation makes it unique. A group of ten women from the Foundation for Children and Teenagers (FIA) are directly responsible for the organization of community life.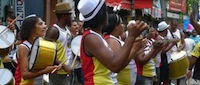 Carnival in Alemão Repressed by Police
by Nicole Froio | February 20
Complexo do Alemão's yearly carnival street party was aggressively brought to an end by policemen who "created chaos in the crowd, fired guns, tear gas and pepper spray," according to residents who took to social media to complain about the incident. On the evening of Tuesday February 17, residents of Alemão gathered in Largo do Itararé to drink, eat and enjoy samba music in celebration of carnival. Street vendors sold beer and food to their customers and the music was playing loudly.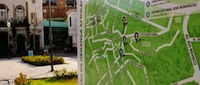 The Port, Gateway to Rio, Part 2: The Appropriation and Depoliticization of Black History
by Eduarda Araujo | February 17
The history of the Port Zone and its black population, as much a target of removals (when classified as "invaders") as of eradication (when classified as "criminals," "traffickers," etc.), can help one understand how this city marginalizes the black population, yet also uses elements of its culture as tourist attractions. After all, how does one explain a region where the African Heritage Circuit has become a major tourist attraction, yet where residents, the majority of whom are black, are removed or evicted?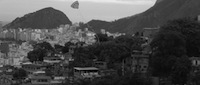 The Warlike Violence of a Kite
by Rachel Gepp | February 16
On January 15, the Marvellous City saw another disturbing episode in the history of the State's violent armed interventions in Rio de Janeiro's favelas. In Cachoeira Grande, part of the group of favelas Complexo do Lins in Rio's North Zone, Patrick, 11 years old, was shot dead by a policeman from the Pacifying Police Unit (UPP).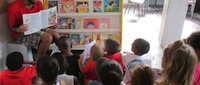 Launch of the Community Library and Memory Exhibit at Cerro-Corá
by
Miriane da Costa Peregrino | February 13
This December, Cerro Corá, a favela located next to Christ the Redeemer in Rio's South Zone, launched the Cerro Corá Community Library. The initiative was led by Cerro Corá Residents in Movement, a group formed by young favela residents, supporters and activists. Despite lacking a headquarters, funding and registration as an official organization, since 2012 Residents in Movement has carried out a range of activities from clearing garbage to creating a community museum. The group typically uses the Residents' Association's space as well as public spaces on the hill.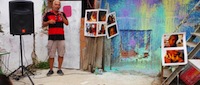 Mayor Paes Guarantees Higher Education Institution in Alemão
by Elma Gonzalez | February 12
In a meeting with activist leaders from Complexo do Alemão on February 6, Mayor Eduardo Paes agreed to move forward with the construction of a higher education institution in the community after the project almost fell through due to a failure to provide the land to build the campus. The project to build a campus of the Federal Institute of Rio de Janeiro (IFRJ) in Complexo do Alemão was set in motion in 2011, when President Dilma Rousseff launched an initiative to open 208 new higher education institutions throughout Brazil–three in the city of Rio de Janeiro.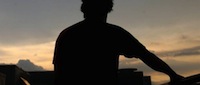 Authorities Fail to Monitor Whether Public Housing Residents Benefit from the Program
by Luã Marinatto, Rafael Soares | February 11
The Ministry of Cities, the federal bank Caixa, the Municipal Housing Secretariat–none of these authorities know if the people who live in the apartments under the federal program Minha Casa Minha Vida (MCMV), or "My House My Life" are really benefiting from it. If they were to assess the results of the program, the local government would know about what happened to resident X., a 55-year-old bricklayer evicted one year ago from his apartment by the militia in the Ferrara condominium in Campo Grande.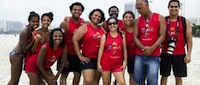 Summer Camp in Santa Marta Resists Despite Lack of Funding
by Sol Mendonça | February 8
Every year, children between 6 and 12 years old, from Santa Marta favela in Botafogo in Rio's South Zone, have a date with Rio's beaches, parks and other leisure spaces across the city. This summer camp, which goes by the name of Colônia Eco, has been active every year for the last 36 years. It has received up to 350 children in past summers, and this summer the number stands at 200 children. However, this year, a lack of sponsorship for the camp, as occurred last year, means the camp program has been reduced from 15 days to just a week and some of the traditional trips have been removed from the program.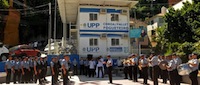 Pacifying Police Unit (UPP) Installations Part 2: 2010-2011
by Patrick Ashcroft | February 7
If the first six implementations can be described as the honeymoon period of the Pacifying Police Unit (UPP), the next phase was when the first cracks in the program began to emerge. From April 2010 until November 2011 the focus moved to the Central and near-North Zone to favelas in the region nearby and surrounding the Maracanã Stadium, host venue of six World Cup games including the final and the opening ceremony for the Olympic Games. As Rio State Security Secretary José Mariano Beltrame targeted areas around Centro, Santa Teresa, Tijuca and the Maracanã, there were increasing local reports of authoritarian behavior and torture from certain UPP units, though these did not become widely known.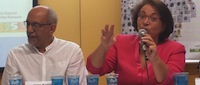 Teen Homicides on the Rise in Brazil, Reveals Report
by Nicole Froio | February 4
A report on the index of teenage homicides released on Wednesday, January 28 revealed that 42,000 teenagers might be victims of homicide by 2019 if the Brazilian government does not take action. The study entitled 'Homicides in Adolescence in Brazil' was launched in hotel Windsor Guanabara in Centro, along with an interministerial program to decrease the number of homicides among the young population.