Latest From RioOnWatch: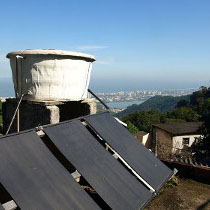 Vale Encantado Plans for Sustainable Sanitation Project
July 30, 2013; Emily Hosek | Vale Encantado, a tranquil favela in the heart of the Tijuca Forest, has developed a creative solution to ensure the historic community's future development in light of limited public investments: residents are working to create a model of sustainability for favelas across Rio and beyond.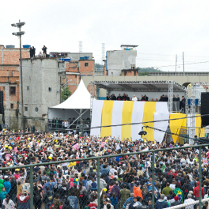 The Pope Criticizes the "Pacification" of Favelas, Inequality and Supports Protesters
July 29, 2013; Jamil Chade | Pope Francis attacked the strategy of "pacification" used in Rio's favelas, warning that while social inequality is not resolved, "there is no lasting peace." On Thursday July 25, in the Varginha favela, he gave one of the most important speeches related to social issues during his pontificate, and urged youth to continue pushing for improvements as a sign of his support for the protesters who have taken to the streets of Brazil since June.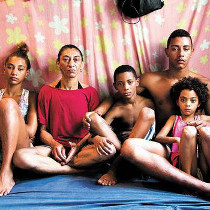 Rocinha Wants to Know: Where is Amarildo?
July 26, 2013; Elenilce Bottari | They have no doubt that "what they did to Bull was a great cruelty." This is how residents, friends and family describe what happened to Amarildo de Souza, who has been missing since July 14 when he was taken "for questioning" by police officers of the UPP Rocinha. Amarildo is an assistant bricklayer, born and raised in the community. In his 42 years he has never got above the poverty line and has always lived in the area called Pocinho.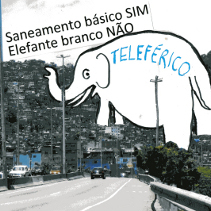 Rocinha Says No to Cable Car
July 25, 2013; Canal iBase | Among the over 120 attendees at the Engineering Club debate on July 19 were many Rocinha residents who were protesting against the cable car, arguing the priority for the community is basic sanitation. In terms of mobility, architect Luis Carlos Toledo stated that a funicular tram, planned in Rocinha's first urbanization plan in 2007, is not only much cheaper but also would not drain local business as the cable car would.

Could Pope Francis' Visit (Finally) Trigger Sanitation Improvements in Manguinhos?
July 24, 2013; Felicity Clarke | Manguinhos has long suffered with sanitation problems. The region's sewage is precariously channeled into the Faria-Timbó River which carries it to the Guanabara Bay. The need and project for a sewage collection tube to safely transport sewage to a treatment center, and not pollute the Bay, has been around since the 1980s, but despite announcements still has not been implemented.

Vila Autódromo Unites in Protest Following Weeks of Pressure
July 23, 2013; Catherine Osborn | Vila Autódromo residents and allies organized a march from the community through the surrounding area on Saturday July 20 to express solidarity for the community's land battle and that of all favelas who struggle for their constitutional housing rights. Vila Autódromo residents were emboldened due to conflicts of the previous weeks, including City representatives arriving to try and persuade residents to sign up for homes in a public housing project.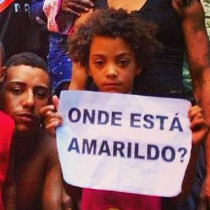 Rocinha Cries "Where is Amarildo?"
July 22, 2013; William de Oliveira | The disappearance of a resident from the Rocinha community of Rio de Janeiro is a mystery. The family of Amarildo de Souza, known as Bull in the community, has exhaustively searched for more than ten days for answers. Amarildo was last seen on July 14 around 8am. He was taken by the community's Pacifying Police Unit (UPP) officers for questioning and never returned home.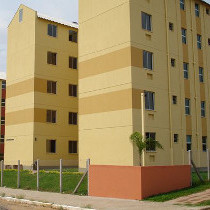 Who Called for the São Paulo Social Interest Housing Decree at This Moment?
July 20, 2013; Raquel Rolnik | In theory, the decree aims to facilitate the building of Social Interest Housing in the city but in practice, it makes changes to zoning and other issues that are being discussed right now in the revision of the master plan. The decree consolidates, for example, the possibility of building social housing in exclusively residential areas just at a time when this could be revised. If the area is exclusively residential, why is it not residential for everyone?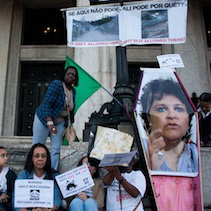 Residents from Horto and Vila Autódromo, and Members of the National Movement for the Fight for Housing, Hold a Vigil to Protest Evictions
July 18, 2013; Pela Moradia | At the meeting with Mariana Esteves, Secretary for National Heritage (SPU), residents demanded the inter-ministerial commission's decision be revised to allow the families to remain in Horto. They also demanded the implementation of the 2010 plan by the Rio de Janeiro Federal University and SPU to grant land titles. Other conditions include the transformation of four abandoned buildings in Rio's downtown into affordable housing and the implementation of the Popular Urbanization Plan for Vila Autódromo.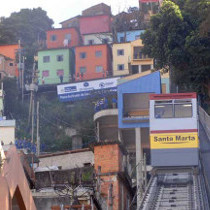 A House in the Favela Can Cost R$700,000 (US$313,000)
July 14, 2013; Guiliander Carpes | According to a study by Fundação Getúlio Vargas, rent costs in pacified communities of Rio de Janeiro have increased by 6.8% more than in affluent neighborhoods of the city, being that property values in the South Zone have increased by 45% on average over the last two years according to the Housing Union (SECOVI). But there are specific cases where appreciation has surpassed 100%.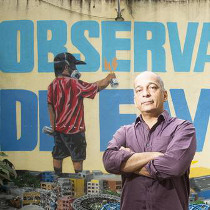 Jailson de Souza e Silva: Reinventing the Urban Periphery
July 27, 2013; Fabíola Gerbase | One of the founders of the Observatório de Favelas (Favela Observatory) in Maré, the geographer, educator and social activist accumulates publications and projects in his quest to build a new perspective on popular communities. With the creation of the Observatory and the proposal to influence public policies towards the urban periphery, Jailson has helped the group of favelas between Avenida Brasil and Linha Vermelha highways to write their own history and have a stronger voice in the city.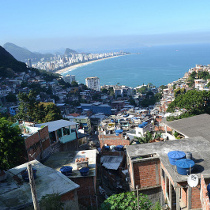 Vidigal Resists Real Estate Speculation
July 16, 2013; Aramis Assis | The price of a square meter of property in the favela has gone up dramatically. According the FIPE ZAP index, the main indicator of the Brazilian real estate market, the average square meter in Vidigal is valued at R$8,299 (US$3,750), slightly less than the average R$9,285 in the city of Rio. The increase is felt in the favela, where a property purchased ten years ago for R$30,000 is now worth R$350,000, when normally, corrected only by inflation in the period, it would not have even doubled in price.

Eight Characteristics of Social Media Fueled Movements: Brazil
July 12, 2013; Eric Borja | How does the use of social media change the structure of today's social movements, and Brazil's in particular? On June 3, Zeynep Tufekci posted on DMLcentral, in the midst of Turkey's wave of demonstrations, eight preliminary characteristics of what she calls the "networked movement." Here we use Tufekci's characteristics as a starting point for analysis of what is happening in Brazil.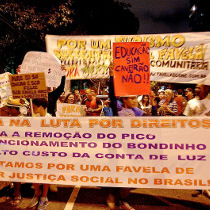 Santa Marta Protests: Real Estate and Commodity Prices, Evictions and Jeep Tours
July 10, 2013; Laura Stacey | On Monday evening, July 8, residents of Santa Marta added their voices to the ever-growing chorus of favela communities taking to the streets to demand social justice. There concerns are by no means new. Real estate speculation, rising real estate and commodity prices, invasive tourism, eviction threats and lack of infrastructure have concerned the community for years.

The Brazilian Health System and Importing Doctors
July 6, 2013; Daniel Becker | No one needs to be a specialist to understand that 500,000 Cuban or Norwegian medics aren't going to solve the problems of terrible infrastructure, hospitals falling to pieces, broken equipment for lack of maintenance (contracts), lack of medicine and basic materials, overloaded emergency rooms and so on. There are many factors to explain all of this, but the most important are bad management and insufficient resources.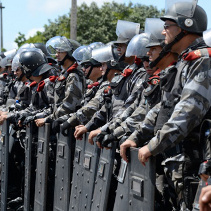 Up the Alley and in the Auditorium: Reflections on Police Violence
July 5, 2013; Matthew Richmond | The police have been heavily criticized for their handling of the protests, where indiscriminate use of pepper spray and rubber bullets have injured many, including journalists and bystanders. "The middle class is now discovering police violence," said sociologist and public security expert Luiz Eduardo Soares. "We've been waiting for the demillitarization of the police to emerge as a widespread demand for years."

Never Again: Maré Remembers 10 Dead in Police Operation
July 4, 2013; Felicity Clarke | On Tuesday afternoon, July 2, more than 5,000 people united in Maré, Rio's largest favela complex located in the city's North Zone, in memorial of the ten people slaughtered in the shocking police operation of last week and to demand an immediate end to this type of police operation, where police agents enter the favela and kill with impunity.
As the Confederations Cup Draws to a Close, Peaceful Protesters Chant to Brazilian Rhythms [IMAGES]
July 3, 2013; Eric Borja | While the Brazilian national soccer team prepared for the final match of the Confederations Cup, the World Cup and Olympics Popular Committee organized a mass demonstration against forced evictions and the privatization of the Maracanã stadium. Although there was heavy police presence, the demonstration was peaceful and festive throughout, garnering support from residents of the Tijuca neighborhood as protesters marched through.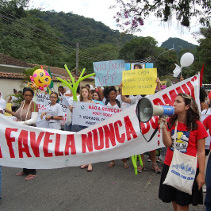 Protest Against Removals and Treatment of Favelas by Media [IMAGES]
July 2, 2013; Catherine Osborn | On Saturday afternoon, June 29, favela residents from across the city, public defenders and member of various social movments marched in protest against forced removals and the treatment of favelas by mainstream media. The march began at 2pm in Horto, the historic community at the edge of Rio's Botanical Gardens that is currently fighting removal.

Act on Demands and Strengthen Civil Society
July 1, 2013; Observatório de Favelas | An institutional crisis is underway. In question are all of the country's rules and institutional practices. To recognize the current barriers and overcome them is fundamental to the democratic development of the new culture that is sweeping Brazilian society. It is past time to hear what is explicit and implicit in the acts of protest, and the expansion of democracy, with real participation by civil society, is the path the Brazilian state urgently needs to take.