Monthly Digest
Latest News and Opinion on and from
Rio de Janeiro's Favelas
December 2014
Volume IV Issue 12

Welcome to our final 2014 monthly digest with the latest news from RioOnWatch (Rio Olympics Neighborhood Watch), Catalytic Communities' project to bring visibility to favela perspectives on the rapid transformations in Rio through 2016. For those new to us who discovered CatComm through our Rio Raffle or elsewhere, thank you and welcome! Please note we send out this one email digest each month, carefully researched and compiled to make it easy for you to stay up-to-date with the latest stories on Rio's favelas, follow our favela advocacy work, and observe the evolving media landscape on these often misreported communities. For this month's RioOnWatch articles published by us see below and for an exhaustive list of news reports and features on favelas from the full range of English-language media sources, see the right-hand column. You can also check out the Digest Archives going back four years.
As 2014 closes we reflect on our accomplishments and work going forward. It's been a dramatic year for Rio's favelas. This last month has seen both victories and challenges as we move into 2015. Just before Christmas the West Zone community of Vila União de Curicica, fighting eviction these last months, received news that the

TransOlympic roadway plans have changed which, should new promises be kept, means
now 191 families will be removed rather than all 881
. Another major victory this month came for the internationally recognized Maré Museum, which has not only resisted eviction but been
recognized as a tourist attraction by the Rio state government
.

However violations have continued as residents of the
Nova Tuffy occupation in Complexo do Alemão were violently evicted
earlier in the month, an example of the year's ongoing human rights violations documented in the
Rio Human Rights Commission's 2014 report
.
Further documentation of the lack of consultation in favelas and community resistance to and questioning of public interventions this month: in Manguinhos residents demand to know what's happened to the promised swimming pool facilities and in Pavão-Pavãozinho the community resists a planned road widening project.

In community organizing news, LGBT favela leaders met to discuss rights in their communities, while cultural initiatives VilAtiva in Vila Kennedy and BoreArt in Borel both hosted successful and dynamic arts events. As part of Brazil's Black Awareness Month, the Kinky Hair Fair and Meninas Black Power events both celebrated natural hair and Afro-Brazilian identity.

Latest in our series of community media profiles, we take a look at the independent photography collective Favela em Foco and their dedicated work challenging narratives and supporting Rio community resistance. Also don't miss the profile of RIO Invisível, giving a voice to Rio's homeless population.

Finally, this month we've launched a new section on RioOnWatch: 'Opportunities to Support Favelas.' Here we'll publish articles on important programs which deserve your support in and on behalf of favelas across the city. Don't miss the incredible story and keen insights of filmmaker Jason O'Hara, currently running a crowdfunding campaign for 'State of Exception,' the best long-term quality video documentation of favela resistance efforts in these pre-Olympic years. And, in Fogueteiro, the EcoModa project faces eviction and requires urgent donations to continue its important work.

We hope you enjoy this month's carefully compiled digest. Please share and don't forget to like us on Facebook and follow us on Twitter. And from all of us at CatComm, a very Happy New Year!

Documenting Rio's Resistance: Interview with 'State of Exception' Director Jason O'Hara
| December 31
The role of the international media and observers in bringing visibility to injustice and abuse in Rio de Janeiro has become of paramount importance in recent years with the city hosting a series of mega-events designed for global consumption which have often come at the expense of local citizens' rights. Canadian documentary filmmaker Jason O'Hara has been on the front line of these efforts, working collaboratively with Rio's communities to tell stories of resistance and document huan rights abuses since 2010
.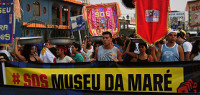 Museu da Maré Recognized as a Tourist Attraction by Rio de Janeiro State
by
Jornal Extra | December 29
The museum, launched in 2006, was recognized on Wednesday December 10 as a main tourist attraction by the State of Rio de Janeiro. The title, granted to applause at a meeting with the State's Tourism Council, made the museum's entry onto the list of official tourist attractions. "The recognition of the Museu da Maré as one of the State's main tourist attractions will make its status equivalent to that of Sugarloaf Mountain or Corcovado and other tourism icons. One of the main outcomes, for example, will be investment towards publicity and support supplied by the state," said the State Secretary of Tourism Claudio Magnavita
.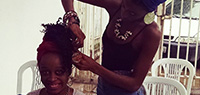 Kinky Hair Fair: Affirming Identity, Raising Awareness
by
Juliana Portella | December 27
Young Elaine Rosa had a dream: to create a project that would encourage appreciation of the beauty of black women like her and of the elements of Afro-Brazilian culture in the region where they live. Elaine's dream gained three more allies in Milena Nax, Tauanna Cristina and Luciano Araújo. With support from the Networks for Youth Agency, the Kinky Hair Fair held its first event on November 23 in the Jovelina Pérola Negra Arena in Pavuna, North Zone of Rio de Janeiro.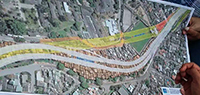 Change in BRT TransOlímpica Route Announced in Vila União de Curicica: Good News or Trojan Horse?
by Ian Waldron | December 27
Hundreds of residents from Vila União de Curicica filled the local Parque União de Curicica samba school on the night of Monday December 22 to learn of the proposed change to theTransOlimpica Bus Rapid Transit line route. The new plan cuts through the favela and then runs along its northern edge. Under the previous plan, 881 families were to be removed from their homes, whereas the new plan only necessitates 191 removals within the community with an additional 50 'formal' properties nearby, and promises upgrading and improving public works in the community.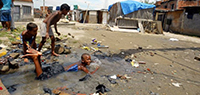 What Happened to Our Swimming Pool? Manguinhos Residents Want Answers
by Fransérgio Goulart | December 26
When the Manguinhos swimming pool was launched in 2009, Lula announced that his promise had become reality. The swimming pool is part of the Manguinhos Civic Center funded by PAC which is also made up of seven other spaces. Five years on, the community, especially children and young adults, is sad not to be able to use the swimming pool located in the Luis Carlos da Vila school because a wall was built around it, blocking access to it. The Education Ministry announced in 2012 that access to the swimming pool had been restricted because Manguinhos residents had been mistreating it.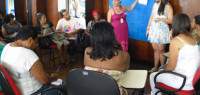 LGBT Leaders Discuss Rights in Their Communities
by Elma Gonzalez | December 20
Several leaders identified the most pressing issues for the LGBT community and the most common included the lack of courteous and indiscriminating medical treatment, of employment opportunities, of government participation in dispelling stereotypes and tackling public intolerance specifically in favelas. Carla Silva, from Complexo do Borel, said she has had uncomfortable experiences with health workers who are not properly trained to serve the LGBT community. She said perhaps the government should conduct seminars with them and spark dialogue about how to respectfully approach an LGBT patient.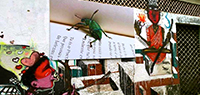 BoreArt Launches Modern Art Exhibition in Borel
by Elma Gonzalez | December 18
For the third time since its inception in 2012, BoreArt, a group of young residents in the Borel favela in Tijuca, North Zone of Rio, launched a modern art show in their community. The 3rd Exhibition of Modern Art in Borel opened on December 6 and is the second in partnership with Rio's Museum of Modern Art. The exhibition will run until February and features works from famed artists Gabriela Gusmão and Alfonso Tostes e Cabelo, who were selected by MAM curator Luiz Camillo Osorio. Four community residents are displaying the art on the walls of their own homes and will open their doors every Saturday to anyone who wishes to enjoy the exhibition.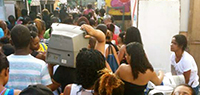 Nova Tuffy Occupiers in Alemão Evicted With Nowhere to Go
by Nicole Froio | December 18
Hundreds of families were evicted from the Favela Nova Tuffy occupation in Complexo do Alemão on Tuesday December 16. Over 2,000 people had been living in the abandoned factory owned by businessman Tuffy Habib for seven months because they could no longer afford to pay rent after the prices went up due to rising rent costs in the region.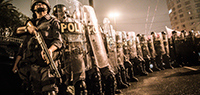 Rio's Human Rights Commission Launches 2014 Report
by Elma Gonzalez | December 16
While many will remember 2014 as the year of the World Cup, some Rio de Janeiro activists will recall it as the year of resistance, according to the latest report by the Rio State Legislative Assembly's Human Rights Commission. The commission presented their annual report on the night of Monday December 8, which was coincidentally the National Day of Justice, to an overcrowded room of more than 100 people at the Legislative Assembly in the city center. The report analyzes the current "bad state of democracy" in Brazil and highlights three issues that illustrate it: the socio-political effects of the 1960s military coup, the battle for people's right to the city and the militarization of daily life.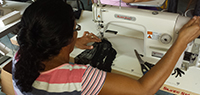 EcoModa in Fogueteiro: Urgent Call for Donations Following Fashion Project's Eviction
by Nicole Froio | December 16
Every weekday morning, ten women sit learning how to sew and design clothes in a basement in Morro do Fogueteiro, in Santa Teresa, Center of Rio. Through the project EcoModa, they have been learning how to work with sustainable materials and how to create their own fashion since August, and will graduate this December. On Sunday December 7, the owners of the Quadra do Fogueteiro gave Cintia three days to remove EcoModa from the basement, leaving them with no funding to move the industrial machines to another space.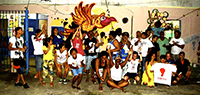 Vila Kennedy Celebrates First VilAtiva Cultural Encounter [SLIDESHOW]
by Francis Torres | December 13
On Saturday December 6 residents of the Vila Kennedy community hosted the VilAtiva cultural encounter, a diverse exhibition of artistic endeavors and community initiatives organized by the young members of the VilAtiva Collective. From 4PM until just before midnight, the Quafa Neighborhood Association–a community within Vila Kennedy–hosted a multitude of cultural activities organized by members of the collective.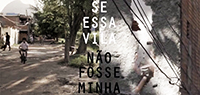 If This Villa Weren't Mine: New Documentary Tells Story of Vila Autódromo [FILM REVIEW]
by Ian Waldron
| December 11
Se Essa Vila Não Fosse Minha (If This Villa Weren't Mine) is a new documentary produced by Felipe Pena which tells the story of Vila Autódromo and its fight against eviction. The favela is adjacent to the 2016 Olympic Park in Barra da Tijuca, in Rio's West Zone. The film succeeds in providing a true resident perspective and consists almost entirely of resident interviews and footage within the neighborhood.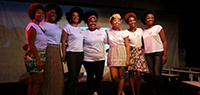 Meninas Black Power: Fighting Racism With Natural Hair
by Elma Gonzelez | December 6
Encrespando, an event celebrating Black Awareness Month, drew in large crowds last Friday November 28 in Engenho Novo, a community in Rio de Janeiro's North Zone. The event, held by Meninas Black Power (Black Power Girls – MBP), an organization that fights racism in Brazil, promoted the use of natural hair as a symbol of black pride.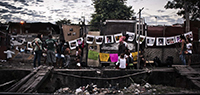 Community Media Profile: 'Favela Em Foco' Photography Collective
by Cerianne Robertson | December 6
The birth of Favela em Foco represented a dream come true for its founders, who had been drawing plans for two years. In 2007, the Observatório de Favelas offered photography workshops to some of Jacarezinho favela's young residents. Enthralled by the prospect of documenting daily life in their community, several participants created a project called Jacarezinho em Foco, using photos, videos, and blogs to tell local stories. They received funding amounting to R$3,000 and dreamed about starting a community magazine. After only two months and the publication of just one magazine issue, however, it became clear that a print magazine could not be sustained without continued funding.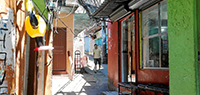 Road Widening in Pavão-Pavãozinho Criticized by Residents, But Specialists Defend the Project
by Alessandro Lo-Bianco | December 5
An alley that stretches merely a meter wide in the Pavão-Pavãozinho favela set the stage for a controversy involving works of the Growth Acceleration Program (PAC-2) in the community. On one side of the debate, architects who plan to turn it into a real, upgraded 5.5-meter wide road and integrate it into the city's road network; on the other, residents who resist change because it would involve the removal of houses, commercial and recreational establishments.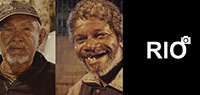 'Humans of Rio' - RIO Invisível - Tells Stories of Homeless People of Rio de Janeiro by Nicole Froio | December 3
The stories of the homeless people of Rio de Janeiro are being chronicled by a Facebook page called RIO Invisível (Invisible Rio). Creators of the page Nelson Pinho and Yzadora Monteiro, both 23, speak to the people who live on the streets of Rio, take their photograph and post the stories on the page, which has gained over 65,000 likes since launching in September. In the style of Humans of New York, Pinho and Monteiro look to transform the perceptions of Rio's homeless population.
RioOnWatch is a project of Catalytic Communities
December
Highlights from CatComm

CatComm's 5th Annual
Rio Raffle
Wow, what a month! Thanks to 641 supporters, our 2014 Raffle beat the previous year's record, raising $24,247 towards CatComm's 2015 programs expanding community journalism to all zones of Rio de Janeiro! Congratulations to winners Bob and Karla Weldon! To read more about this amazing campaign and its results, click
here
.
2014 Update and What's Next in 2015
Wow, what a year! Thanks to you in 2014 CatComm published 327 articles on RioOnWatch and had a direct reach of 236,000 people in June. We implemented our World Cup Journalism Strategy, facilitating international coverage of a number of favelas during the World Cup. We were also key in engaging the favela gentrification debate both by co-hosting a debate series drawing up to 250 people per debate in Vidigal, and participating in a range of debates on TV, radio, and print. Finally, we furthered the recognition of Favelas as a Sustainable Model by introducing a certification of informal upgrades at the Greenbuilding Brazil conference. Read about all our 2014 accomplishments and plans for 2015
here
.