Monthly Digest
Latest News and Opinion on and from
Rio de Janeiro's Favelas
March 2015
Volume V Issue 3

Welcome to our March digest with the latest news from RioOnWatch (Rio Olympics Neighborhood Watch), Catalytic Communities' project to bring visibility to favela perspectives on the rapid transformations in Rio through 2016. For this month's RioOnWatch articles see below and for an exhaustive list of news reports and features on favelas from the full range of English-language media sources, see the right-hand column.

This month saw the national and international media pulsing with a new level of interest in the build-up to the 2016 Olympics. There was an influx of articles calling attention to the unfulfilled promises to clean Guanabara Bay and questioning the ethics of removing favelas to make way for luxury housing in the Olympic Village area. Our own coverage highlighted that Mayor Eduardo Paes' announcement of eminent domain in Vila Autódromo is a direct betrayal of his earlier pledge to allow residents to stay. The 2016 Organizing Committee held a meeting with community journalists to address some of these concerns, but attendeesdo remained sceptical of the Committee's invitation for participation.

Also under ongoing threat of removal is Vale Encantado, the 100-year-old eco-community. Vale Encantado was recently recognized on the Inter-American Development Bank's website for its implementation of sustainable technologies and the LEED UP upgrading framework. The struggles and sustainable solutions that emerge from favelas are ever more relevant to the wider society as the country's dire water shortages highlight Brazil's infrastructural and planning failures.

As tension in pacified favelas remains high, the third installment in our series on UPP installations focuses on Alemão and Penha, the region considered one of the biggest challenges to the pacification program. In Maré, where the military occupation continues, participatory community platforms criticize and resist the public security policies that infringe on residents' rights. Such participation was an admirable but ultimately unfulfilled goal of the now-abandoned UPP Social program.

On a lighter note, March 8 marked International Women's Day and a time to recognize some of the inspiring female leaders from Rio's favelas. Cantagalo celebrated a number of its own female role models with a procession in their honor. Vidigal had a lot to celebrate this month, including the launch event celebrating 75 years, the Vidigalerativa cultural festival, and a showcase of the work of fashion students from the community.

More and more of these community events and struggles are promoted and documented on social media, and this month we published the first article in a series on the growing importance of ICTs in favelas, examining how technology connects to questions of democracy and social justice.

With the countdown upon us--17 months until the Olympic Games in Rio--the pressure is mounting. On the one hand repression, intimidation, cooptation and violence are escalating, some of which had been predicted based on similar experiences in past Olympic cities, but which are taken to a new level here in Rio given the city's famed inequality. On the other hand communities are connecting, organizing and claiming their rights more than ever. And all of this is taking place faster, and faster, while global attention continues to concentrate on Rio in these months leading up to the 2016 Games. To support our ongoing diligent work on behalf of favelas in this challenging period, we have just launched the @RioONWire, the world's FIRST favela news wire. We are inviting our fans, readers and collaborators to sign on as Olympic Champions, for $10 a month, and gain access to up-to-the-minute news on the latest goings on across the city's communities, as well as advance access to our latest research reports, from this innovative Twitter platform. See the March Highlights from CatComm below for more information.

We hope you enjoy this month's carefully compiled digest and new photo albums. Please share and don't forget to like us on Facebook and follow us on Twitter.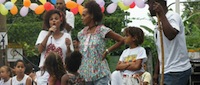 Vidigal Launches Series of 75th Birthday Celebrations
by Iman Ahmed | March 31
On March 14 the main square of Vidigal was taken over in festivities. Seniors and young people got together to enjoy the day and celebrate 75 years of Vidigal. The celebration lasted the full day and is the first of several events planned for throughout the year. It was organized by a group of volunteers from the community and the Residents' Association.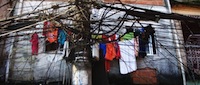 The Owners of Electricity in Rocinha
by Zé Luis S. Lima | March 30
The year is 1970. When night began to fall in Rocinha it was time to light candles, gas lamps and oil lamps. We had to improvise some means of lighting up the shack. Electricity was supplied to the favela informally by public electricity company Light. There was a man in Rocinha known as "Batista." Light gave him a concession to distribute and charge for the use of electricity, which served a very small fraction of the favela.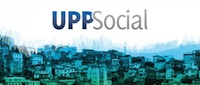 The Death of UPP Social: Failing to Make Participation Work
by Ed Bentsi-Enchill, Jessica Goodenough, Michel Berger | March 30
Originally a program launched by the State of Rio de Janeiro in 2010 but transferred to Rio de Janeiro's city government in 2011, UPP Social aimed to produce quality information about the needs of favelas where the State Military Police has brought security services via its Pacifying Police Units (UPP) program, articulating improvements to missing or low quality public services beyond security to reach these areas, including sanitation (sewerage and waste collection), education, health care, and more.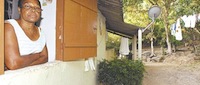 Hundred-Year-Old Eco-Community of Vale Encantado at Risk of Removal
by Lucas Gayoso | March 29
In Alto da Boa Vista, in the heart of the Tijuca Forest, sits Vale Encantado ("Enchanted Valley"). Despite the fairytale name, the community is not sleeping peacefully. The hundred-year-old favela is at risk of removal, due to a legal action that has been ongoing for ten years. While the community organizes sustainable projects, residents are living through the drama of potentially losing their houses and, along with them, the history of the generations that grew up there.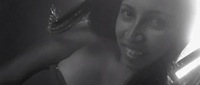 38-Year-Old Woman Fatally Shot at Her Doorstep While Talking to Neighbors in Alemão
by Betinho Casas Novas | March 28
Just 38 years old, Vanessa Aparecida Abcassis was shot on the afternoon of March 19 during an intense shootout in Complexo do Alemão. The victim was standing at the gate of her residence speaking to neighbors when a stray bullet suddenly hit her stomach. Alemão's UPP police quickly rushed her to the Estrada do Itararé's ICU, but she did not survive her injuries and died in the unit.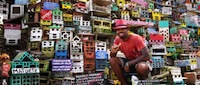 Project Morrinho: From Child's Play to Internationally Recognized Art Installation
by Elma Gonzalez | March 27
The top of Vila Pereira da Silva, a small community above Rio's South Zone Laranjeiras neighborhood, holds one of the most creative art installations in the city: Project Morrinho. It's impossible to miss it. Hundreds of tiny jumbled up brick houses create the landscape of a 500-square-meter diorama, a replica of a number of favelas coexisting in one morro. Mirroring the style of many communities in Rio, some houses in Morrinho are splashed with paint and graffiti.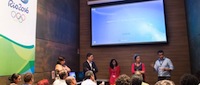 2016 Organizing Committee Invites Community Media to Discuss Games
by Nicole Froio | March 26
An event to include independent community media in the conversation around the 2016 Olympic Games took place on March 19 in the 2016 Organizing Committee building in Cidade Nova. The event was the result of an initiative developed by four community journalists and promoted by the Committee, promising "to debate the Olympic Games and what favelas and the periphery have to do with them."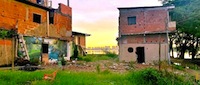 Mayor Announces Eminent Domain in Vila Autódromo as MIT Report Criticizes City Policy
by Brooke Parkin | March 25
On Friday March 20 the city of Rio de Janeiro marked 58 families for eviction from their homes in Vila Autódromo, a community that has been torn apart due to its location adjacent to the 2016 Olympic Park. The city government's use of eminent domain is a departure from the previous policy of promising to relocate only those who agreed and upgrading the community for those who remained, and offering market rate compensation or alternative housing in Parque Carioca (less than a mile away) to those who decided to leave willingly. There are growing fears among the remaining 150 families that they will now be forced to leave with inadequate compensation.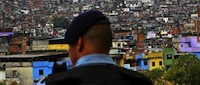 Pacifying Police Unit (UPP) Installations Part 3: 2012
by Patrick Ashcroft | March 24
Head of the UPP, Fernando Caldas, admitted in an interview with BBC Brasil that the next phase of the UPP was improvization, a reaction to attacks on the police in late 2010. Complexo do Alemão, a sprawling complex of favelas considered one of the most dangerous parts of the city, was targeted by policymakers in an attempt to strike at the heart of the drug trade. The pacification of Alemão marked the moment at which the wider society began to believe in the program and the state's commitment to seeing it through. However, inevitably, pacification has not been so simple, and in August 2014 Caldas stated that Alemão represented "the biggest challenge" facing the the UPP program.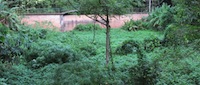 Rio's Favelas Familiar With Water Shortages, Now Set to Affect All
by Lara Mancinelli | March 22
Brazil, which holds 12% of the world's fresh water supply, is in the midst of one of the most severe droughts in its history. Rio de Janeiro's main water reserves are teetering on a brink, relying on meager reserves when it doesn't rain and only barely filling up when it does. Despite international recognition of the severity of the situation and almost a decade ofwarnings, politicians and water utilities (Nova Cedae in Rio) have been devastatingly slow to act.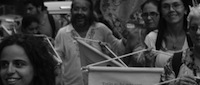 Cantagalo Celebrates Community's 'Women Warriors' [SLIDESHOW]
by Ruth Faulkner | March 20
Cantagalo residents took to the streets with a procession celebrating the women of the favela on the eve of International Women's Day, March 7. The event started in the Museu de Favela (MUF), a community organization founded by community leaders of Cantagalo and Pavão-Pavãozinho favelas who organized the event. The procession then went to each house or business carrying banners of celebrated women to share the congratulations. The celebrated 'Women Warriors' were chosen based on their commitment and leadership in the community while overcoming personal difficulties, making them strong role models for residents.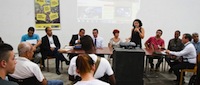 Maré's Institutional Might: Strengthening Participatory Community Platforms to Advance Public Security and Social Justice
by
Veriene Melo | March 20
From months before the initial occupation of Maré and continuing to today, representatives fromObservatório de Favelas and Redes de Desenvolvimento da Maré have been actively engaged in the discussion about pacification and have positioned themselves at the forefront of initiatives aimed at demanding state accountability, denouncing the militarized model of occupation and state-led violations, as well as opening up spaces for promoting counter-narratives on community struggles and bottom-up pathways of hope.
A debate to discuss favela tourism as a tool for social inclusion took place on Tuesday March 11 in Tabajaras, Copacabana. The event was the twelfth in a series of debates organized by the newspaper O Dia under the project Rio Sem Fronteiras. Five panelists discussed the challenge of creating a positive form of favela tourism, in contrast to the negative tourism that has boomed since the introduction of the Pacifying Police Units (UPPs).
During the festival in Vidigal, children of the community painted the walls of the favela, played percussion instruments and learned how to dance. At 8pm, a rap and hip hop concert began. Erre-D, one of the rappers invited to perform in Vidigalerativa, said: "Some years ago there weren't that many cultural events apart from the theater group Nós do Morro. For a few years, things have been changing and culture is beginning to be seen as a priority. Trust me, it's only the beginning."
On Thursday March 5 a collection of clothes designed by fashion students of Casa Geraçãoschool in Vidigal was showcased in the empty fountain of General Osório Plaza in Ipanema, instead of at the much anticipated Fashion Rio show. Fashion students, members of Rio de Janeiro's fashion community, and bystanders were present to watch the show. The event, Só Sobrou a Rua (Only the Street is Left), was organized by Casa Geração as a protest against the second postponement of Fashion Rio's exhibition where the students' work was supposed to be showcased.
On Wednesday March 4 community leaders, environmental activists and young people all from the North Zone community of Manguinhos gathered at the community library to launch the project Planting Ideas. The initiative is a joint collaboration between Green Roof Favela and Creative Favela. Throughout the afternoon, residents of Manguinhos put on a series of events, from gardening to graffiti to a rap concert, all aimed at raising environmental awareness within the community.
The Internet has become an indispensable part of life in Rio's favelas as much as it has anywhere else in the world. For residents of these communities, Internet access and its ability to further a more democratic society are vital for day-to-day living. Accordingly, the availability of the material technologies (namely desktop computers, laptops, tablets, mobile phones, or LAN houses) that facilitate access is essential for a broad range of social, cultural, financial, and political activities that govern life in the favela. The issue of access to technology in these communities is often overshadowed by the myriad concerns regarding the pacificationinitiatives. However, with Brazil recently passing the Marco Civil da Internet—an "Internet Bill of Rights"—issues of Internet access in favelas are starting to receive more attention.
The Metropolises Observatory emerged in the 1990s, analyzing the transformations of the needs and social inequalities in the Metropolitan Region of Rio de Janeiro. It now focuses its efforts on international dissemination of the Brazilian metropolitan reality within the context of the mega sporting events. The collection of articles in The Metropolis of Rio de Janeiro: A Space in Transition presents to foreign audiences the central issues related to the current commodification of the city, while focusing particularly on the mega-events' impacts on Rio's present and future state.
According to research published in A Country Called Favela by Renato Meirelles and Celso Athayde, favelas across Brazil house around six million women. Around 40% of homes in favelas are supported financially by women, who are responsible for earning USD$8.2 billion (R$24 billion) of the resources entering these communities. Most women who live in favelas are Afro-descendant, married and have kids. The study also reveals that 66% of favela women do not want to move away from their community.
The Santa Marta tram was launched on May 29, 2008, the same year Rio de Janeiro's first Police Pacification Unit (UPP) was established in the same community on December 19. It was a funicular tram up one of the steepest favelas of the city, which for several years thereafter became known as the 'Model Favela' with a UPP. Two years later, the project Rio Top Tour was launched in Santa Marta, as a partnership between the Ministry of Tourism and the city government. Santa Marta was founded between the 1920s and 30s, with an area of 53,706m² and around 4,000 residents.
In a press release, Amnesty International warned: "The growing curve of homicides in the country, the high fatality in police operations especially in favelas and low income areas, theexcessive use of force in policing protests before and during the World Cup, the rebellions in overcrowded prisons and incidents of torture show that public security in this country needs special attention from its authorities."
"Carnival today has become something very commercial. It wasn't this show that it is today and so I think the essence of carnival is lost, the fun is lost. These days, the parades are very technical, [there are] a lot of obligations and chores. So I view it as more of a profession for me now. I have fun, but I have fun in the profession, because it is no longer for joking around. These days it is so serious that you can't have fun just for having fun. We can't dance how we want to anymore. Ahh, I want to samba, ahh I don't want to samba; no! If you are at a place [on the avenue] with choreography, you have to do it. I think what changed is this, carnival became a spectacle."

Stay Connected with RioOnWatch

RioOnWatch is a project of Catalytic Communities
March Highlights from CatComm

Ready, Set, Beta Launch! Check out @RioONWire!
...and more!
We are thrilled to announce the launch of @RioONWire, the world's first and only English-language favela news wire, with hourly updates on news and events across Rio's favelas through the 2016 Olympic Games. Drawing on the knowledge and insight of our extensive network of community collaborators, @RioONWire provides BREAKING news alongside essential-to-know background information, alerts on key upcoming events, and early access to the latest research on favelas. We are also getting ready to publish, over the coming 2 months, a number of reports ranging from a 6-year Media Monitoring report to the latest global Favela Perceptions Survey.
All of these and more are tools designed for you--RioOnWatch and CatComm fans, readers and collaborators--and will be available to anyone who signs up as an Olympic Champion. For just $10 a month pledged through the end of 2016, you will be supporting our careful work on behalf of favelas in this challenging period, including a new community correspondents program, while securing up-to-the-minute news on the latest goings-on across the city's communities.
Here's
More Information
.
Here's the
Program Brochure
.
Click
here to sign up
.
Click for full view: