Monthly Digest
Latest News and Opinion on and from
Rio de Janeiro's Favelas
November 2014
Volume IV Issue 11

Welcome to our November digest with the latest news from RioOnWatch (Rio Olympics Neighborhood Watch), Catalytic Communities' project to bring visibility to favela perspectives on the rapid transformations in Rio through 2016. For this month's RioOnWatch articles see below and for an exhaustive list of news reports and features on favelas from the full range of English-language media sources, see the right-hand column.

This month, Vila União de Curicica received terrible news: residents were told not only they would not be getting the infrastructure improvements promised two years ago as part of the Olympic Legacy, or public housing promised months ago when they were told they would instead be removed for the TransOlympic highway, but rather that evictees will receive only a $160 monthly rent voucher instead. Despite intimidation, the community's resistance continues to organize, focusing on keeping their homes. The case is the largest Olympics eviction to date and particularly worrisome given the growing documentatioon of mega-events and human rights violations across Brazil published in a dossier this month.

As the security situation worsened in favelas occupied by the UPP police, and mainstream outlets gave much-needed publicity to the extreme violence of Brazilian police, RioOnWatch covered a debate about the effectiveness of the UPP program. Community reporter Thaís Cavalcante also took a close look at the public neglect of cracklands in North Rio.

Meanwhile, Rio's favelas celebrated Brazil's Black Awareness Month in style. Vila Kennedy had a week-long event in honor of Afro-Brazilian culture, while the group CRUA took films with black protagonists to communities across the city. The Landless Workers Movement celebrated the date by occupying an upscale beach to raise awareness of the housing deficit in Brazil. They also celebrated a deal with the city of São Gonçalo after a 12-day occupation in the neighborhood of Santa Luzia. Finally, reflecting on Brazil's racial legacy, we highly recommend Lourdes Garcia-Navarro's NPR piece "In Brazil, Race is a Matter of Life and Violent Death."

Also in housing news, two occupations celebrated anniversaries and victories this month: Solano Trindade in Duque de Caxias presents a formidable critique to the federal Minha Casa Minha Vida housing program, and Manoel Congo in the city center, recently promised critical investments.

On the cultural front, FLUPP favela literary festival was a success and the community group BoreArt is working to turn a community staircase into a community hub through art. During a Maré art festival, two debates pondered important questions: 'When are cities finished?' and 'Are aesthetics of urban peripheries core to contemporary culture?'

Two new profiles highlight Rio's community media this month: Viva Rocinha and Maré de Notícias work hard to ensure community voices are well represented in their respective communities and beyond. In two features about community initiatives, RioOnWatch explored community currency in City of God and the difficulties of receiving mail in favelas.

This month we launched our 5th Annual Rio Raffle. If you value our work this is the time to show your support. With just $15 by December 10th you'll be in the running for a trip for two to Rio de Janeiro with international travel, 7 nights lovely B&B, a trip to Christ the Redeemer and an educational favela visit included. The Raffle's success is key to our continued and expanded programs next year. Don't miss this year's captivating raffle video and please take a moment to enter now.

We hope you enjoy this month's carefully compiled digest and new videos. Please share and don't forget to like us on Facebook and follow us on Twitter.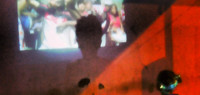 Circuito Cinegrada: Black Cinema Showcased & Celebrated as Black Awareness Month Comes to an End
by Elma Gonzalez | November 29
The Circuito Cinegrada festival celebrated Black Awareness Month with 17 film exhibitions in 15 locations across Rio and sister city Niterói by showing films that have exclusively black protagonists and producers."You don't see black cinema," explained Rafael Ferreira, a CRUA group member. "Now you have films like 12 Years a Slave but that is an American film that has a language different than that of a black Brazilian film. You don't see them in the theaters. Black films have a hard time making it to the screens."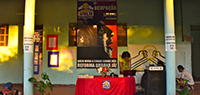 Solano Trindade Occupation Celebrates Success While Offering Compelling Critique of Federal Housing Program
by Francis Torres | November 28
On Friday November 20, members and supporters of the National Movement for the Fight for Housing came together to celebrate the early successes of the Solano Trindade occupation in the municipality of Duque de Caxias in the Baixada Fluminense, as well as to discuss new strategies for the advancement of the occupation and betterment of living conditions for the families residing there. The event, described as a "sarau divergente"–or divergent gathering–occurred on a date of symbolic importance, Brazil's Black Awareness Day.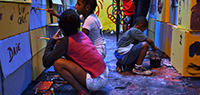 FLUPP Favela Literary Festival is a Hit in Mangueira
by Juliana Portella | November 27
The third edition of Flupp: Literary Festival of the Urban Periphery took place this month in the favela of Mangueira. The festival ended November 16, and paid homage to the centenary of the birth of activist and poet Abdias do Nascimento. Mangueira, known for its famous samba school and the poetry of Cartola and Nelson Cavaquinho, was the setting for the festival's vast, impeccably planned five-day program of events. According to Julio Ludemir, one of Flupp's founders, people who say that favelas are not places for books and culture are mistaken: "I am always surprised by the quantity of people at Flupp. I always think not enough people will come. This festival always exceeds my expectations."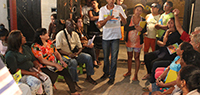 Vila União Update: Mobilizing in Face of Government Intimidation and Misinformation
by Ian Waldron | November 25
Residents of Vila União de Curicica, a West Zone neighborhood about 1km from the future Olympic site that is being threatened with one of the largest evictions yet announced for the 2016 Olympics, have been organizing their resistance to stay in their homes. This month, the community was informed that many will be receiving a social rent allowance instead of being given social housing promised by the mayor via the federal housing program Minha Casa Minha Vida. According to Robson, a leading organizer of the resistance, "The focus isn't money. It isn't compensation. Our focus is to stay in our homes."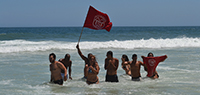 Landless Workers Movement Celebrates Black Awareness Day on Leblon Beach [VIDEO]
by Nicole Froio & Eduarda Araujo | November 24
Hundreds of people from the Landless Workers Movement celebrated Black Awareness Day in the very wealthy neighborhood of Leblon. Along with celebrating Afro-Brazilian culture, the event sought to challenge city boundaries that marginalize Afro-Brazilians to the peripheries of Rio de Janeiro. The families who took part in the event came from São Gonçalo, where the MTST has recently struck a deal with the city government after a 12 day-long occupation of an empty, unused lot in the neighborhood of Santa Luzia.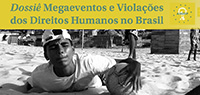 Brazil's Popular Committees Publish National Dossier on Mega-Events and Human Rights Violations
by Ian Waldron | November 23
The Brazilian Press Association auditorium played host to the National Articulation of the Popular Committees of the World Cup and Olympics on November 7 for the launch of the nationwide dossier entitled "Megaevents and Human Rights Violations in Brazil." The first national dossier was published in 2011 while the Rio Popular Committee has published dossiers on megaevents and human rights violations in the city of Rio de Janeiro in March 2012, May, 2013, and July, 2014. These in-depth reports have become some of the most comprehensive documents available in evaluating the "legacy" and true impacts of the World Cup and Olympics.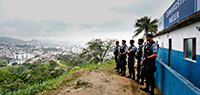 Debate Reflects on Rio's Pacifying Police Units
by
Ian Waldron | November 22
Da Silva spoke of the unequal application of public security forces throughout Rio, noting that São Gonçalo, a city of 1.2 million residents in Rio's greater metropolitan region, has 650 police officers while the South Zone favela of Rocinha has 700 police officers and less than 200,000 residents. The concentration of UPPs in and around Rio's elite South Zone has been evident since the beginning of the program and has led to accusations that it is more of a PR effort than a substantive public security program.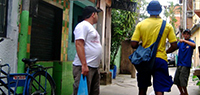 Mail Service in Rio's Favelas: Community Solutions in the Face of Government Neglect
by Nicole Froio | November 22
The informal geography and history of favelas can mean it is difficult for letters and packages to be delivered to residents. The creativity and entrepreneurship of favela residents have resulted in alternative community mailing services in some favelas. In other communities, residents still struggle to be recognized by the formal government and claim their right to mail service.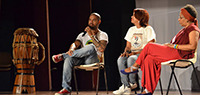 Vila Kennedy Celebrates Black Awareness Month
by Nicole Froio & Leland Christy | November 20
Vila Kennedy, a favela in the West Zone of Rio de Janeiro, was the stage of a week-long event, from November 12 to 16, to celebrate Black Awareness Month organized by Teatro Mário Lago and the community group Pé na Raiz. The event included movie screenings, dance workshops, debates, performances and traditional food to celebrate Afro-Brazilian culture. It was also an effort to stimulate the community's interest in performing arts after the local theater, Teatro Mário Lago, was closed down in 2012 and is now struggling to re-open and garner local interest.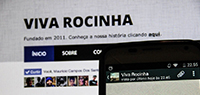 Comunity Media Profile: 'Viva Rocinha'
by Cerianne Robertson | November 17
When Silva founded the online community media portal Viva Rocinha in 2011 he considered the project to be a hobby. Now, with over 17,000 Facebook likes and requests for information from international news outlets such as the BBC, The New York Times, Al Jazeera and Chile's Canal 13, the young journalist feels an enormous responsibility towards his work in his community. The "hobby" emerged out of serious circumstances. It was in November 2011 that the Military Police entered Rocinha, initiating the neighborhood's 'pacification.' Silva observed that mainstream newspapers focused exclusively on the most negative aspects of the favela, with an emphasis on articles about drug trafficking, gangs and violence. He and his sister, Michele, teamed up to push back on this limited portrayal of their community by producing news that acknowledged the negative but also highlighted the positive features of the favela.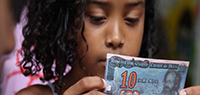 City of God: The Rebirth of Rio's First Favela Community Currency
by Andrea Cangialosi | November 16
Joining a renewed global movement, City of God is the first favela in the city of Rio de Janeiro to hold its own local community currency, called the CDD after the acronym for Cidade de Deus. A recent report indicated that much of favela citizens' income is spent outside their communities, in the formal city. The CDD is a tool to keep wealth inside the favela, while also strengthening a sense of community and shared identity.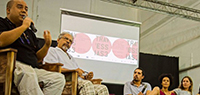 Are Aesthetics of the Urban Periphery Core to Contemporary Culture?
by Andrea Cangialosi | November 14
A discussion on the aesthetics of the urban periphery and their role in contemporary culture took place at Maré Art Center in Complexo da Maré, North Zone, on Saturday November 8. Photography collective Imagens do Povo, Fluminense Federal University anthropology professor Julio Tavares and Heraldo HB from the Mate com Angu film club in the Baixada Fluminense participated in the debate, which was mediated and hosted by the Favelas Observatory Jorge Barbosa as part of the Travessias 3 Art Festival.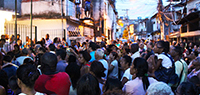 Vila União Evictees Told There is Not Enough Public Housing for All
by Ian Waldron | November 13
The residents of Vila União de Curicica, a West Zone neighborhood about 1km from the future Olympic site are being threatened with one of the largest evictions yet announced for the 2016 Olympics, and have just been informed that many will be receiving a social rent allowance instead of being given apartments promised by the Mayor via the federal housing program Minha Casa Minha Vida. Government representatives delivered the news to the Neighborhood Association on Friday, November 7, causing outrage among residents who feel the City has failed to recognize their housing rights and ensure just compensation.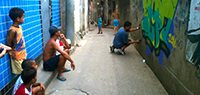 BoreArt: Community Youth Group in Borel Sets Out to Dissolve Stigma Through Art
by Elma Gonzalez | November 12
BoreArt, a group of young residents in the Borel favela in Tijuca, North Zone, aims to turn a former space of crime into a community meeting point through art with their latest endeavor, the Escadaria do Borel project, which will transform a popular local staircase into an urban artwork.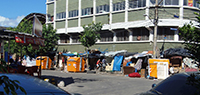 Maré Cracklands: Three Years of Neglect by Authorities
by Thaís Cavalcante
| November 11
The government is proving incapable of facing an enormous and challenging public health problem: drug abuse. State and municipal neglect in Nova Holanda, one of the 16 favelas that make up Maré, has resulted in the biggest cracolândia (cracklands) of Rio de Janeiro, with almost 500 crack users.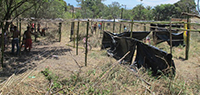 Occupation in São Gonçalo Gathers 1,400 People in Four Days
by Henrique Coelho | November 10
On Tuesday November 4, more than 350 families completed their fourth day of occupation of a 60,000m² area in São Gonçalo, located in the Rio de Janeiro Metropolitan Region, according to the calculations of the new residents. The occupiers say they do not want the site to become another favela in the city. According to the City of São Gonçalo, the land belongs to the company G Bastos Trade and Plastic Packaging Industry LTD, owned by Walter Bastos Gonçalves.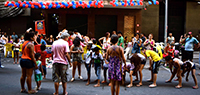 Manoel Congo Occupation Celebrates 7th Anniversary
by Francis Torres | November 8
Activists, students and community members gathered last Sunday November 2 at Rua Alcindo Guanabara in Cinelândia, Central Rio, to celebrate the 7th anniversary of the Manoel Congo occupation. Organized and led by the National Movement of the Fight for Housing (MNLM), this occupation has resulted in one of the most successful cases of re-appropriation of a public building for housing purposes in the city of Rio de Janeiro.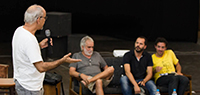 When Are Cities Finished?
by Andrea Cangialosi | November 7
On Saturday November 1, photographer Mauro Restiffe, architect and urbanist Manoel Ribeiro and architect Pedro Évora delivered engaging presentations on the subject "When are cities finished?" for the Travessias 3 art festival in Complexo da Maré. The presentations, which took place at the Maré Art Center, were followed by a debate that was moderated by Jorge Barbosa from Observatório de Favelas. The debate addressed specifically the transformations affecting Maré and Rio.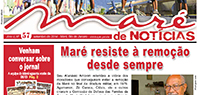 Community Media Profile: 'Maré de Notícias' by Cerianne Robertson | November 4
Like its peer community newspaper in Maré, O Cidadão, Maré de Notícias is built on the notion that community input should be fundamental in shaping the publication's direction. It is run byRedes de Desenvolvimento da Maré, or "Redes," a community-based organization dedicated to the structural transformation of Maré through projects that promote education, culture,employment, and an end to violence.

Stay Connected with RioOnWatch

BBC
November 28
The last unmapped places Earth
by Rachel Nuwer
The Rio Times
November 28
Street Christmas Collects Presents for Children in Need
by Lisa Flueckiger
Manawatu Standard
November 27
Rio games 'coming together'
by Peter Lampp
FavelIssues
November 26
Hyper-hybridity: The favela urban condition?
by Diana Maldonado
Yahoo! News
November 26
Brazil state must pay family in police slaying
by AP
Livewire
November 26
Young, Black, Alive - Breaking the silence on Brazil's soaring youth homicide rates
by Atila Roque
Bloomberg
November 26
Brazil Has 'a Ferguson Every Day
'
by Mac Margolis
Favelas@LSE
November 25
Who is worth being called a 'worker'? Domestic workers' struggle for recognition in Brazil
by Louisa Acciari
Al Jazeera America
November 24
Brazil's favela fairy tale: When Prince Charming packs heat
by Flora Charner
The Globe and Mail Novembe

r 23
Brazil's police under scrutiny over civilian deaths
by Stephanie Nolen
Soccer Lens Novembe

r 22
Football in the Favelas
by Emma Willi
s
WIRED
November 21
Urban Planning for 2030: When Billions will Live in Megacities
by Margaret Rhodes
Houston Press
Novembe

r 20
Buildering: Misbehaving the City
by Jim J Tommaney
CCTV America
November 20
Amnesty International campaign hopes to raise awareness about killing of black youth
by Lucrecia C. Franco
The Rio Times
November 20
Dia da Consciência Negra: Black Awareness Day
by Lise Alves
Latin American Herald Tribune
November 20
Brazilian Police Evict Hundreds of Squatter Families
The Oklahoma Daily
November 19
Brazil: Favelas and Samba
by Sarah Pitts
Cambridge Globalist
November 19
Brazil Between the Shots
by Emily Fitzell
Bloomberg
November 19
Brazil's Bribery Probe Punishes Builders as Bonds Suffer Losses
by Paula Sambo and Filipe Pacheco
Gizmodo India
November 19
6 Ways The World's Mega-Cities Could Deal With Explosive Growth
by Alissa Walker
Observers
November 18
'My favela was safer when it was ruled by gangs'
by Chloe Lauvergnier and Daniel Giovanaz
The Independent
November 17
Could this favela be the blueprint for how our cities should look by 2050? by Jau Merrick
Indiewire
November 17
New Investigative Documentary Spotlights 20 Years of Police Violence Against Blacks in Rio de Janeiro
by Tambay A. Obenson
Rio Gringa
November 16
In Their Own Words: Rocinha Before and After Pacification
by Rachel Glickhouse
City Paper
November 14
Wandering Eye: Glow-in-the-dark bike lanes, police brutality in Brazil and more
Bloomberg
November 14
Rio Olympics Extend Deadline After Volunteer Numbers Flag
by Tariq Panja
Voice Male Magazine
November 13
Fatherhood, Caregiving and Love in Brazil
by Marco Aurélio Martins
Global Voices
November 13
See Rio de Janeiro Through the Lens of Young Residents' Pinhole Cameras
by Fabiano Post
Favelas@LSE
November 13
"No one is going to start a revolution from their red keyboard": insurgent social movements, new media and social change in Brazil
by Paola Sartoretto
Digital Journal
November 12
Brazil as violent as Gaza, cops kill 6 people a day study says
by Ocean Malandra
Rio Real Blog
November 12
"Either we transform the police or shut down everything, lock it all up and throw away the key in Guanabara Bay"
by Julia Michaels
Mother Jones
November 12
US Police Brutality is Bad. This Giant Western Country's is Worse
by Maddie Oatman
Geostadia
November 12
A sad end
by Christopher Gaffney
Gizmodo Australia
November 11
How a Simple Lick of Paint Can Transform Our Urban Environment
by Jamie Condliffe
Favelissues
November 11
Agents of Change and their critical role in societal development: The Case of Maré
by Lubaina Rangwala
NPR
November 9
In Brazil, Race is a Matter of Life and Violent Death
by Lourdes Garcia-Navarro
Rio Real Blog
November 8
Sixth Military Police commander since 2006
by Julia Michaels
Huffington Post
November 7
Police in Brazil Treat Teenage Girls From the Cerro-Corá Favela to a Cinderella Stye Evening
by Elliot Wagland
The Daily Mail
November 7
Favela Cinderellas: How Rio de Janeiro's police threw a debutante ball for the poorest young ladies of society to bring peace in the slums
by Mia De Graaf
The Rio Times
November 6
Residents Tell of Abuse by Pacification Force in Maré
by Jay Forte
Ramapo Register*
November 6
Founder of RioOnWatch Visits Ramapo to Discuss Hyper-Local Journalism
The Herald Sun
November 5
'Making a revolution in dance'
by Susan Broili
Huffington Post
November 5
An Action Plan to Help Sick Kids Break out of Poverty
by Hans Hickler
Rio Real Blog
November 5
Pacification: get it right, now or never
by Julia Michaels
The Star Online
November 4
Poverty tourism has critics, but rapper Octopizzo says its got positives
byMurithi Mutiga
Generation C Magazine
November 4
The Alternative Urbanism of Favelas
by Adam Yang
The Sports Quotient
November 3
The True Cost of Hosting a World Cup
by Div Goel
Vice November 3
Rio's Favelas Are Feeding Brazil's Elite
by Lauren Rothman
The Daily Mail November 2
Fashion show in a favela held by charitable style school sees beautiful Brazilians compete for modelling contract
by Deni Kirkova
Maré de Notícias* [Port] November 1
Os Riscos do Título de Propriedade
by Theresa Williamson
*CatComm supported/quoted
RioOnWatch is a project of Catalytic Communities
November Highlights from CatComm