Greetings friend of Blue Ventures,
Blue Ventures has released our summer 2009 research update documenting the work we have achieved at our research sites in Madagascar, Fiji and Malaysia. The full update can be found here, but below are a few extracts from the articles within
The Voyage of the Vezo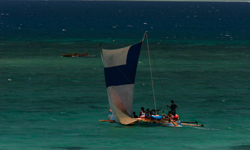 Seventy thousand people live in the coastal villages of southwest Madagascar. Most of them are Vezo; a traditionally semi-nomadic people who make annual migratory voyages north in search of better fishing grounds. In May, Blue Ventures conservation scientists Bravo Rahajaharison and Dr. Garth Cripps spent 8 weeks accompanying Vezo families travelling north from Andavadoaka to the Barren Islands - travelling over 1000 km - in a bid to investigate the patterns, causes and effects of the Vezo journey...
Velondriake Dina officially legalised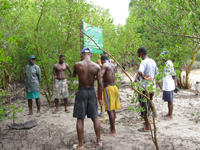 As part of ongoing efforts to make it easier for Velondriake communities to manage and police their own resources, the official Velondriake Dina was approved by the Malagasy District Court of Morombe on 20th of April, 2009. The Dina comprises a set of local laws which detail penalties for poaching from community reserves and using destructive fishing practices, such as beach seines netting or poison fishing, within the Velondriake area.
'Miss 2009' pageant promotes safe sex in Andavadoaka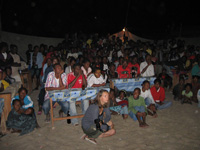 Blue Venture's family planning project prides itself in being the 'sexy' project. Not just in actual subject matter, but in its approach to selling what is often perceived as an unpopular behaviour change. To tackle the social barriers to behavioural change, project staff are constantly innovating new, fun and engaging ways to promote family planning and safe sex.