Recap of this year's FinnovateFall 2012 from CEO William Mills III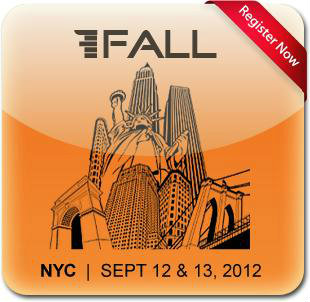 I must say FinovateFall 2012 in NYC was a tremendous success and an exhausting endeavor. We are talking about two solid days of 64 financial technology demonstrations at seven minutes each. This was the fifth Finovate event that I have been a part of and it keeps getting bigger and better every year.
I've attended or spoken at more than 100 financial industry events from a wide variety of associations and publishing groups. Even in today's Internet society, I have found that you can learn much more when everyone of the same mindset comes together at one time. The energy is incredible and you can learn a great deal from not only the demonstrations but also meeting with people one-on-one.
I've found that there is a dramatic cultural difference between the presenting companies and attendees at Finovate San Francisco in the Spring versus Finovate New York in the Fall. From my experience, at Finovate Spring there is more emphasis on the social/mobile side of the financial industry. While in New York, there is more focus on core banking and payments.
Since New York remains the publishing headquarters of the world for all types of media, whether it's Consumer Reports, ABA Banking Journal, Bank Innovation or hundreds more, Finovate Fall has a media turnout that is off the charts. Unbiased, third-party reporting is critical for financial institution executives. By having the event in New York City, Finovate makes it easier for our friends in the media to gain access to the great innovations and innovators in the financial industry.
Our entire agency, myself included, will continue to be active in events from ABA, AFT, BAI, CUES, CUNA, ICBA, MBA, SourceMedia, UMB, NACHA and dozens more because they too are very important. If you have not yet attended a Finvoate event, I highly recommend it. I am confident that you will find that it is an experience of great value.
Click here to see a Live Blog for:
Day One: http://www.williammills.com/blog/william-mills-iii-ceo-william-mills-agency-live-blog-from-finovate-fall-nyc-2012-day-one/
Day Two: http://www.williammills.com/blog/william-mills-iii-ceo-william-mills-agency-live-blog-from-finovate-fall-nyc-2012-day-two/