No-Nonsense Nutrition Report: How to Stock Your Kitchen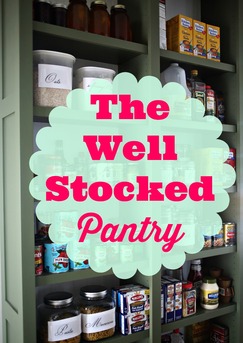 My Blessed and Valued Health Seeker:
Keeping a well-stocked pantry, refrigerator and freezer makes putting a healthy and delicious meal together a snap! When you have certain staples on hand, you are never without a healthy option.
There's nothing wrong with eating out occasionally, but if you are trying to lose weight or are concerned with health, the operative word here is "occasionally."
Why it's Healthy:
Only 60% of U.S. dinners were
cooked at home
last year, and about one-third of Americans eat fast food weekly. I realize everyone is busier than ever and time is at a premium, but it doesn't mean that home-cooked meals must become a thing of the past.
According to studies
cooking meals from scratch
at home encourages healthier eating and saves money! Home cooked meals have more fiber, fewer carbs and less sugar which has been proven to improve overall health as well as help with weight loss. And healthy, whole food ingredients might inspire you to experiment with new recipes!
According to food activist
Michael Pollen
,
"Cooking is probably the most important thing you can do to improve your diet. … It's the collapse of home cooking that led directly to the obesity epidemic."
So if you are among the 80% of Americans who say that they enjoy cooking, I will share some thoughts to make creating a well-stocked, healthy food pantry easier.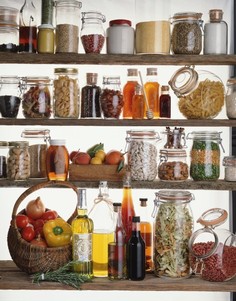 In order to develop a list of the items you will use most often, it's a good idea to list the meals you and your family enjoy. Choose a dozen or so dishes you cook most often and list all the ingredients needed to put them together.
Certain ingredients will have to be purchased fresh as they are perishable like dairy or fresh vegetables, but there are certainly staple ingredients you can purchase in bulk and have on hand such as beans, whole grains, stock and broth, nut butters, spices and healthy baking ingredients.
Pantry, Fridge and Freezer Specifics
Here are some specific items to keep on hand in the pantry, refrigerator and freezer to make healthy meal preparation easier and enjoyable.
Spices, flavorings and herbs: You can save money when buying seasonings in the bulk section and transfer them to small, airtight glass jars away from the stove. You can buy certain spices whole and grind with a coffee grinder as needed. I make my own celery salt by grinding organic celery seeds and combining them with Himalayan Crystal salt.
Keep larger quantities of most frequently used seasonings, such as salt, pepper, cinnamon, granulated garlic, ginger, paprika, turmeric and chili powder for example. For spices you only use once in a while you can either buy them in smaller quantities or store larger quantities in the freezer and transfer them in small quantities as you need them.
It is worth a bit of extra money to purchase organic as you are then assured they have not been irradiated.
Nutritional yeast
Himalayan Crystal, Pink or Celtic sea salt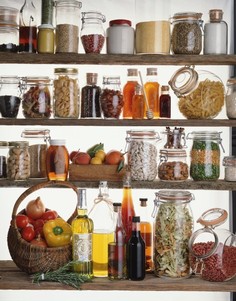 While I do not buy a lot of canned foods, I do stock up on certain things – here's a list to help you put your own together:
Canned
Organic canned tomato sauce, diced tomatoes, tomato paste
Wild caught tuna, salmon, sardines
Full fat organic canned coconut milk
Canned beans (Eden Organics beans are in BPA free cans and pressure cooked to eliminate lectins)
Canned organic broths and stocks Bone Broths (come in paper boxes and also powders)
Beans and Grains Dried beans and legumes (lentils, split peas)
Whole grains like quinoa, millet, amaranth, steel cut or old fashioned oats
Rice (brown, black, green, Basmati, Jasmine)
Pastas (whole grain, gluten free)
Barley, farro, couscous, bulgur
Bottled/Condiments
Raw, organic honey
Organic maple syrup
Raw, organic, unfiltered apple cider vinegar
Nut and seed butters
Mayonnaise (I like Primal Kitchen Avocado mayo)
Salsa
Mustard
Organic ketchup
Tahini
Organic hot sauce
Olives
Capers
Baking Ingredients
Flours (almond, coconut, gluten free blend, Einkorn all-purpose flour, sprouted grain flour, corn meal, brown rice, oat flour)
Organic raw cane sugar, confectioners and brown sugars;
coconut sugar
Baking soda
Baking Powder (aluminum free)
Yeast
Vanilla extract and other extracts
Erythritol, Lakanto, stevia
Organic dates, raisins, dark chocolate chips (or dairy free organic chips)
Unsweetened organic shredded or flaked coconut
Fats
Avocado oil,
Extra Virgin olive oil, Coconut oil Palm, flax, hempseed, almond oils
Refrigerator/Freezer
Non-dairy milk like almond, coconut or cashew
Fresh veggies (lettuces, organic baby greens, etc.)
Frozen veggies and legumes (peas, spinach, green beans, celery, etc.)
Fresh fruits (bananas, avocados, apples, oranges, lemons)
Frozen fruits (berries for smoothies)
Nuts (walnuts, almonds, pecans, macadamias, pistachios, pignolas – stay fresh longer in the freezer)
Seeds (chia, flax, hemp, sesame, sunflower, pumpkin)
Cheeses (grated, shredded, sliced)
Breads (gluten free, sprouted grain)
Grass fed meats, pasture raised poultry
Cellar
Garlic, onions, potatoes, sweet potatoes
Getting your kitchen organized and well-stocked will likely take a little time and effort, but it will be well worth it. Once you are stocked you can create a master list of all your ingredients on the computer that you can print out. Then it will be easy to add whatever you are out of to your shopping list so you are always well-stocked.
NO-NONSENSE NUTRITION NUGGET: People who frequently cook meals at home eat healthier and consume fewer calories than those who cook less, according to new Johns Hopkins Bloomberg School of Public Health research. One in five people say whatever foods are in their refrigerator or pantry is mostly likely to determine what they cook for dinner that night. So having a well-stocked kitchen gives you more options!
Until next week, I wish you overflowing, abundant health, peace and joy and I call you
BLESSED
(empowered to prosper and succeed).
Ann
If you enjoyed this newsletter and know someone who might benefit from the information, please like it and share it on social media by clicking one of the buttons at the top and let others know about it. Thank you!
Your fork is the most powerful tool you have to transform your health.
THIS WEEK'S BLOG POST:
Every time you eat is an opportunity to nourish your body.
As always, all information offered in these reports is provided for informational purposes only and may not be construed as medical advice or instruction. No action or inaction should be taken based solely on the contents of this information; instead, readers should consult appropriate health professionals on any matter relating to their health and well-being.
"You can trace every sickness, every disease and every ailment to a nutritional deficiency." Dr. Linus Pauling