No-Nonsense Nutrition Report: Awesome Avocados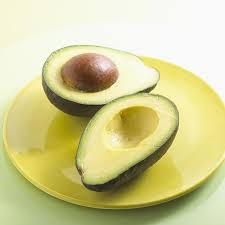 My Blessed and Valued Health Seeker:
Food Focus: Avocado
Avocados, also known as alligator pears, are subtropical fruits that are 15-30% healthy oil. They are very easy to digest and actually contain the highest amount of protein of any fruit by providing all of the18 essential amino acids. In fact, they contain more protein than cow's milk.
Why it's Healthy:
One serving provides more antioxidants that a serving of grapes, red bell peppers, broccoli raab or red cabbage. They are a good source of vitamin E, folate, potassium, magnesium and soluble fiber. One-half a medium avocado provides 6 grams of soluble fiber – more than a bowl of oatmeal!
They offer carotenoids including not only the better known ones such as beta-carotene, alpha-carotene and lutein, but also lesser known varieties of this type of phytonutrient such as neoxanthin, zeaxanthin, chrysanthemaxanthin, neochrome, beta-cryptoxanthin and violaxanthin, which deliver high quality vitamin A to your body. In fact, eating avocado was found to boost the conversion of beta-carotene to vitamin A by almost 500%, which is critical because roughly 54% of American women and men do not get enough vitamin A in their diets. This vitamin protects eye health as well as enhancing the functioning of the immune system and healthy functioning of the reproductive system. Carotenoids are fat soluble, which is why the high fat content of avocados optimizes the absorption of these nutrients.
Avocados are rich in omega-3, delivering 160 milligrams per cup of alpha-linolenic acid.
Benefits & Specific Conditions:
Heart Health: Like olive oil, avocados boost levels of HDL (the "good" cholesterol) which can help protect against the damage caused by free radicals. This type of cholesterol also helps regulate triglyceride levels, preventing diabetes. A study published early this year in the Canadian Medical Association Journal found that a diet, which includes HDL fats, can reduce levels of LDL (the "bad" cholesterol) as effectively as statin drugs.
Inflammation: They have powerful anti-inflammatory benefits from vitamins C and E, carotenoids, selenium, zinc, phytosterols and omega-3 fatty acids they contain. They can help prevent or improve both osteo- and rheumatoid arthritis.
Weight Loss: Despite their high-fat, high-calorie reputation, research is also proving that avocados can be a dieter's best friend! According to a recent study, published in the Nutrition Journal, eating just half an avocado at lunchtime stabilized blood sugar and boosted satiety by 40% three hours after the meal. These are two key factors for losing weight.
Secrets and Tips:
The Haas avocado – the one you find most readily in the supermarket – has 2-4 times more antioxidant value than other varieties. Choose avocados that are soft at the top but yield only a small amount in the middle. The fruit should feel heavy and the pit will be anchored firmly in the creamy flesh. The skin on a Haas avocado is nearly black when it's ripe.
To ripen avocados just put them in a paper bag, close it and store at room temperature 2-3 days or until the stem end begins to soften. If you want to ripen them more quickly, put a banana in the bag and the ethylene gas will shorten the ripening time by about a day or so.
You can store whole, ripe avocados in the refrigerator up to 2 weeks. Once cut they do not store well because the surface turns brown very rapidly from oxidation. If you only want to use half, keep the pit in the half being stored; cover the cut surface with lemon or lime juice or paint a thin layer of olive oil on the cut surface; put the avocado in a plastic bag; press out the air before sealing and store on a shelf in your refrigerator.
Recipes and Products:
Besides making a delicious guacamole, there are many ways to sneak this healthy fruit into your meals.
You can include half an avocado in your morning smoothie;
Use it as a healthy source of fat in grain-free baked goods like brownies and cakes or puree with organic dark cocoa and a little stevia for a delicious and nutrient-rich pudding;
Remake your antipasto by combining cubed avocados tossed with organic cherry tomatoes, artichoke hearts and olives. Drizzle with high quality extra virgin olive oil and a sprinkle of sea salt.
If you include a few slices on your salad you will get more of the benefits of the greens.
Try a few slices on a sandwich for a creamy and delicious addition.
Here's a wonderful and delicious recipe for
Chocolate Avocado cookies
I tried and my family and I loved! I made it with almond and coconut flour and used Lakanto and coconut sugar as the sweetener. They were not overly sweet and very fudgy! Just delicious and healthy! My son Christopher said they are addictive – I agree!
Birthday Special!
Today is my 61st birthday and I feel like giving out some gifts - especially to my loyal subscribers. Anyone who
signs up here
for
Today's the Day 7 Week Plan
by
Monday, June 8th
, will be getting this 7 Week plan for
$61!
This is more than 50% off!
Once you sign up I will contact you and you can choose either the basic 7 week plan or the 2nd cycle 7 week plan if you've already done the first 7 weeks! And you can choose your start date.
AND for the first 3 who sign up. I will also send you a bottle of the patented stem cell Multi from Cellaviv! That's a $35.95 value - FREE! But I would hurry - only the first 3 will get this extra gift.
Don't wait too long to decide on this incredible deal - the price goes back to $197 on June 8th. You can still get in shape this summer!
NO-NONSENSE NUTRITION NUGGET: Avocados are native to Central and South America and have been cultivated in these regions since 8,000 B.C. In the mid-17th century, they were introduced to Jamaica and spread through the Asian tropical regions in the mid-1800s. Cultivation in United States, specifically in Florida and California, began in the early 20th century. While avocados are now grown in most tropical and subtropical countries, the major commercial producers include the United States (Florida and California), Mexico, the Dominican Republic, Brazil and Colombia.
Until next week, I wish you overflowing, abundant health, peace and joy and I call you BLESSED (empowered to prosper and succeed).
Ann
If you enjoyed this issue of the No-Nonsense Nutrition Report, I would greatly appreciate you forwarding it to anyone you know who will benefit from it. If a friend forwarded this issue to you -
click here
to get your own freebie subscription
AND
a free gift!
The food you eat can either be the safest and most powerful medicine or the slowest form of poison. You get to choose at least 3 times a day!
THIS WEEK'S BLOG POSTS:
3 D Vitality Post
:
Health and Healing: What Happens When the Unexpected Becomes Reality?
"Let food be thy medicine and medicine be thy food." Hippocrates
As always, all information offered in these reports is provided for informational purposes only and may not be construed as medical advice or instruction. No action or inaction should be taken based solely on the contents of this information; instead, readers should consult appropriate health professionals on any matter relating to their health and well-being.