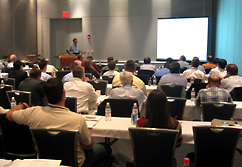 This Week's Forum 68 News
Forum 68 is offering an informative short course on Monday April 30th designed to present the fundamental technology concepts associated with helicopters. The course will be presented by Dr. Richard Bennett, a retired Bell Helicopter professional of 35 years, who has served since 2001 as a rotorcraft consultant to Lockheed Martin, LORD Corporation, BAE Systems, Moog, Bell Helicopter and the National Research Council of Canada. Dr. Bennett is also a long-time lecturer at Penn State University.

Ideal for professionals who may have not received a formal introduction to rotorcraft, the Rotorcraft Technology Short Course will focus on practical applications of the distinct classical engineering disciplines such as dynamics, rotorcraft, mechanics of materials and how each are interrelated in today's modern helicopter. Specific topics that will be covered include helicopter configurations, requirements for rotor blades and hubs, isolated rotor aerodynamics, fuselage vibrations, handling qualities and the helicopter design process.

If your organization has recently hired a professional from outside the world of rotorcraft technology, this course will help bridge the gap. Also perfect for managers, communications, sales and marketing professionals, students and interns.

To learn more, check out the Forum 68 Preliminary Registration Kit or visit the Forum 68 website.