Insider Tips for Healthy, Wealthy and Happy Living – View in browser
If you're not already a subscriber email me to sign–up
Your June Market Infographic for the Valley of the Sun: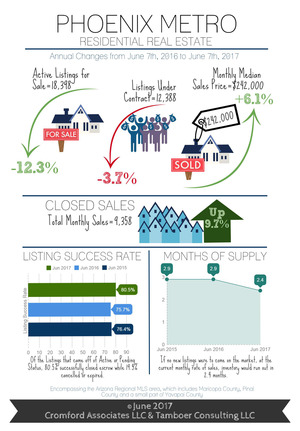 LynTrayte's...
Service For Life! ®
Inside This Issue...
Lyn Trayte
Russ Lyon Sotheby's International Real Estate
Phone: 602-739-0095
Email: lyn.trayte@gmail.com
Dear Lyn...

Investing in a home security system can give you peace of mind, but it can also be a bit of a shock to the wallet. In today's Service For Life! ® Free consumer newsletter, you'll get the pros and cons of going DIY to help you make the best decision.

You'll also learn what you should know about bottled water, organizations that want the old clothes you're done with– plus fun facts, a trivia challenge, and lots more.


Lyn Trayte

Lyn Trayte, REALTOR®
Russ Lyon Sotheby's International Real Estate



P.S.

When you notice people talking about real estate in the next few weeks, can you tell them about the free consumer information I provide?

They may be people wanting to move away for retirement or relocating for a job and need to sell their home. If you'd like to help them learn important tips and strategies for getting a fast, top dollar sale, tell them about my Free Consumer Report called, "6 Steps For Selling Your Home For Top Dollar." Then give them my phone number - 602-739-0095. Or, you can always request a copy for a friend by emailing me by clicking here.

Today's Brain Teaser . . .



What are the next three numbers in this series? 4, 6, 12, 18, 30, 42, 60, 72, 102, 108, ?, ?, ?

(see answer below)
DIY Home Security - Worth It?

Having a secure home means you can sleep soundly at night knowing you and your loved ones are completely safe. You can either put the system together yourself or hire a professional to do it. Consider these pros and cons in deciding if installing your own home security is right for you.

Pros:
Cost. If you pay for professional installation, expect to pay up to several thousand dollars for services, including arming sensors and motion detectors, and prepping monitoring systems. Tip: If you choose professional installation, ask about available promotions to reduce costs.
Install the system you want. You can choose from more customizable systems and services that might result in lower month-to-month monitoring costs.
Ownership. Usually DIY equipment is owned by the person who buys it - you! And, if you move houses, you're free to take it with you.
Step-by-step assistance. DIY systems usually have prompts, so you can properly follow the installation sequence. Sometimes companies with DIY installation kits also offer on-the-go help by phone.
Cons:
Time and effort. You can install at your leisure, but you'll have to put in the time to make sure it's done properly. This may include time on the phone trouble-shooting any problems.
Lack of expertise. A professional technician ensures your system is fully and properly installed and can walk you through how to operate it – something you don't get if you DIY.
Fewer warranties. If you install your own equipment, you may not qualify for warranties because no one can guarantee whether it was done correctly. Additionally, you may invalidate warranties on windows, doors, and other parts of the home when installing the system.
Repair costs. Professional installation often comes with repairs for free or at a reduced cost. With a DIY system, you're on your own for repairs.
Forward to a friend
|
Share on Facebook
How To Get Top Dollar Selling Your Home...



If you're thinking about selling your home soon, request my Free Consumer Guide, "7 Insider Tips To Net More Money Selling Your Own Home." This report will be your secret weapon to maximize the net profits from the sale of your home. You can get a free copy by calling me at...602-739-0095 Or,


Alternatives to Bottled Water

You've likely heard that bottled water has major environmental consequences, but how bad is the problem? Here are a few facts from thewaterproject.org that illustrate the severity of the situation:
Approximately 80% of single-use water bottles in the U.S. become "litter," and one bottle takes more than 1,000 years to bio-degrade.
U.S. landfills have two million tons of discarded water bottles in them.
It takes three liters of water to package one liter of bottled water.
In response to the bottled water problem, some cities and businesses have banned it, but what can you do?
Skip the single-use water bottle, and invest in a reusable water bottle. If you forget it, buy multiples to keep in vehicles, the office, and your gym bag.
Drink tap water. Several studies have been done to show municipal tap water is usually just as safe as bottled water.
Refrigerate water. Cooling tap water helps remove the chlorine taste many people feel is in tap water.
Boil water if you are concerned water might be contaminated.
Forward to a friend
|
Share on Facebook
A Heartfelt Message To My Special Clients and Friends...



I want to share a little secret with you. I don't spend my time cold calling or pestering people for business. Instead, I focus 110% of my efforts on giving such outstanding service that people naturally think of me when a friend, neighbor or family member needs a caring and competent REALTOR®.

I would like to take a moment to acknowledge and thank a few of the special people in my life who've helped build my business with their enduring support and referrals. I couldn't do it without you!

I am very grateful to Fred Carrubba for the continued support from a long time client/investor who has purchased, sold and leased several investment properties with me over the past 14 years. He has also referred other investors to me as well.
Fun Facts and Laughs

Efficient House Cleaning . . .

Get yourself in the right mindset and clean your home more efficiently.
Schedule cleaning as a job.
Wear comfortable, washable clothing. Have aprons, goggles, and cleaning gloves handy, if needed.
Invest in well-made cleaning tools.
Pick up clutter before cleaning.
Forward to a friend
|
Share on Facebook


Donating Clothes and Accessories. . .

Is it time for a wardrobe facelift? Before hauling your old clothes away to the same secondhand store or tossing them in the trash, consider these options.

Blue jeans: Old blue jeans donated through bluejeansgogreen.org will be turned into insulation in communities that need it most.

Shoes: Both soles4souls.org and oneworldrunning.com accept gently worn shoes to donate to people in need around the world.

Wedding and formal dresses: Most people only wear formal clothing a few times, so if your wedding dress or formal gowns are still in great condition, pass them on! Soon-to-be-military brides are on the receiving end at bridesacrossamerica.com, and Project G.L.A.M. (wgirls.org) provides teenage girls with prom dresses.

Eyeglasses: If you've updated your prescription lately, donate old frames and lenses to new-eyes.org, where they'll be passed on to someone who can't afford new eyeglasses.


Forward to a friend
|
Share on Facebook


Books and Reading Websites . . .


Love to read? Bookmark these sites!

www.goodreads.com - Track books you've read or want to read.

www.bookbub.com - Alerts on book sales based on selected criteria.

www.bookriot.com - Reviews, book-related articles, and relevant podcasts.


Forward to a friend
|
Share on Facebook
It's a Fact. . .
Woody Allen spends $100 a week on lottery tickets.
Mail is delivered to the bottom of the Grand Canyon by mule.
New Yorkers would be willing to pay approximately $56/month on average to shave a minute off their commute.
Fredric Bauer invented the Pringles can – and when he died, his ashes were buried in one.
Forward to a friend
|
Share on Facebook
Here's A Free, Valuable Resource...



Now You Can Search The Home Market, Get Helpful Community Information, AND Receive Important Resources For Saving Time And Money When Buying Or Selling At www.LynTrayte.com
Trivia Challenge for the Month...


"Who Else Wants To Win Two Free Movie Tickets?"

Guess who won last month's Trivia Question? I'm pleased to announce the lucky winner of last month's quiz. And the winner is, drum roll please: Janet Forester was the first person to correctly answer my quiz question.

Which animal hibernates longest in the list below?
a) Free-living wood frog
b) Black bear
c) Lungfish
d) Common Poorwill
The answer is a) Free-living wood frog. The free-living wood frog can remain completely frozen for up to 7 months a year! Let's move on to this month's trivia question.

The founder of this frozen food company got the idea for his brand from watching Inuit people ice fish in the 1900s.
a) Green Giant
b) Igloo
c) Pepperidge Farms
d) Birds eye
And You Could Be One Of My Next Winners! Call Me At 602-739-0095 OR

Brain Teaser Answer:



The next three numbers are 138, 150, and 180. Each number in the list is flanked by two prime numbers. In this case, 138 (137 and 139 are prime), 150 (149 and 151 are prime), and 180 (179 and 181 are prime).
Real Estate Q & A . . .

Q. How can I make my home attractive to buyers?
A. When selling your home, look at your home through a potential buyer's eyes, and follow these steps to make it show well and receive a good offer:
Clean and repair. Your buyer's first impression is from the street. Clean up the yard, the landscaping and check your exterior paint job. On the inside, shampoo the carpets, scrub the floors and clear off all the counters. Remove old wallpaper and paint the walls a neutral color. Fix things that need fixing, like squeaky doors, broken tiles etc.
De-Clutter. Get rid of all that "stuff" you've accumulated in the garage, the backyard and the basement. And don't forget the closets!
"Stage" it to look like a model home. Put away your personal items and remove large pieces of furniture. Ask your REALTOR® for ways to "dress up" your home (candles, new linens etc.) to maximize your selling potential.
For more tips, ask for my Free Consumer Report called "Make Your Home Show Like A Model Without Breaking the Bank." I'll get a copy to you.


Do you have a real estate question you want answered? Feel free to call me at 602-739-0095 or email me. Perhaps I'll feature it in my next issue!


Forward to a friend
|
Share on Facebook
THANK YOU... for reading my Service For Life!® personal newsletter. I wanted to produce a newsletter that has great content and is fun and valuable to you. Help your friends get more out of life by forwarding this email to them...

Share this issue with family and friends

forward to a friend
You received this email because you requested it, are on the mailing list as lyn.trayte@gmail.com, or a friend forwarded it to you. Unless you request to be removed, you are agreeing to remain on the mailing list.

Disclaimer: The information contained in this email is intended for informational purposes. It should not substitute as legal, accounting, investment, medical or other professional services advice. Always seek a competent professional for answers to your specific questions. This email is not intended to solicit real estate properties currently for sale.

Copyright (c) 2017 by Agent Inner Circle