Bio 4 of 4: Maura Clarke

Friends said of Maura, "She was outstanding in her generosity... She would give whatever she had to the poor. She waas accustomed to living in poverty." Others said she was "supportive...always saw the good in others...was very gentle...could always make those whose lives she touched feel loved." In Nicaragua, she was known by the people as "the angel of our land."

Read More
---
Delegates Share Their Inspirations
We asked the delegates signed up for our Remembering the Churchwomen Delegation to share what inspires them about Ita, Maura, Dorothy, and Jean. Here's what they had to say:

"The all-inclusive, self-emptying, animating LOVE that motivated the lives of these women. It is a grace I hope to deepen."
"Having spent some months in Bolivia prior to their murders, it felt so close to home. I had learned about the social reality/nightmares in a way that could not be denied... In the thirty years since, the women have remained a touchstone for me when working in the inner city."
"The event of their deaths inspired me to leave my 'safe' ministry in teaching and go out to a resettlement area and to live as part of an ecclesial community and respond to the needs of the people." Read more inspirations here
Are YOU inspired? Don't hesitate to
join us
and the 80 others on this delegation of a lifetime! Help us make it our biggest delegation yet!
---
Join us for our Human Rights Tour this November!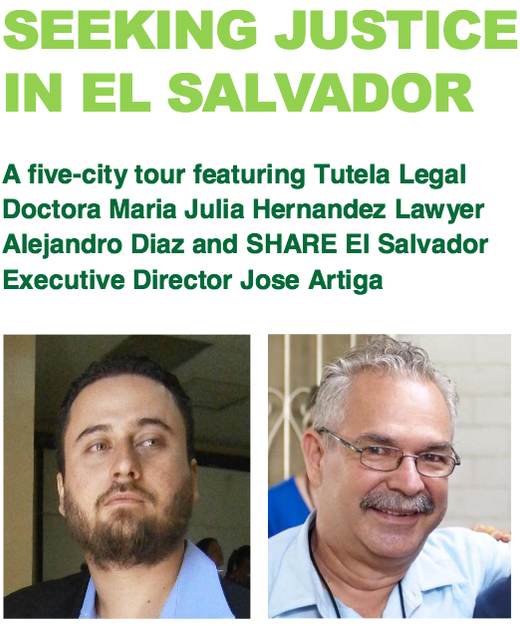 Can't travel with us on our

delegation

? Join us on our 2015 Truth and Justice Tour this November 4 - 16! We'll be in DC, Philadelphia, New York, Boston, and San Francisco. For more details and dates we'll be in your city, check our

tour page here.

---